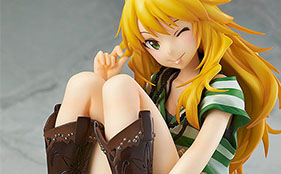 With the recent The [email protected] Movie hitting theaters in Japan earlier this year, THE [email protected] fans are on a spree to own every single product related to the series. If you can't afford to spend $2000 on 13 different idols cardboard cutouts or the $800 outfit that all the idols of 765 Production wear during the The [email protected] Movie, why not settle for this gorgeous Miki Hoshii figure?
This figure is sculpted by Yusuke Masaki while the paintwork is handled by Sakura. It's a 1/8 scale figure and approximately 130mm tall.
THE [email protected] – Miki Hoshii 1/8 Figure – Preorder item scheduled for release in February 2015, preorder on on JList.
The fourth in THE [email protected] Blu-ray/DVD jacket illustration series! Miki Hoshii! From the anime series 'THE [email protected]' comes a 1/8th scale figure of the natural idol who takes things at her own pace, Miki Hoshii! The pose is based on the illustration by director Atsushi Nishigori seen on the 1st volume of the Blu-ray & DVD jacket for the anime series, and captures her playful expression perfectly! The glasses she holds in her hand can be attached and removed as you see fit – simply pick the pose your prefer!
Would you display her with glasses on or off? let us know in the comments below.