Animation studio Sunrise have just announced their next Gundam anime: Mobile Suit Gundam: Tekketsu no Orphans (Mobile Suit Gundam: Iron-Blooded Orphans). The anime will be a brand new TV series that will be airing from October 4.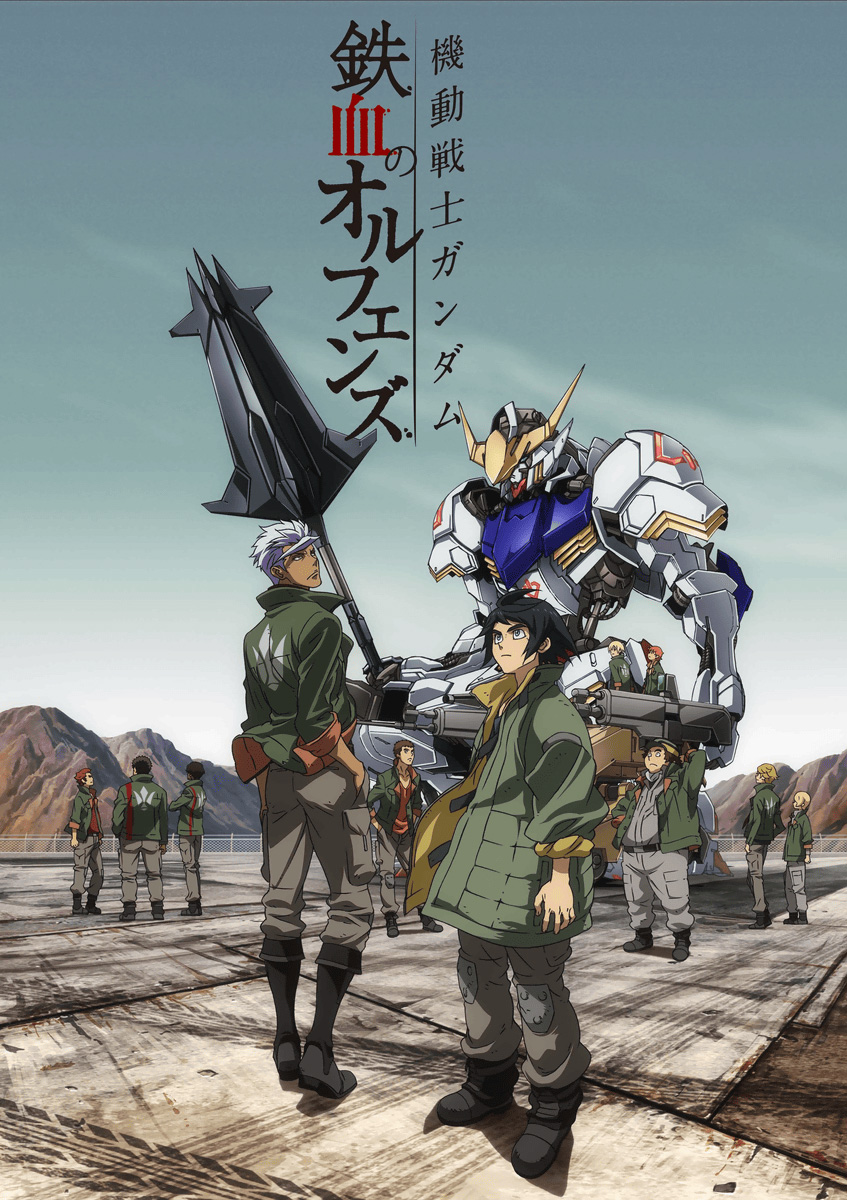 The synopsis of the series has been revealed:
The show is set 300 years after a great conflict between Earth and Mars known as the "Calamity War." A woman named Cordelia sets out on a journey to Earth to speak for the independence of the Martian city of Chryse, which is under the control of the Earth government. Escorting her is the private security company CGS, which protagonists Mikazuki Augus and Orga Itsuka are members of. When a group named Gjallarhorn attacks CGS and Cordelia, Orga sees this as a chance to rebel against CGS and launch a coup. Mikazuki and Orga are thrust into a new conflict. To fend off Gjallarhorn, Mikazuki rides an old mobile suit from the Calamity War, powered by a nuclear reactor, the Gundam Barbatos; a mobile suit that steals weapons, armor, and parts from enemies to become stronger.
The main characters of the upcoming series have also been revealed. The main characters of the series include (left to right):
Akihiro Altland
Biscuit Griffon
Lead character Mikazuki Augus
Olga Itsuka
Eugene Sevenstark
Noruba Shino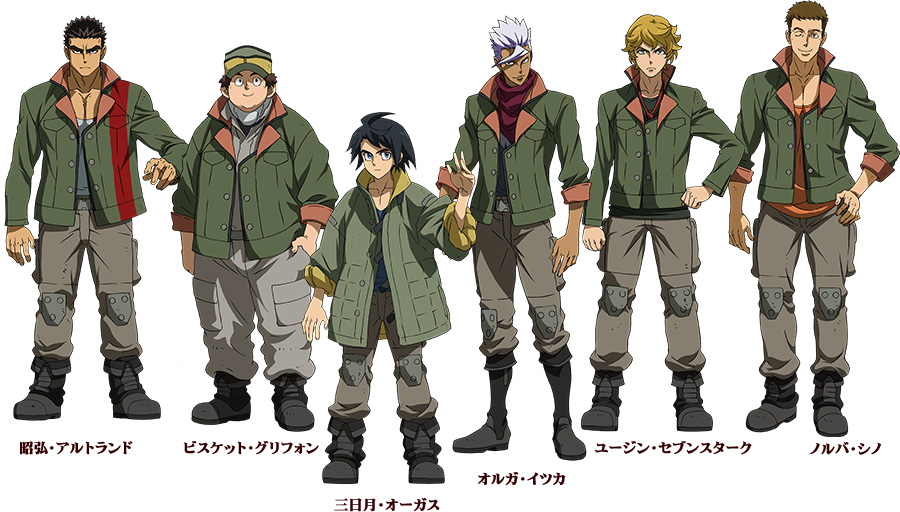 The designs for the lead Gundam and mechs were also revealed: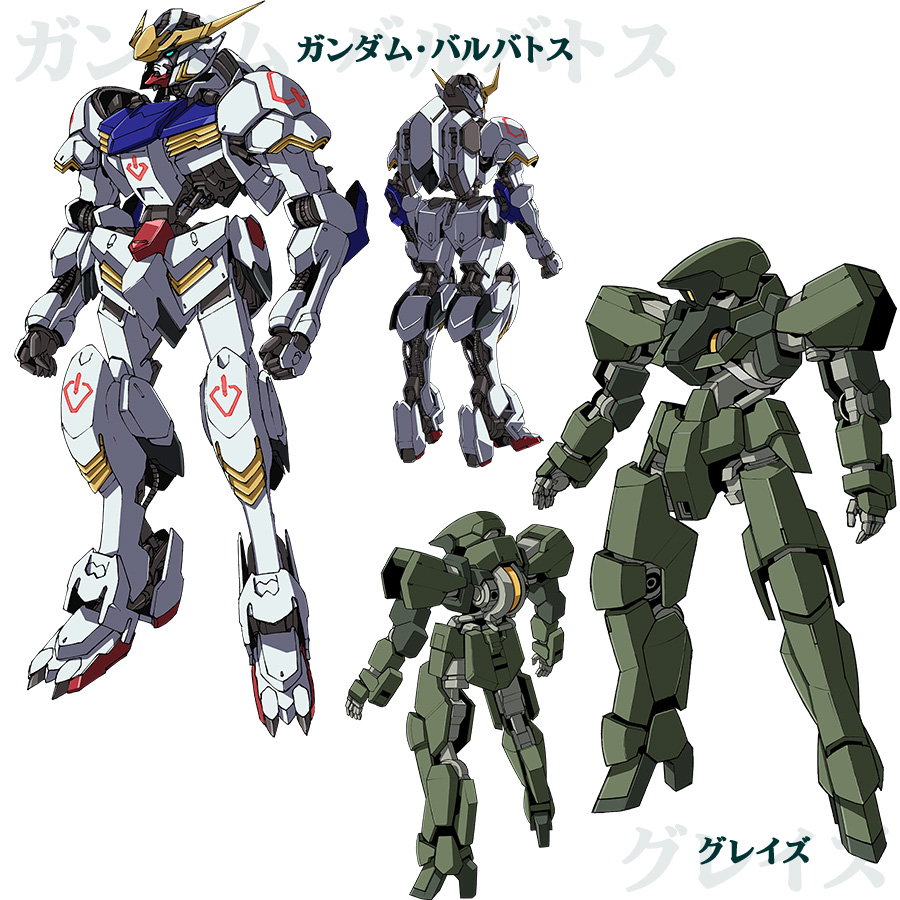 The first members of the series' production staff were also revealed:
Director: Tatsuyuki Nagai (Ano Hi Mita Hana no Namae wo Bokutachi wa Mada Shiranai, Toradora!)
Series Composer: Mari Okada (Toradora!, AKB0048)
Anime Character Designer: Michinori Chiba (Mobile Suit Gundam 00, Mobile Suit Gundam AGE)
Mecha Designers: Naohiro Washio (Mobile Suit Gundam 00, Kakumeiki Valvrave), Kanetake Ebikawa (Mobile Suit Gundam 00, Mobile Suit Gundam AGE), Ippei Gyoubu (Gundam Reconguista in G), Kenji Teraoka (Code Geass, Gundam Build Fighters), and Tamotsu Shonohara (Rean no Tsubasa)
Art Designer: Kusanagi (Code Geass: Boukoku no Akito, High School of the Dead )
Music Composer: Masaru Yokoyama (Shigatsu wa Kimi no Uso, Yamada-kun to 7-nin no Majo)
Animation Studio: Sunrise (Mobile Suit Gundam, Love Live! School Idol Project)
Here is the first promotional video for the anime:
Gundam is one of Japan's largest and most iconic franchise. The franchise is mostly set in a science fiction future that focuses on giant mechanical robots. The franchise was created by Hajime Yatate, a group of animators from the studio Sunrise, lead by Yoshiyuki Tomino. It began in 1979 with the release of the anime series Mobile Suit Gundam, though while the anime itself did not receive high praise and viewings, the eventual gunpla models from Bandai launched the series into popularity. Since then, there has been a plethora of anime series, OVAs, films, manga, light novels, games and merchandise based on the franchise. It has become an iconic symbol of Japanese pop culture where Bandai make over 50 billion yen per fiscal year on the models alone.
Here is the synopsis of the original series:
In the year Universal Century 0079, humanity lives in space colonies called Sides. Side 3, the Principality of Zeon, has declared war on the Earth Federation. After the intial fighting, an 8-month stalemate occured. However that stalemate breaks when Amuro Ray stumbles into the Gundam, the Earth Federation's secret weapon. Now Amuro and the crew of White Base must stand up to Zeon in order to end the war.
Mobile Suit Gundam: Tekketsu no Orphans will be airing from October 4th on 28 channels in Japan, during the Fall/Autumn 2015 anime season. Further information about the new anime will be revealed soon.
You can visit the new project's site now: http://g-tekketsu.com/
And follow the series on Twitter: @g_tekketsu