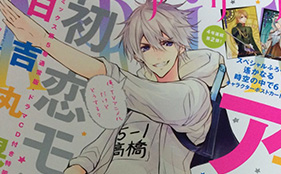 A recent scan from shoujo magazine ARIA's August edition has revealed that Akira Hoshimaru's Hatsukoi Monster will be adapted into a TV anime.
The romantic comedy manga previously received a drama CD, released on February 25. It cast prominent voice actor Takahiro Sakurai (Atsumu Matsuyuki from AnoHana) as the male lead, Kanade, and Yui Horie (Tsubasa Hanekawa from Bakemonogatari) as the female lead, Nikaido Kaho. Other character voices included Showtaro Morikubo (Saji Genpou from Ikkitousen), Tomokazu Sugita (Gintoki Sakata from Gintama), Ayumu Murase (Rui Ninomiya from Gatchaman Crowds), Nobuhiko Okamoto (Rin Okumura from Ao no Exorcist), Kaito Ishikawa (Mitsuo Yanagisawa from Golden Time), and Hikaru Midorikawa (Ayato Sakamaki from Diabolik Lovers). It is unknown if the cast will be reprising their roles.
Hatsukoi Monster is both written and illustrated by Akira Hiyoshimaru. It began serialization in ARIA in July 2013, and is still ongoing with four compiled volumes released. The second volume ranked 34 in its first week on Oricon's Weekly Manga Rankings.
Hatsukoi Monster synopsis from Haruhichan:
Nikaido Kaho is a daughter of a rich family and her whole life everyone's been nice to her. When moving to her new high school dormitory, she almost gets hit by a truck but is saved by a boy. It's love at first sight for Kaho but when asking him his name, he tells her she's weird. Kaho is shocked since it's the first time anyone's ever said mean things to her. Soon enough, she finds out that the boy who saved her lives in the same dormitory and so she bravely confesses her love. The boy says his name is Kanade and agrees to go out with her. Unfortunately, the following day Kaho finds out that her first boyfriend is a 5th grader.
Source: yaraon