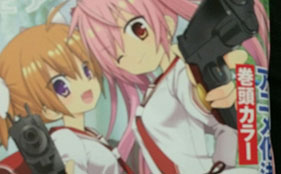 Media factory began streaming a promotional video on Wednesday for the upcoming anime adaptation of Chuugaku Akamatsu's and Shogako Tachibana's spin-off manga series, Hidan no Aria AA. Hidan no Aria AA is a spin-off of the Hidan no Aria light novel series.
A teaser was also released back in July which was hinting at the project:
Visual of the announcement:
Hidan no Aria AA synopsis from Haruhichan:
A young girl idolizes the world-renowned S-ranked butei Kanzaki H. Aria and plans to follow in her footsteps. However, her test grades her out as only an E-rank! All is not lost, however, as Aria agrees to give her some pointers. Can Aria help this newcomer become a first-rate butei?
Source: Ganganonline, Crunchyroll