A second promotional video of the upcoming anime adaptation of the light novel series Inou-Battle wa Nichijou-kei no Naka de, has been uploaded. The anime series will be produced by Trigger, known for producing Inferno Cop and the series Kill la Kill.
Inou-Battle wa Nichijou-kei no Naka de 1st PV: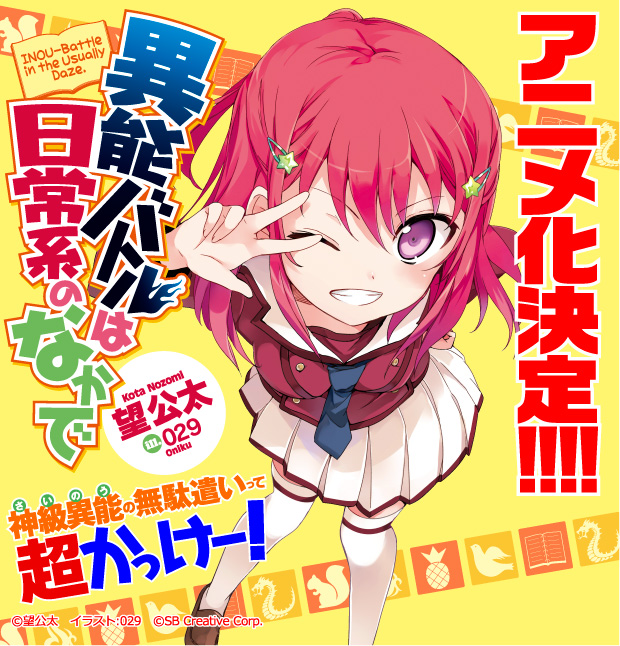 Inou-Battle wa Nichijou-kei no Naka de is a light novel series by Kota Nozomi. The series started in 2012, and to date has 6 volumes released. The illustrations and designs are done by Oniku, also known as 029, who also did the illustrations of the Hataraku Maou-sama! light novels. The light novels are published by SB Creative in their GA Bunko imprint. A manga adaptation by Kousuke Kurose began late last year, being published in Kadokawa's Monthly Comp Ace magazine.
Inou-Battle wa Nichijou-kei no Naka de is set to air this October 2014 which falls under the Fall/Autumn 2014 anime season.
Inou-Battle wa Nichijou-kei no Naka de synopsis from Haruhichan:
Half a year ago, the four members of a literature club, as well as the elementary school niece of their faculty adviser, were bestowed with supernatural powers. The boy in the club, Ando Jurai, became able to produce black flames. The girls acquired a variety of powerful abilities: Tomoyo could slow, speed, or stop time, Hatoko could control the five elements (earth, water, fire, wind, light), little Chifuyu could create things, and Sayumi could repair objects or heal living things. However, since they gained these powers, nothing has really changed in their everyday life. Why have they been given these powers in the first place? Will the heroic fantasy life they imagined these powers would bring ever actually arrive?