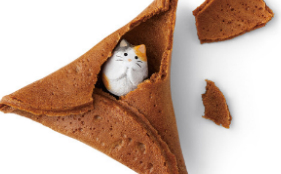 Fortune cookies have been an exciting part of getting takeout  from advice to an inspirational saying. Now, coming straight from Japan's wholesale cat-themed food company Felissimo delivers fortune cookies with a more exciting inside – your own cat figurine. Instead of "Fortune Cookie," Felissimo is naming these new snacks "Hide and Seek" cats.
Unlike the cookie texture and taste of most fortune cookies, these fortune cookies are triangular senbei rice crackers (a traditionally flat snack) packed along with karinto rice straws. Due to the size, each cracker set contains one cat each, with identical coats but different poses. The other cat figurines include tuxedo cats, tabbies, and grey cats as well.
Felissimo is releasing a different cat type a month with orders on the site for 2,372 yen or $20 a bag. To get all designs, order each month for a new cat type!
Source – Rocketnews24
Business Major at University and lover of all things cute. Ask me about my figure collection