Amazon Japan are currently running a promotional collaboration between the World War II movie, Fury, and Girls und Panzer. The movie's Japanese Blu-ray release will be bundled with a a copy of the Girls und Panzer Blu-ray. The release date is scheduled for March 18th and will sell for a total of 5,122 yen (about $43.4 USD).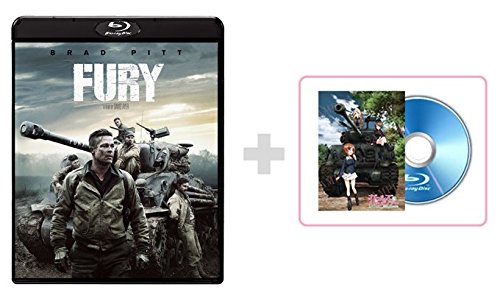 The Girls und Panzer Blu-ray that is bundled with the Blu-ray version of Fury will include a commentary by none other than the anime's tank otaku, Yukari Akiyama (CV: Ikumi Nakagami), who will be talking about the M-4 Sherman tank and the Tiger tank fight scene, which were both featured in the movie.
Yukari Akiyama also narrated the Japanese television commercial for Fury.
Here is the Japanese trailer for the movie and a brief synopsis:
Fury is a 2014 American war film written and directed by David Ayer. The film stars Brad Pitt, Logan Lerman, Shia LaBeouf, Michael Peña, and Jon Bernthal. The film portrays tank crews during the final days of World War II in Europe. Ayer was influenced by the service of veterans in his family and by reading books, such as Belton Y. Cooper's Death Traps, about American armored warfare in World War II. Ayer aimed for a greater degree of realism in the film than in other World War II dramas.
Rehearsal began in early September 2013 in Hertfordshire, England followed by principal photography on September 30, 2013, in Oxfordshire. Filming continued for a month and a half at different locations, which included the city of Oxford, and concluded on November 13. Fury was released on October 17, 2014. The film received positive reviews from critics and proved to be very successful at the box office grossing over $208 million.
Source: Yaraon