The ninth issue of Akita Shoten's Weekly Shounen Champion magazine this year is announcing that mangaka Masuda Eiji's Jitsu wa Watashi wa manga has been green-lit for an anime adaptation set to air some time during the year of 2015.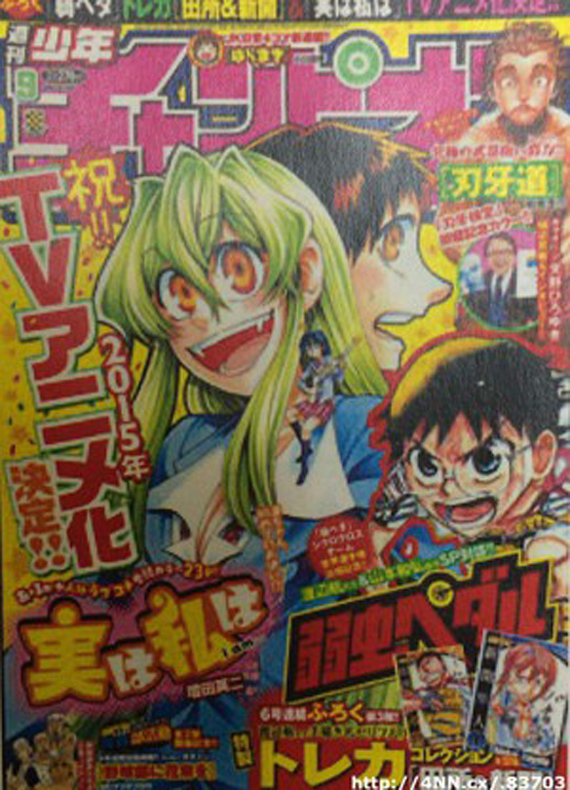 The story of the manga is centered around Kuromine Asahi, a current high school student who is unable to lie. His emotions show on his face unwarranted, thus revealing his inner intentions. Kuromine is romantically interested in an emotionless seeming girl named Shiragami Youko. However, he accidentally finds out her secret- that she is a vampire! Will he be able to keep this secret and succeed in his love life?
Jitsu wa Watashi wa is a manga written and illustrated by Matsuda Eiji. It has been serialized in Akita Shoten's shounen manga magazine, Weekly Shounen Champion since 2013 and has been collected into ten tankoubon volumes. An anime television series adaptation has been recently announced and is set to air in 2015.
Volume 1-10 covers:
Jitsu wa Watashi wa synopsis from Haruhichan:
Meet Kuromine Asahi, "the man who can't lie," On the way home, he just learned an important secret. That his crush, Shiragami Youko, is actually a vampire!

Can Asahi actually keep her secret?

It's a fun, clumsy, one of a kind vampire romantic comedy!

More information will be released in the near future.
Source: ANN