The official website for the anime adaptation of Hirohiko Araki's JoJo's Bizarre Adventure – Part IV: Diamond Is Unbreakable has revealed that the series will have a total of 39 episodes, to be released across 13 three episode DVD/Blu-rays between June 2016 and June 2017. Along with these release plans is the news that "Thus Spoke Kishibe Rohan," the spin-off one-shot from 2013 narrated by manga author Stand-user Rohan Kishibe will be adapted into an OAD, offered on DVD for collectors of the complete series.
The jacket art for Volume 1 was also revealed: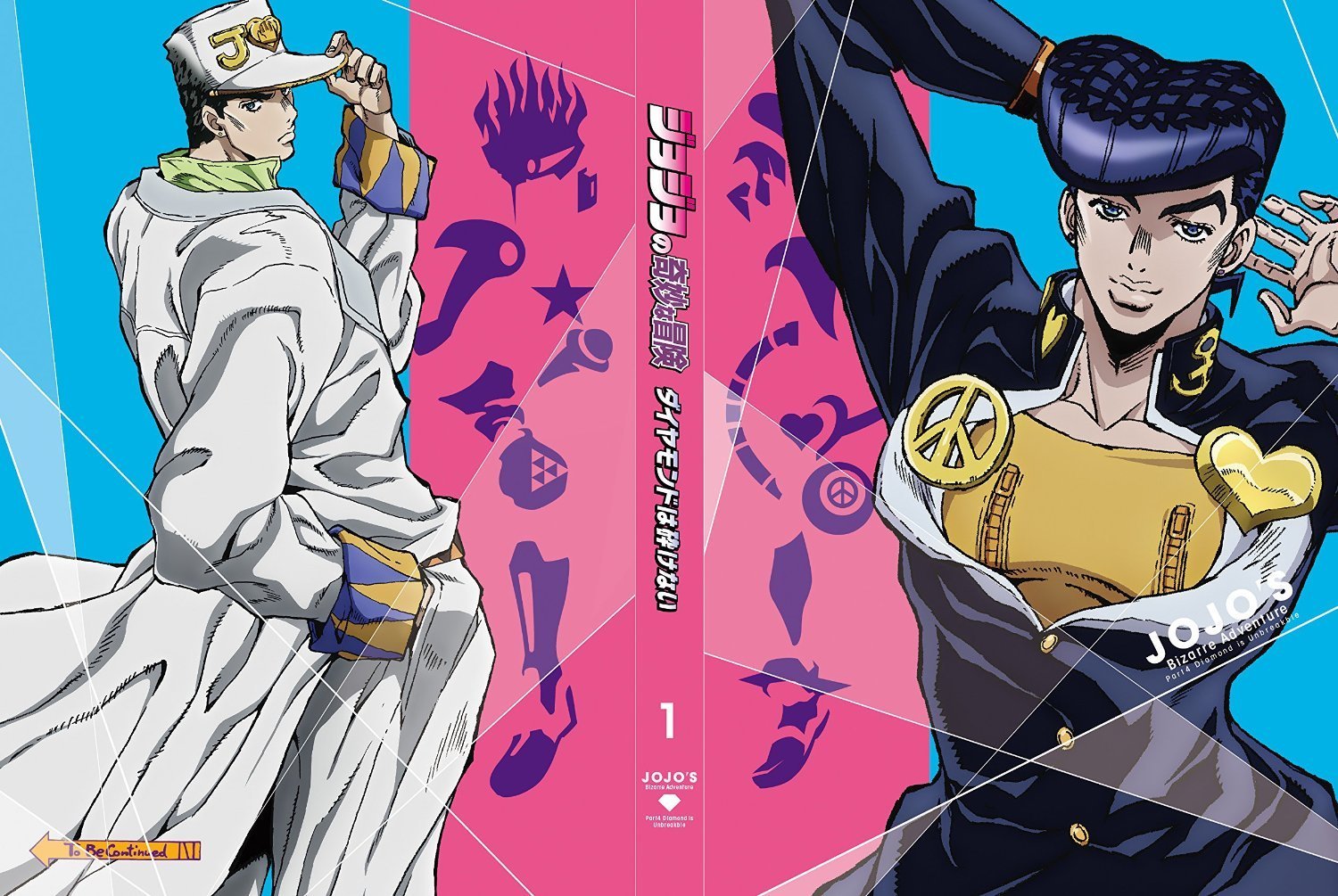 Here is the current release schedule:
Vol.1 (released June 22, 2016): Episode 1 storyboards and ticket for OAD with purchase of complete series
Vol.2 (released July 27, 2016): Original Soundtrack 1
Vol.3 (released August 24, 2016): Commentary booklet Vol.1
Vol.4 (released September 28, 2016): Italian restaurant promo art
Vol.5 (released October 26, 2016): first cour production art collection
Vol.6 (released November 23, 2016): Drama Vol.1 CD
Vol.7 (released December 21, 2016) : Original Soundtrack 2
Vol.8 (released January 25, 2017): Commentary booklet Vol.2
Vol.9 (released February 22, 2017): Secondd cour production art collection
Vol.10 (released March 29, 2017): Morio-cho, map
Vol.11 (released April 26, 2017): Drama Vol.2 CD
Vol.12 (released May 24, 2017): Commentary booklet Vol.3
Vol.13 (released June 28, 2017): Third cour production art collection
In addition, Warner Bros. Japan began streaming  a promo video for THE DU's (Jun Shirota and Taisuke Wada) theme "Crazy Noisy Bizarre Town," set to be released on April 27th. The lyrics are by Saori Kodama, who previously wrote JoJo's Bizarre Adventure second opening theme song "Bloody Stream" by Coda.
The cover art for the single was also previewed:
Anime visual:
Here's the previous key visual:
Here's the first promotional video:
The character designs for the cast were also revealed and includes:
In addition, the site announced that THE DU will perform the anime's opening theme song, titled "Crazy Noisy Bizarre Town." The song's CD single will ship on April 27.
The staff includes:
Director: Naokatsu Tsuda (JoJo's Bizarre Adventure: Stardust Crusaders)
Series Director: Toshiyuki Kato (Hunter x Hunter)
Chief Episode Director: Yuuta Takamura
Series Composition: Yasuko Kobayashi (JoJo's Bizarre Adventure)
Character Design: Terumi Nishii (Mawaru Penguindrum)
Action Animation Director: Kenta Mimuro
Sub Character Design: Shunichi Ishimoto
Prop Design: Yukitoshi Houtani
Art Setting: Kaoru Aoki, Junko Nagasawa
Color Design: Yuko Sato
Art Director: Shunichirou Yoshihara
Director of Photography: Kazuhiro Yamada (Kami nomi zo Shiru Sekai)
Editing: Kiyoshi Hirose (Garo: Guren no Tsuki)
Sound Director: Yoshikazu Iwanami (Fate/Zero)
Music: Yugo Kanno (JoJo's Bizarre Adventure: Stardust Crusaders 2nd Season)
Studio: David Production
JoJo's Bizarre Adventure – Part IV: Diamond Is Unbreakable is the fourth part of JoJo's Bizarre Adventure, serialized in Weekly Shonen Jump between 1992 and 1995. The story is based in 1999, as the Arrow, manifesting latent Stand abilities, travels throughout Morioh, Japan; as high schooler Josuke Higashikata (illegitimate son of Joseph) and his friends seek out the culprits of a series of homicides.
Main visual:
Jojo's Bizarre Adventure: Stardust Crusaders Visual:
JoJo's Bizarre Adventure is a Japanese manga series written and illustrated by Hirohiko Araki. It was originally serialized in Weekly Shounen Jump from 1986 to 2004, before being transferred to the monthly seinen magazine Ultra Jump in 2005. The current story arc, JoJolion, started in 2011. JoJo's Bizarre Adventure is currently Shueisha's second largest manga series with its chapters collected into 111 tankobon volumes and counting (only Kochira Katsushika-ku Kameari Kōen-mae Hashutsujo, with over 180, has more).
A six-volume original video animation adaptation of the later half of the series' third story arc, Stardust Crusaders, was released from 1993 to 1994 by studio A.P.P.P. Six years later, they produced a seven-volume series adapting the arc's first half from 2000 to 2002. A.P.P.P. also produced a theatrical film of the first arc, Phantom Blood, in 2007. From 2003 to 2005, Super Techno Arts released an English dub of both OVA series as one on DVD in North America. The third story arc of the manga received an English release in North America from 2005 to 2010 by Viz Media, who will also publish the first and second arcs in 2015. A 26-episode television anime, produced by David Production and covering the first two arcs, aired on Tokyo MX and other stations starting in October 2012 and ending in April 2013. A second season covering the third arc titled JoJo's Bizarre Adventure: Stardust Crusaders began broadcast in April 2014 and ended with episode 24 on September 13, 2014.
The JoJo's Bizarre Adventure manga has sold over 80 million copies in Japan alone, making it one of the best-selling manga series in history, and has spawned a large media franchise that includes several novelizations and video games, action figures, a jewelry line, and even snack foods.
JoJo's Bizarre Adventure (2012) synopsis from Haruhichan:
Beginning its tale in 19th century England, young aristocrat Jonathan Joestar finds himself locked in bitter rivalry with Dio Brando, a low-born boy who Jonathan's father took under his wing after the death of Dio's father. Discontent with his station in life, Dio's fathomless lust to reign over all eventually leads him to seek the supernatural powers of an ancient Aztec stone mask in the Joestar's possession—an artifact that will forever change the destiny of Dio and Jonathan for generations to come. Fifty years later, in 1938 New York City, Jonathan's grandson Joseph Joestar must take up his grandfather's mission and master the abilities necessary to destroy the stone mask and its immensely powerful creators who threaten humanity's very existence, the Pillar Men.
You can visit the anime's website here: http://wwws.warnerbros.co.jp/jojo-animation/
And follow them on Twitter: @anime_jojo
Source: natalie