The official website for the anime adaptation of Natsume Akatsuki and Kurone Mishima's Kono Subarashii Sekai ni Shukufuku wo! (Give Blessings to This Wonderful World!) light novel series has revealed that the anime's second season will air during January 2017.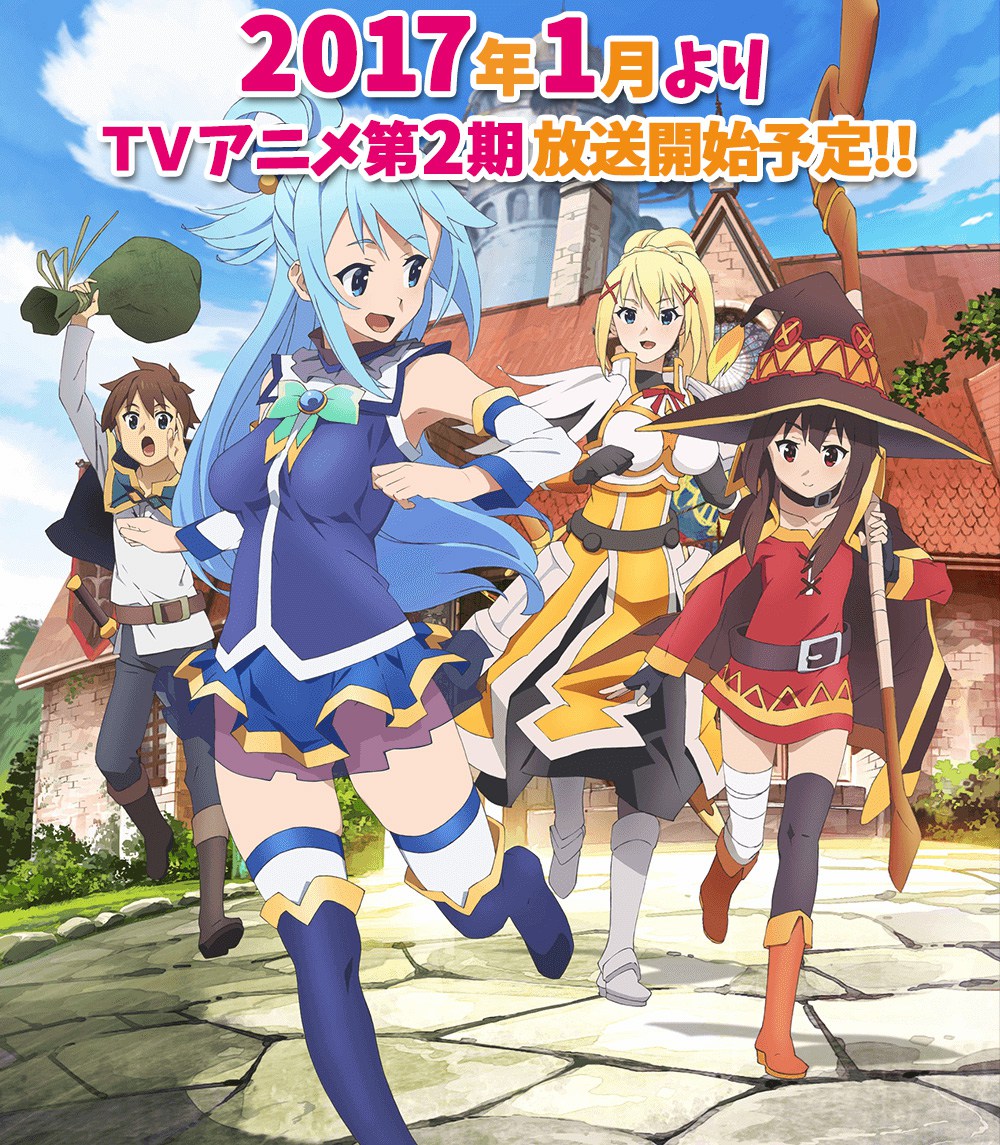 Season 2 of the anime will be airing from January 2017, during the Winter 2016/2017 anime season. The second season will air one year after the first season, which aired in January 2016 during the Winter 2015/2016 anime season.
In addition, a new OVA was bundled with the limited edition of the light novel's 9th volume.
Kono Subarashii Sekai ni Shukufuku wo! (Give Blessings to This Wonderful World!) is a fantasy adventure light novel series written by Natsume Akatsuki and illustrated by Kurone Mishima. The series began in October 2013 being published under Kadokawa Shoten's Sneaker Bunko imprint, where a total of 7 volumes have been produced to date. A spin-off light novel series titled Kono Subarashii Sekai ni Bakuen o! is also being produced alongside the parent novel, with 3 volumes to date. A manga adaptation is currently being serialized in Fujimi Shobo's Monthly Dragon Age magazine.
Subarashii Sekai ni Shukufuku wo! synopsis from MAL:
The life of Satou Kazuma, a hikikomori who likes games, all too soon came to an end because of a traffic accident… It was supposed to, but when he woke up, a beautiful girl who called herself a goddess was in front of his eyes.

"Hey, I have got something a little nice for you. Wanna go to another world? You can take only one thing of your choice along with you."

"…then I'll take you."

From here on, the great adventure of subjugating the Demon King will begin for the reincarnated Kazuma… Or so one would think, but it's the labor for obtaining food, clothing and shelter that begins! Despite Kazuma wanting to live in peace, the goddess keeps causing problems one after another, and eventually, they attract the attention of the Demon King's army!?
You can visit the anime's website here: http://konosuba.com/
And follow their Twitter: @konosubaanime