The official website of the TV anime adaptation of Natsume Akatsuki and Kurone Mishima's Kono Subarashii Sekai ni Shukufuku wo! (Give Blessings to This Wonderful World!) light novel series has revealed that the second season will start its broadcast from January 11th on Tokyo MX. A new visual and promotional video were also unveiled.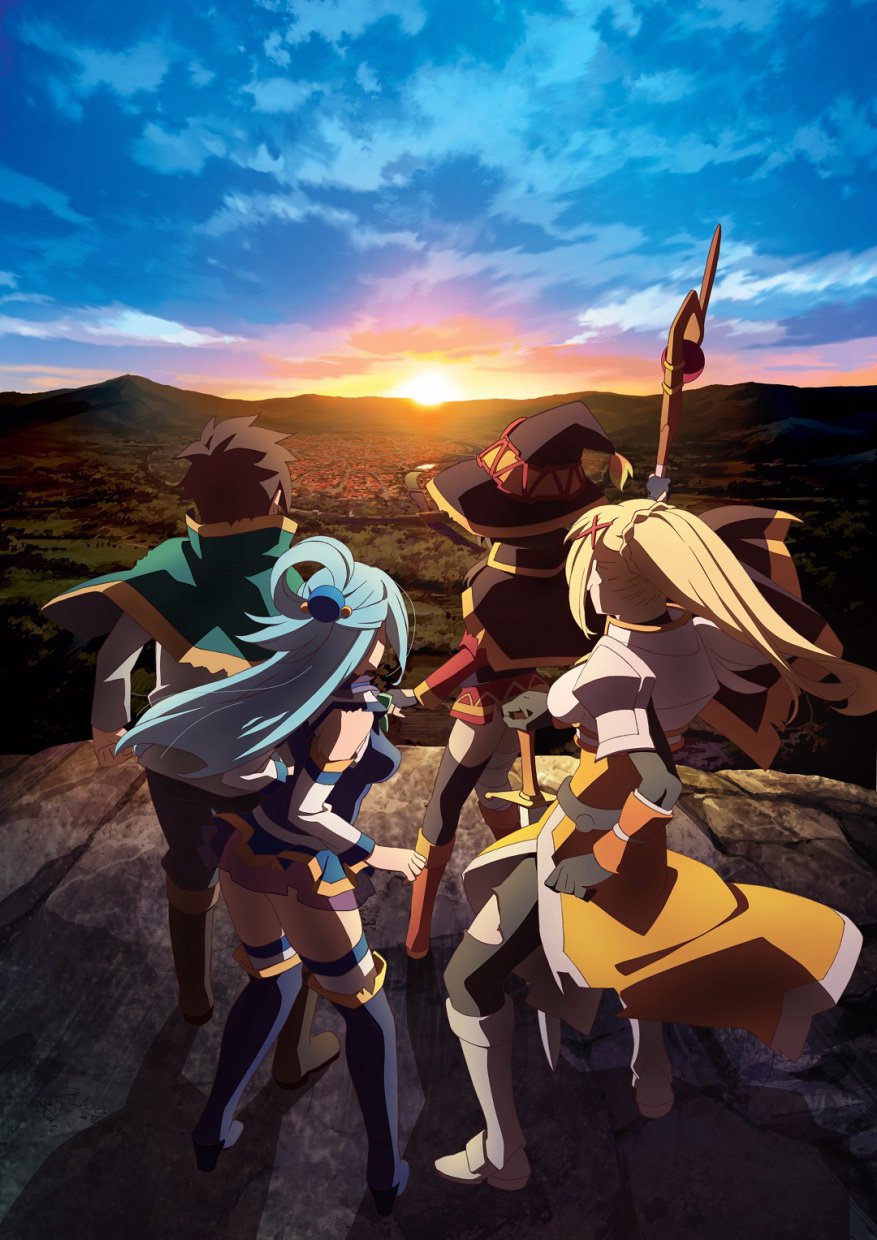 Here is the first promotional video for the second season:
The main cast of the first KonoSuba season will return in the second:
Jun Fukushima (Yoshihisa Manabe from Kotoura-san) will voice Kazuma Satou
Sora Amamiya (Miia from Monster Musume) voicing as Aqua
Rie Takahashi (Akane Uchida in Shirobako) as Megumin
Ai Kayano (Menma in AnoHana) voices Raratina Dustiness Ford
Sayuri Hara (Mio Honda in The

[email protected]

Cinderella Girls) will play the role of Luna
Tetsu Inada (Ira Gamagoori from Kill la Kill) voices a Ruffian
Ayaka Suwa (Tokaku Azuma in Akuma no Riddle) as Chris
Hiroki Yasumoto (Germany from Hetalia) is going to voice Beldia Dullahan
Takuya Eguchi (Kazuya Kujou in Gosick) will be voicing the role of Kyouya Mitsurugi
Yui Horie (Tsubasa Hanekawa from Bakemonogatari) is voicing Wiz
The production staff of the anime also returns:
Director: Takaomi Kanasaki (Tokyo Ravens, Kore wa Zombie Desu ka?)
Series Composer: Makoto Uezu (School Days, Yuuki Yuuna wa Yuusha de Aru)
Anime Character Designer: Koichi Kikuta (Seitokai Yakuindomo and Robotics;Notes Animation Director)
Art Director: Masakazu Miyake (Jinrui wa Suitai Shimashita, Kamisama Dolls)
Sound Director: Yoshikazu Iwanami (Fate/Zero, Sword Art Online)
Animation Studio: Studio Deen (Higurashi no Naku Koro ni, Rurouni Kenshin)
Machico will return to perform the Opening theme song as will the leading female cast (Amamiya, Takahashi, and Kayano) returning for the Ending theme.
Kono Subarashii Sekai ni Shukufuku wo! (Give Blessings to This Wonderful World!) is a fantasy adventure light novel series written by Natsume Akatsuki and illustrated by Kurone Mishima. The series began in October 2013 being published under Kadokawa Shoten's Sneaker Bunko imprint, where a total of 7 volumes have been produced to date. A spin-off light novel series titled Kono Subarashii Sekai ni Bakuen o! is also being produced alongside the parent novel, with 3 volumes to date. A manga adaptation is currently being serialized in Fujimi Shobo's Monthly Dragon Age magazine.
Subarashii Sekai ni Shukufuku wo! synopsis from MAL:
The life of Satou Kazuma, a hikikomori who likes games, all too soon came to an end because of a traffic accident… It was supposed to, but when he woke up, a beautiful girl who called herself a goddess was in front of his eyes.

"Hey, I have got something a little nice for you. Wanna go to another world? You can take only one thing of your choice along with you."

"…then I'll take you."

From here on, the great adventure of subjugating the Demon King will begin for the reincarnated Kazuma… Or so one would think, but it's the labor for obtaining food, clothing and shelter that begins! Despite Kazuma wanting to live in peace, the goddess keeps causing problems one after another, and eventually, they attract the attention of the Demon King's army!?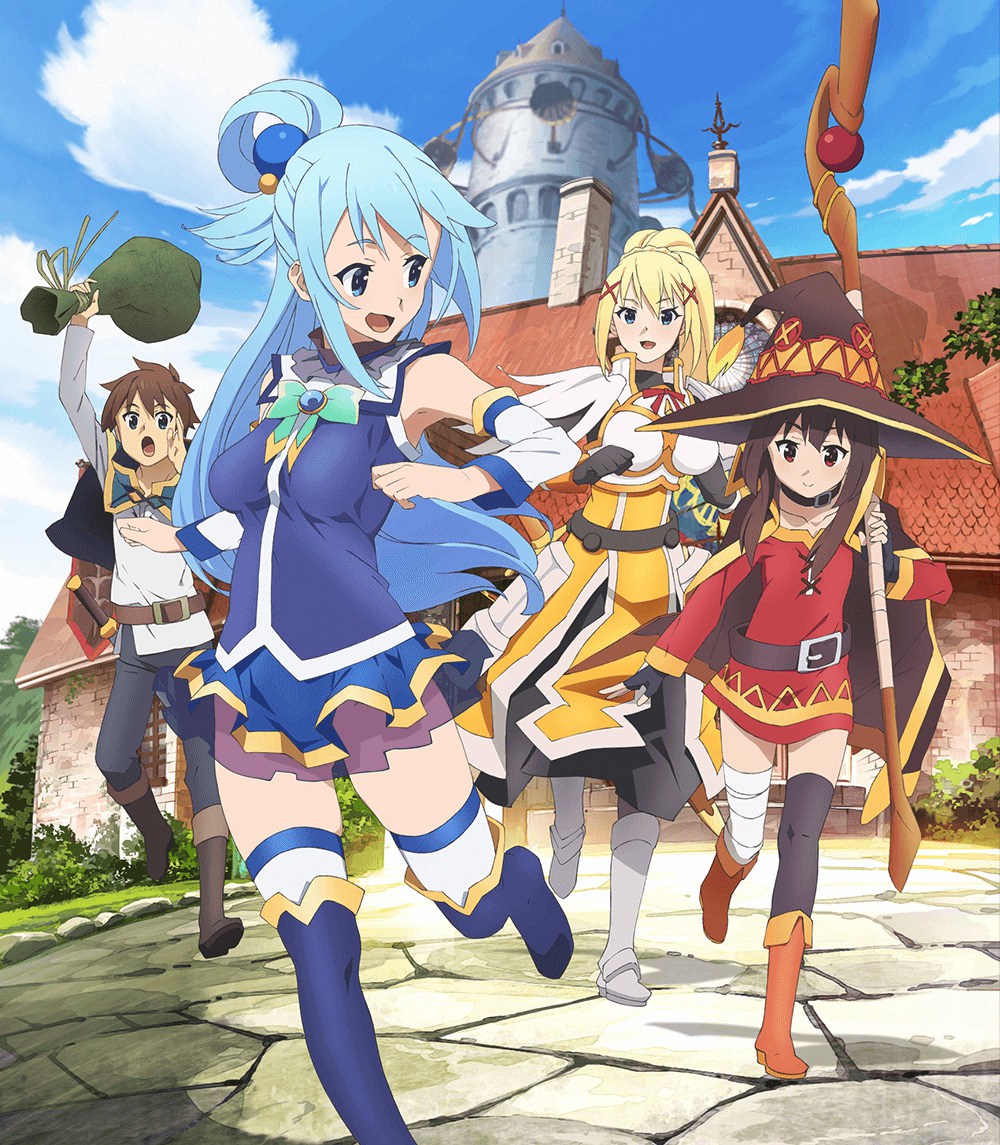 The second season of the Kono Subarashii Sekai ni Shukufuku wo! anime will begin airing on Wednesday, January11th 2017 on Tokyo MX, during the Winter 2016/2017 anime season. Further information about the anime will be revealed at a later date.
You can visit the anime's website here: http://konosuba.com/
And follow their Twitter: @konosubaanime