The official YouTube channel for Kuroko no Basket anime began streaming the first TV commercial for the upcoming third season of Tadatoshi Fujimaki's Kuroko no Basuke (Kuroko's Basketball) on Monday. This commercial gives us a sneak peak of the opening theme song Punky Funky Love by GRANRODEO. Kuroko no Basket 3rd Season will be premiering from January 10th next year.
In addition to this the ending theme was revealed and will be titled GLITTER DAYS. and performed by Fo'xTails. There will be a fan disc releasing on December 25 on Blu-ray and DVD that will contain a small mini drama recapping the anime's second season. It will also contain: a compact version of a talk show from the ~Kiseki no Tenjikai~ event at Hirakata Park, music videos for the series' main characters, a special gallery of an alternative to the anime's ending sequence, a version of the opening and ending without any credits and the initial rendition of the second season's first opening.
New cast members were also revealed earlier and will join the third season as members of Rakuzan's Uncrowned Kings:
Wataru Hatano (Gajeel Redfox from Fairy Tail) will voice Reo Mibuchi
Toshiki Masuda (Takashi Yura in Kimi no Iru Machi) as Kotarou Hayama
Takahiro Fujiwara (Pippin from Berserk film series) will be voicing Eikichi Nebuya
Visual: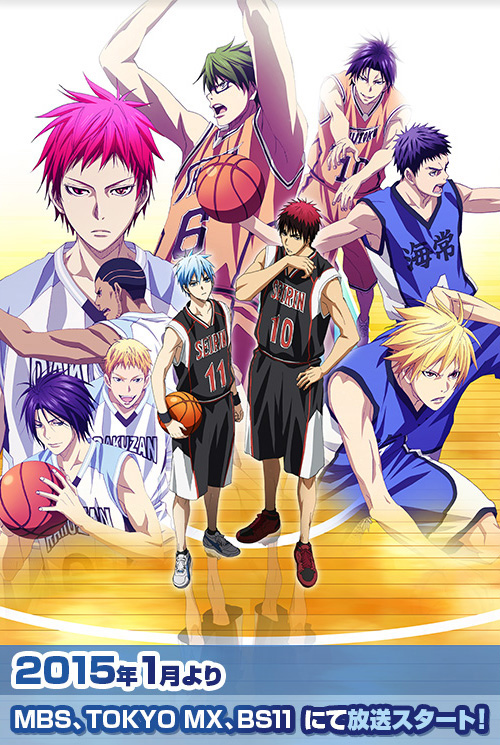 Kuroko no Basket is based on Tadatoshi Fujimaki's manga. The first anime season titled "Kuroko no Basket" aired from April 8, 2012 to September 22, 2012. The second season titled "Kuroko no Basket 2" premiered last October 6, 2013 and ran until March 30, 2014.
Kuroko no Basket synopsis from Haruhichan.
The Teiko Middle School Basketball Team. The class that produced three perfect seasons in a row, with five once-in-a generation players, called "The Generation of Miracles". There was another player who all of them respected… A legendary 6th player. An up-and-coming power player, Taiga Kagami, is just back from America. When he comes to Seirin High School, he meets the super-ordinary boy, Tetsuya Kuroko. Kagami is shocked to find that Kuroko isn't good at basketball, in fact, he's bad! And he's so plain that he's impossible to see. But Kuroko's plainness lets him pass the ball around without the other team noticing him, and he's none other than the sixth member of the Miracle Generation. Kuroko makes a pact with Kagami to defeat the other members of the Miracle Generation, who have all played basketball at other schools. A battle of light (Kagami) and shadow (Kuroko) begins!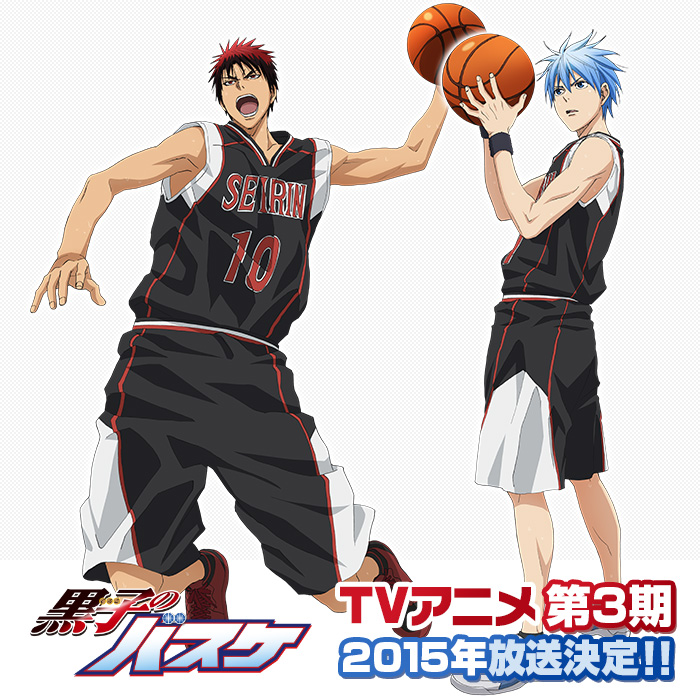 Kuroko no Basket 3rd Season will air on January 10th on MBS at 26:58 (effectively January 11th, 2:58 a.m.).