Tamon Ota, the character designer for Stan Lee's Heroman series and art designer for Yoshiyuki Tomino's Gundam: G no Reconguista manga has tweeted an image of a sketch he has done in celebration of the New Year. The image features Lina Davis from Heroman and Noredo Nug from Gundam: G no Reconguista both in cheerleader outfits jumping for joy and wishing you a Happy New Year.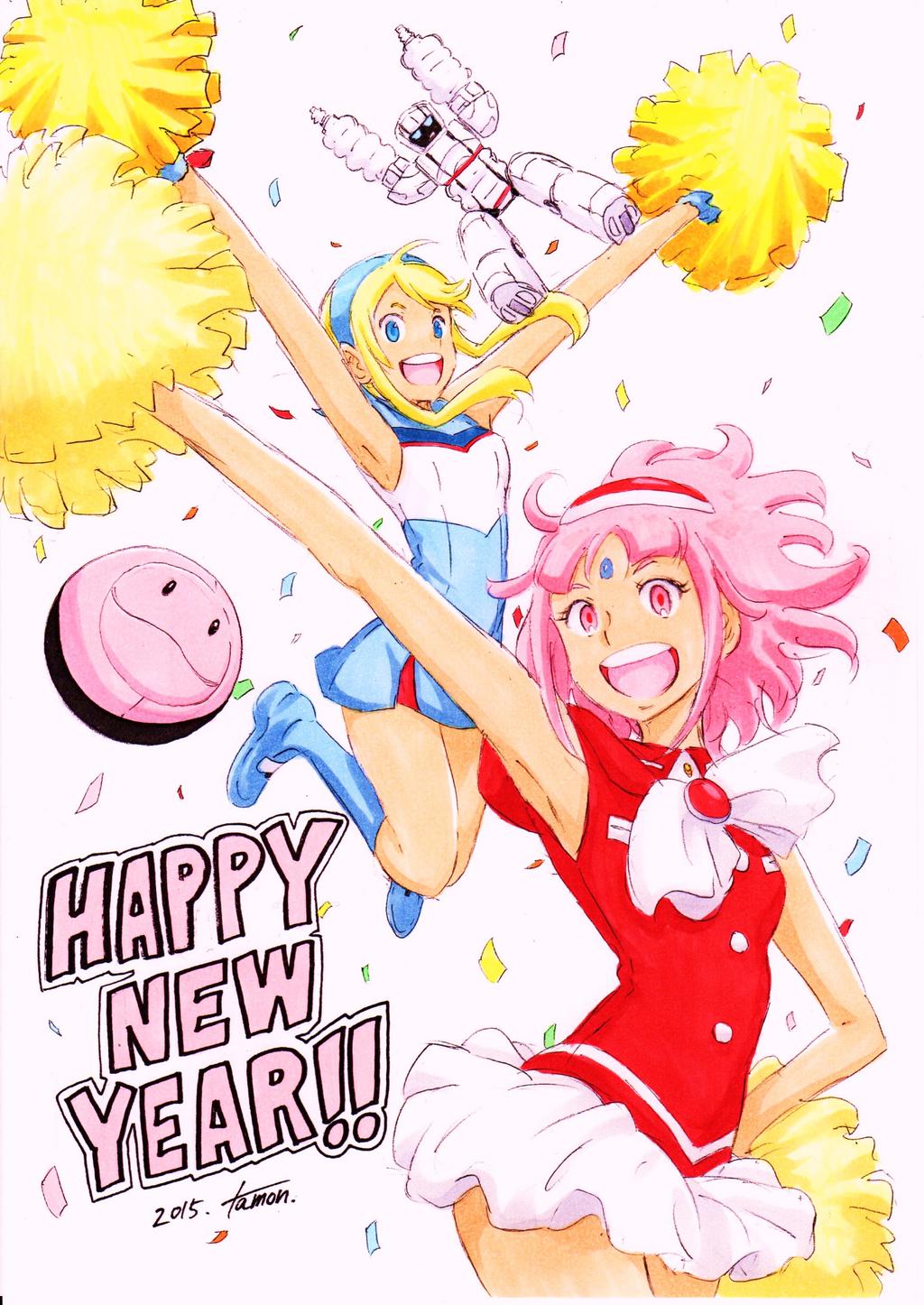 Gundam: G no Reconguista synopsis from Haruhichan:
The Universal Century, with its history of colonization and wars, passes into posterity, and time flows on.

Mankind enters a new age of seemingly endless peace and prosperity called the "Regild Century."

The year is R.C. 1014. The Capital Tower, an orbital elevator, connects earth and space. Due to its role in supplying Earth's power by transferring Photon Batteries from space, it is worshiped with a religious fervor. Bellri Zenam, a cadet in the Capital Guard formed to protect Capital Tower, is participating in his first non-simulated exercise when he is attacked by the powerful but unaffiliated "G-Self" mobile suit. He manages to capture the G-Self while piloting a "Recten" maintenance mobile suit; however, seeing the G-Self's pilot, a young space pirate named Aida Rayhunton, stirs something within him, as does the G-Self which he was sure he'd never seen before. Why does the G-Self accept Bellri as a pilot?

Aida's mission to attack Capital Tower. Bellri's destiny as a chosen pilot of the G-Self. The truth which will shake the Regild Century.

It was all the beginning of the Reconguista.
Heroman synopsis from MAL:
Joey is an orphan living with his grandmother in Center City on the West Coast of the United States of America. Joey, like any other boy his age, is interested in robots and gadgets and dreams about owning a particular toy robot called a Heybo. Heybos have very advanced mechanisms and controls but with great mechanisms comes great price; the robot is too expensive for Joey, whose only source of income is a part-time job at a restaurant and he needs that money to help support himself and his grandmother.

One day, when Joey is on his way home from school, he happens upon a couple of bullies who are playing around with a Heybo. Long story short, the bullies manage to get the robot run over by a car and Joey retrieves the wreckage from a trash can. Once home, Joey fixes the robot and names it Heroman. Later that night, a thunderstorm results in Heroman getting wet and, improbably, struck by lightning. The result is amazing, Heroman grows massive in size, gets emblazoned with the colors of the American flag and responds to Joey's commands!

At the same time in space, an alien race called the Skrugg is preparing an invasion of Earth. Now it's up to Joey and Heroman to save Earth!
Source: Tamon Ota's twitter