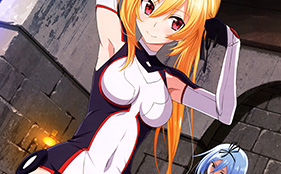 Lisesharte Atismata and Krulcifer Einfolk from the upcoming anime adaptation of Senri Akatsuki and Ayumu Kasuga's Saijaku Muhai no Bahamut (Undefeated Bahamut Chronicle) light novel series has been featured as a poster in the February 2016 issue of Megami. This issue can be purchased here (get 5% off with coupon code MOE-N3Y-4YW0QK) and you can view the other posters that came in this issue here.
In addition to this, the official website has revealed the second promotional video. The new minute long video sets up the background and atmosphere of the anime, as well as previewing the Opening theme song:  Hiryuu no Kishi by TRUE.
The website also recently revealed that the series will debut on January 11th next year.
Saijaku Muhai no Bahamut will start airing on Mondays on AT-X at 10:30pm JST from January 11th. The show will also air on the 12th on Tokyo MX at 12:30am JST, on Sun TV at 1:00am JST alongside a broadcast on KBS Kyoto, and on TV Aichi at 2:35am JST.
The first character designs of the anime's main cast have been revealed, which includes:
The anime's production staff were revealed earlier and includes:
The anime's Opening theme will be the song "Hiryuu no Kishi" by TRUE, and the Ending theme will be "Lime Tree" performed by nano.RIPE.
Here is the first promotional video for the anime:
Anime visual:
Saijaku Muhai no Bahamut (Undefeated Bahamut Chronicle) is a fantasy action light novel series written by Senri Akatsuki with illustrations by Ayumu Kasuga, who created the Joukamachi no Dandelion manga. The series began in 2013 under SB Creative's GA Bunko light novel imprint and has published a total of 6 volumes to date. A manga adaptation of the series was produced by Fumi Tadauri that began last year in Square Enix and GA Bunko's Gangan GA online magazine, where the second volume will be released on June 12th this year.
Saijaku Muhai no Bahamut synopsis from Haruhichan:
Lux, a former prince of an empire named Arcadia that was overthrown via a rebellion five years earlier. Lux accidentally trespasses in a female dormitory's bathing area, sees the kingdom's new princess Lisesharte naked, and incurs her wrath. Lisesharte then challenges Lux to a Drag-Ride duel. Drag-Rides are ancient armored mechanical weapons that have been excavated from ruins all around the world. Lux used to be called the strongest Drag-Knight, but now he's known as the "undefeated weakest" Drag-Knight because he will absolutely not attack in battle. After his duel with Lisesharte, Lux ends up attending the female-only academy that trains royals to be Drag-Knights.
You can visit the anime's website here: http://saijaku.jp/
And follow the anime on Twitter: @saijaku_anime