During the "Love Live! Sunshine!! Aquors Niconico Live Extracurricular Activity ~First Heart-Pounding Live Broadcast!~" live stream it was revealed on Monday that a television anime adaptation of the Love Live! Sunshine!! project has been green-lit. The live stream also announced that a second single for the project's new nine-girl idol group Aqours will go on sale on April 27.
Lantia also posted the full music video for "Kimi no Kokoro wa Kagayaiteru kai?" (Is Your Heart Sparkling?), the idols' first single which went on sale on October 7:
In addition to this, new character designs for the upcoming Love Live! Sunshine!! anime project have recently been revealed. The new character designs with their cast members and names include:
Visual: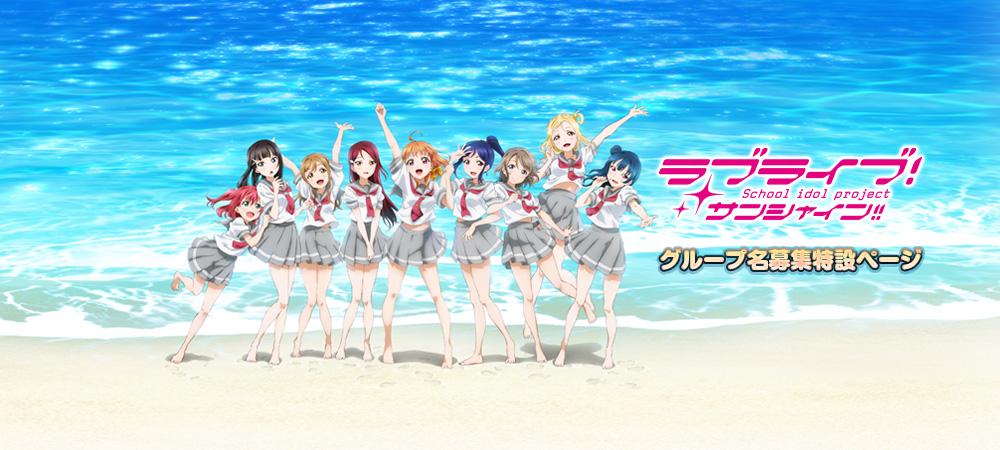 In 2015, Dengeki G's magazine hosted a poll to allow fans to name the 9 idols of Ura no Hoshi Girls Academy. A poll was also set up for the first series, Love Live! School Idol Project, where the name μ's was chosen. Coming in first place for Love Live! Sunshine!! with a comfortable 4644 votes, fans have chosen:
Aquors (pronounced Aqua), combination of Aqua and Ours
In second place at 3013 votes is:
Palettes!, Nine girls, nine colors
And in third place, with 2770 votes, is:
Lir, the Celtic god of the sea
The main cast and actresses for the main 9 girls of Love Live! Sunshine!! have been revealed and include:
Anju Inami (Ino Yamanaka in the Naruto Stage Play) will voice Chika Takami
Nanaka Suwa (Yaya in Aoi Sekai no Chuushin de) as Kanan Matsuura
Arisa Komiya (Gravure Idol and Yoko Usami/Yellow Buster from Tokumei Sentai Go-Busters) is voicing Dia Kurosawa
Shuka Saito (Unknown) will join the cast as You Watanabe
Aika Kobayashi (Singer of Freezing ED) will voice Yoshiko Tsushima
Kanako Takatsuki (Cover Artist, Part of AnisongCollab) as Hanamaru Kunikida
Aina Suzuki (Contestant in the 2013 Anison Grand Prix) voices Mari Ohara
Ai Furihata (Various Game Voices) is voicing Ruby Kurosawa
Additional information about the characters and project have also been revealed:
The readers and fans of the series will be able to participate in the story
After seeing the success of μ, Chika Takami wishes to follow in their footsteps and become a school idol. The new group can be seen as a sister looking up to μ
The anime will be set in Uchiura, a small seaside town near Numazu, Shizuoka Perfecture
The nine girls attend Ura no Hoshi Girls Academy, a school with less than 100 students
It was earlier revealed that animation studio Sunrise, who animated the Love Live! School Idol anime, filed a trademark forLove Live! Sunshine!! on March 27th this year. The trademark was filed to cover the following areas that will utilise the name: Trading cards and related products, clothing, accessories and related products, and home console related products.
Love Live! School Idol Project is an original anime produced by Sunrise studios that aired in January 2013. The conception of the anime project started in 2010 by Dengeki G's Magazine. The editors wanted the project to be heavily influenced by fans, such as the costumes, hairstyles and names. Throughout this process, a manga of the project simply called Love Live! began in early 2012 by Sakurako Kimino and Arumi Tokita. The next part in the project was the anime series, followed by this app and an OVA. The second season of Love Live! School Idol Project aired last year and an anime film will be released this Summer.
Here is a synopsis of the series from Haruhichan:
Otonokizaka High School stands on the border of three cities: Akihabara—a pop culture mecca that's evolving by the minute; Kanda—a conservative, cultured city where history and tradition reign supreme; and Jinbo—a quiet area reserved for a more mature, sophisticated population. Amidst this culture clash, the school now faces closure due to the enrollment of fewer and fewer students.

With the school planning to close within three years, nine female students come together with one thing in mind—form a pop idol group to revive the school's popularity and keep it from shutting down. "In order to protect our beloved school, there's only one thing we can do… become pop stars!"
You can visit the proejct's website for more information: http://www.lovelive-anime.jp/sp_sunshine.html
And follow their Twitter as well: @LoveLive_staff
Source: yaraon