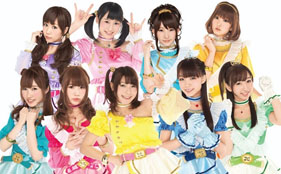 Lantis posted a four-minute preview for the two songs to be included in "MOMENT RING," the last single of Love Live's beloved nine-member group μ's. The title song is written by Aki Hata and composted/arranged by Kyo Yakada, of whom both have been long time contributors to the franchise since the unit's first single "Bokura  no LIVE Kimi to no LIFE" in 2010. Hata also wrote lyrics for the single's coupling song "Sayoonara he Sayonara!" with Ken Matsutani who composed/arranged the piece.
The single will release in Japan on March 2. At a selected nine Japanese stores: Gamers, Animate, Toranoana, Sofmap, Tsutaya, Seven Net, HMV, Tower Records, and Neo Wing, everyone who buys the single will receive one of the nine-type newly-drawn posters featuring each girls. Moving on from μ's to Aqours will be like ripping off a band-aid, painful but inevitable.
Source: Crunchyroll
Somewhat of an aspiring journalist.
110% weeb.