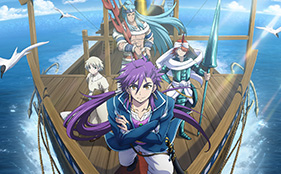 The official website for the Shinobu Ohtaka's and Yoshifumi Ohtera's spinoff manga Magi: Sinbad no Bouken (Magi: Adventure of Sinbad) has revealed that the series is set to premiere on MBS, TBS, CBC, and BS-TBS on April 15.
PENGUIN RESEARCH will perform the opening theme song "Spotlight," and Fujifabric will perform the ending theme song "Polaris." PENGUIN RESEARCH.
Here's the promotional video for the series:
https://www.dailymotion.com/video/x3n1brf
The series, which is a prequel to Magi: The Labyrinth of Magic, is written by Shinobu Ohtaka and illustrated by Yoshifumi Ohtera, and follows the titular character of Sinbad. The first two OVAs were released earlier this year in the 3rd and 4th manga of the Magi: Sinbad no Bouken manga respectively. The OVAs are being produced by Lay-duce (Go! Go! 575) and features the cast returning to voice their respective characters, with Daisuke Ono (Sebastian Michaelis in Black Butler) leading as Sinbad.
Anime visual:
The cast includes:
The returning staff consists of:
Director: Yoshikazu Miyao (Inazuma Eleven, Hellsing)
Series Composer: Taku Kishimoto (Usagi Drop, Silver Spoon)
Anime Character Designer: Soichiro Sako (Go! Go! 575, Toaru Majutsu no Index Animation Director)
Music Composer: Tomohiro Okubo (Battle Spirits: Sword Eyes)
Animation Production: Lay-duce (Go! Go! 575, Classroom☆Crisis)
Magi: Sinbad no Bouken OVA visual:
Magi: Sinbad no Bouken synopsis from MAL:
It tells the story of Sinbad's early life, when he captured two of the dungeons.
You can visit the anime's site here: http://www.project-magi.com/sinbad/
And follow their Twitter: @project_magi