On May 17th, 2015, an exciting announcement was made for fans of the girls-riding-motorcycles themed manga, Bakuon!!. The wraparound jacket of the newly released 6th volume of the series promoted an upcoming anime adaptation for the series! However, although the announcement did reveal the anime being green-lit, it did not inform fans of the type of anime that would be released.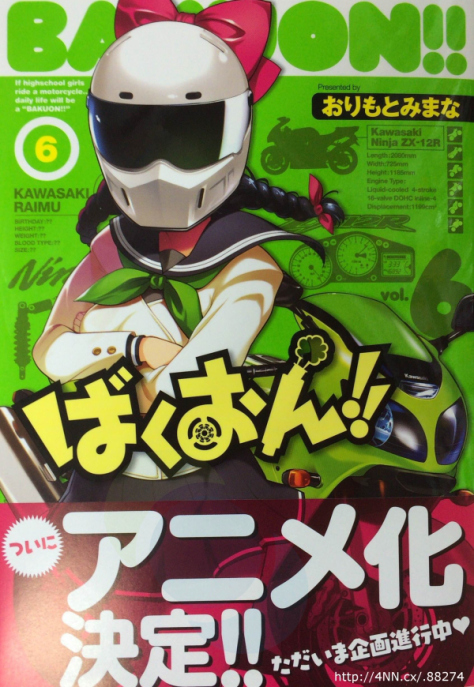 Bakuon!! is a manga that is written and illustrated by Orimoto Mimana. It has been serializing in Akita Shoten's Young Champion Retsu since 2011 and has been, as of now, collected into 6 tankobon volumes. The story follows Hane Sakura, a girl that has to ride her bicycle up several steep hills just to get to her new high school. As she is desperately pedals to school on day, she sees and hears and sees a motorcycle zoom past her and instantly falls in love with it. It turns out that bike was driven by her new classmate Onsa Amano, who also happens to be in the school Motorcycle Club. The two quickly become friends, as they set out on a metaphorical and picaresque journey in the world of bikes and biking!
Previous Volume Covers:
In the past, the manga has collaborated with Tokyo Metropolitan and Metropolitan Police Department to promote the importance of traffic safety. Three events have been held so far, in which the public receives reminders in the forms of advertising with the characters, displaying bikes, and informational treats.
More information about the anime will be released in the near future.
Source: Crunchyroll