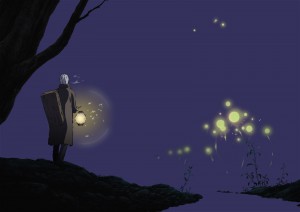 Who would've guessed that it would take over 7 years for a sequel to be produced for seinen title Mushishi? Not me, that's for sure.
It was announced in the made-for-television special, Mushishi Tokubetsu-hen: Hihamukage, that the new season titled Mushishi: Zoku-Shō will begin airing in April of 2014.
While it was been nearly seven years since the original Mushishi finished airing, a majority of the original staff has come back to fill their roles once again.
Yuto Nakano once again takes up smoking in the role of Ginko.
Mika Doi returns to lend her voice to the disembodied Narrator that everyone knows and loves.
So, have no fear! If you were a fan of Mushishi back in the day, just think that it had to go on a really long break. Also, due to the episodic nature of the series as a whole, you don't have to remember everything that happened in the first series to pick up Mushishi: Zoku-Shō when it begins to air.
Mushishi was based on the original manga story(written by Yuki Urushibara) detailing the exploits of Ginko. Ginko travels around to research these "Mushi" creatures, which are beings that are in touch with the essence of life. While in his travels, Ginko also offers support for those displaced by the acts of the mischevivous Mushi.
The original manga was published by Kodansha(JPN) and Del Rey(ENG) and ran for 10 volumes from 1999 to 2008. The manga-adapted anime first season ran from October 22, 2005 to June 28, 2006 for 26 episodes. It was directed by Hiroshi Nagahama with music by Toshio Masuda.
If you're getting hyped up with the upcoming release of Mushishi: Zoku-Shō please leave us a comment and let us know. Also, don't forgot you can check out the newly released anime feature right here on Haruhichan! Mushishi Tokubetsu-hen: Hihamukage clicky that link, download and enjoy!

Source: Natalie.mu, Official Website