Weiß Schwarz have done it again, as Schwarz announces the latest edition to the Schwarz Side. For you who don't know, Weiß Schwarz (ヴァイスシュヴァルツ Vaisu Shuvarutsu) is a Japanese collectible card game created by Bushiroad. The game is separated into Weiß-side and Schwarz-side. Weiß and Schwarz are German for white and black, respectively.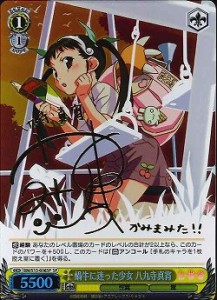 Trial Deck (Bakemonogatari)
Released January 14th, 2014
With a singular Trial Deck, you will receive:
-50 card pre-constructed deck
-Rule sheet, deck manual, play book, and playmat included
If you intend on buying a box of Trial Decks, you will receive a box containing 6 Trial Decks, all with the specifications listed above.
Booster Pack (Bakemonogatari)
Released February 14th, 2014
With the Booster Pack, you will receive:
Product Specifications
-100 types of cards (RR:8/ R:20/ U:28/ C:32/ CX: 12) + 17 parallel (SP: 5/ RRR: 4/ SR: 8)
-8 cards per pack
-20 packs per display
-16 displays per carton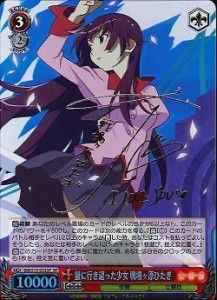 -1 PR card out of 5 types will be included in each display as a supplement.
-Exclusive SP Gold Foil/Hot Stamp signed cards from the Japanese voice actors / actresses are inserted randomly in packs.
The list is as follows:
-Chiwa Saito (Hitagi Senjyogahara)
-Emiri Kato (Mayoi Hachikuji)
-Miyuki Sawashiro (Suruga Kanbaru)
-Kana Hanazawa (Nadeko Sengoku)
-Yui Horie (Tsubasa Hanekawa)
A carton supplement will also be for sale, which will contain 8 foldable deckcases per carton.
**English and Japanese edition cards may be played together in tournament formats
Never heard of Weiß Schwarz before? Here is a PDF file containing rules and how to play!
================================================================
Haven't seen Bakemonogatari yet? Here is a brief  synopsis of what the show is about:
"The story centers on Koyomi Araragi, a third year high school student who has recently survived a vampire attack, and finds himself mixed up with all kinds of apparitions: gods, ghosts, myths, and spirits."
Like what Bakemonogatari is about? Download Bakemonogatari here!