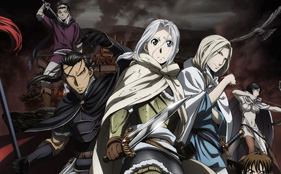 On March 15th, 2015, the official website for the upcoming TV anime adaptation of Tanaka Yoshiki's fantasy novel series Arslan Senki began streaming a new commercial that revealed the opening song of the series, "Boku no Kotoba Dewanai Kore wa Bokutachi no Kotoba" which roughly translates to "These Words Aren't Mine, They're Ours." The song is performed by UVERworld, a band that has previously recorded themes songs for Ao no Exorcist and Bleach. The ending theme song of the anime was also revealed. Named Lapis Lazuili, it will be performed by Japanese female singer Eir Aoi (Kill la Kill's "Sirius"). The song will be composed by Yusuke Kato.
The website also announced more cast members voice acting minor characters:
Sugo Takayuki as Andragoras III
Tanaka Atsuko as Tahamine
Tsuda Eizou as Vafleez
Ohkawa Toru as Karlan
Yasumoto Hiroki as Kishuard
Miyake Kenta as Kubad
Konishi Katsuyuki as Jaswant
Sakurai Toshiharu as Innocentius VII
Koyasu Takehito as Giskarl
Saito Shiro as Bodan
The main cast includes:
Kobayashi Yuusuke (Takamiya Honoka from Witch Craft Works) as Arslan
Hosoya Yoshimasa (Yamazaki Sousuke from Free! Eternal Summer) as Daryun
Namikawa Daisuke (Hisoka from Hunter x Hunter) as Narsus
Hanae Natsuki (Kaneki Ken from Tokyo Ghoul) as Elam
The production team includes:
Original creator: Tanaka Yoshiki
Manga: Arakawa Hiromu
Director: Abe Noriyuki (Bleach, YuYu Hakusho)
Series Composition: Uezu Makoto (Yuki Yuna wa Yuusha de aru, Akame ga Kill)
Key Animation: Ogiso Shingo (Anohana)
Character Design: Tazawa Ushio, Watanabe Kazuo
Action Director: Kimura Satoshi
Concept Design: Niitsuma Daisuke
Art Director: Kudo Tadashi
Background: Studio Pinewood
Color Key: Shinohara Aiko
CG Director: Suzuki Daisuke
Modeling Director: Adachi Hiroshi
3DCGI: SANZIGEN Animation Studio
Director of Photography: Masumoto Yukihiro
Photography: Graphinica
Editing: Hasegawa Mai
Sound Director: Aketagawa Jin
Sound Effects: Koyama Yasumasa
Sound: Magic Capsule
Music: Iwashiro Taro
Animation Production: LIDEN FILMS and SANZIGEN Animation Studio
Production: The Heroic Legend of Arslan Production Committee
Arslan Senki or The Heroic Legend of Arslan is a Japanese fantasy novel series written by Tanaka Yoshiki. Tanaka began writing the series in 1986, and the series is still ongoing as of 2008. There are currently 14 novels and one side story published. It was adapted into a manga by Nakamura Chisato in 1991, but the manga caught up to the novels in 1998 and received an original ending. In 2013, it received yet another manga adaptation, this time illustrated by Arakawa Hiromu. The new manga is serialized in the Bessatsu Shounen Magazine. Arslan Senki was also once developed into a short film and a 6 part unfinished OVA (only 4 parts were released).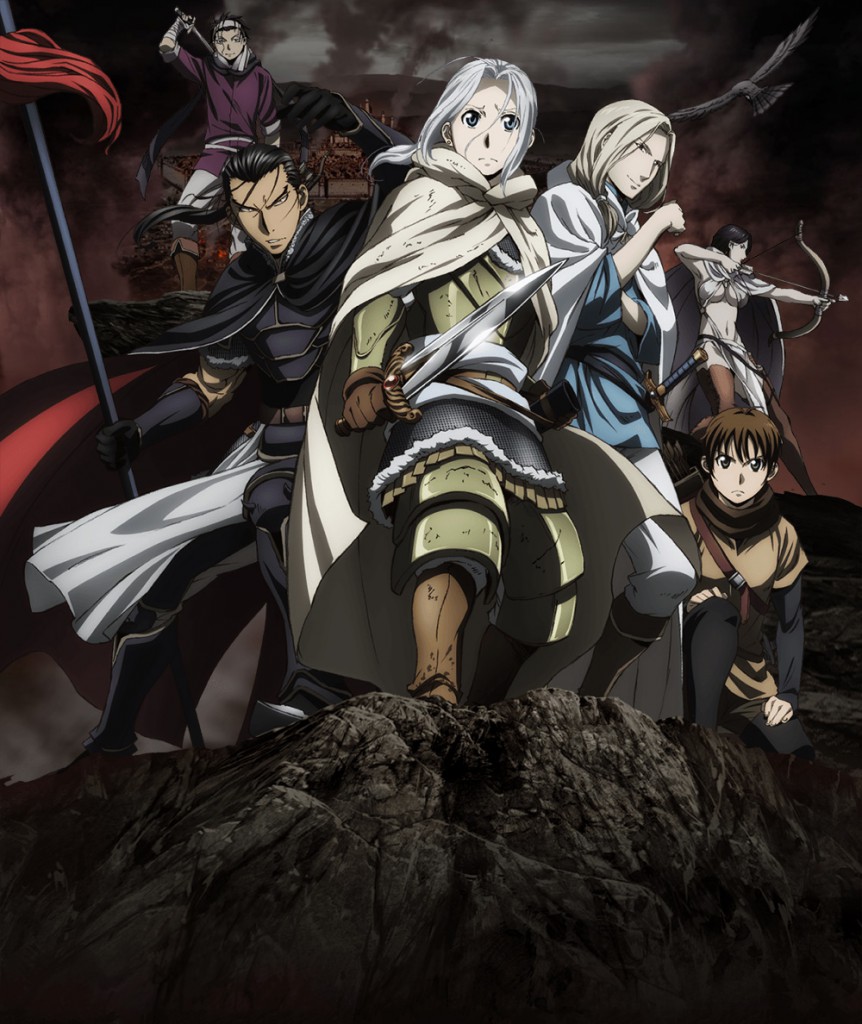 The Arslan Senki TV anime will premier on April 5th on MBS and air during the Spring 2015 anime season. Further information about the anime will be revealed in the near future.
Arslan Senki synopsis from Haruhichan:
Betrayed from within and overwhelmed by dark sorcery, the valiant armies of Pars are overrun by the warrior-fanatics of Lusitania. Escaping the destruction of his homeland, the heroic Prince Arslan begins to assemble a group of five, extraordinary allies—a priestess, an exiled warrior, a mischievous minstrel, an insightful artist and his attendant—to aid him in his fight against the Lusitanian invaders. Together, they must build an army and defeat 300,000 trained soldiers—including the mysterious Lord Silver Mask—who has also laid claim to the throne of Pars.
Source: Arslan Senki Official Website