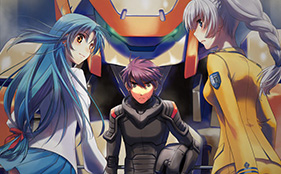 During the 2016 Fantasia Bunko Thanksgiving event, it was announced that the upcoming the anime adaptation of Shoji Gatoh and Shiki Douji's Full Metal Panic! light novel will be titled Full Metal Panic! IV. It will be handled by new production staff.
The upcoming anime series will be a full TV series that will air in the Fall 2017 anime season, which generally begins in October. In addition to the announcement, the main production staff were announced that includes:
Director: Katsuichi Nakayama (Nishi no Yoki Majo – Astraea Testament)
Series Composer: Shoji Gatoh
Anime Character Designer and Chief Animation Director: Osamu Horiuchi (Full Metal Panic!, Bakuretsu Tenshi)
Sub-Character Designer: Aya Yamamoto (Oregairu Zoku and Locodol Animation Director)
Animation Studio: Xebec (To LOVE-Ru, Pandora Hearts)
The main cast of the previous anime appeared at the event, hinting that they may reprise their roles in Full Metal Panic! IV:
The event also revealed that an audio drama CD of the series' 6th novel, Odoru Very Merry Christmas (Dancing Very Merry Christmas) is currently in the works.
Anime visual:
Full Metal Panic! is a series of light novels written by Shoji Gatoh and illustrated by Shiki Douji. The series follows Sousuke Sagara, a member of the covert anti-terrorist private military organization known as Mithril, tasked with protecting Kaname Chidori, a hot-headed Japanese high school girl.
Individual chapters are published on Monthly Dragon Magazine, followed by a paperback compilation released by Fujimi Shobo's Fujimi Fantasia Bunko. The novels are split between stories focusing on Sousuke's mission as a soldier of Mithril and comedic side stories centered on his life at Jindai High School.
The series has been adapted into different media; including three animated television series: Full Metal Panic! by Gonzo in 2002, Full Metal Panic? Fumoffu and Full Metal Panic! The Second Raid by Kyoto Animation in 2003 and 2005 respectively. An OVA was also released in 2006; and five different manga series.
Here is the synopsis of the series from MAL:
Equipped with cutting-edge weaponry and specialized troops, a private military organization named Mithril strives to extinguish the world's terrorism and all threats to peace on earth. The organization is powered by the "Whispered," individuals who possess intuitive knowledge and the remarkable ability to create powerful devices and machinery.

Seventeen-year-old Sousuke Sagara, a sergeant working for Mithril, has been assigned to protect Kaname Chidori, a Whispered candidate. He is ordered to join her high school class and be as close to her as possible to prevent her from falling into enemy hands—that is, if he can safely blend in with their fellow classmates without revealing his true identity.

Sousuke, who was raised on a battlefield and has very little knowledge of an average high school student's lifestyle, must adapt to a normal school life to safeguard Kaname. However, enemy forces have already begun making their move, and Sousuke is about to find out that the adversary coming for the Whispered girl may be a lot more familiar than he expects.
A brand new Full Metal Panic! TV anime is coming our way in Fall/Autumn 2017, titled Full Metal Panic! IV. Further information about the new adaptation will be revealed soon.
You can visit the anime's website here: http://fullmetal-panic.jp/
Source: Anime News Network