On March 8th, film and "super-deformed" anime adaptations to the popular TV anime, Hamatora, were announced to be green lit. This announcement was made from the Re: Hamatora Fes 2015 Spring event. The film is to be a theater version of Hamatora and Re: Hamatora, while the anime will be a side story/spinoff. Also, just in case you were wondering, the phrase "super-deformed" means that the characters will be portrayed as something similar to chibis- they'll have larger heads and smaller bodies. More information about the projects will be released in the future on the official website.
The super-deformed characters:
Hamatora is a manga written by Yukino Kitajima with illustrations by Yu Wazu. The manga began in November 2013 and is being published in Shueisha's Weekly Young Jump. The series currently has one released volume. An anime adaptation of the series started in January 2014. Titled Hamatora The Animation, the anime is set after the events of the manga. It is animated by studio Naz, and is their debut animated series. The series features directors Seiji Kishi (Angel Beats!, Carnival Phantasm) and Hiroshi Kimura (Recorder to Randoseru Do♪) with Touko Machida (Lucky☆Star, The [email protected]) and Jun Kumagai (Persona 4 The Animation) writing the scripts.
The Hamatora project was announced in 2013 and since then has spawned a manga, two seasons of anime, two stage plays, and a Nintendo 3DS game by FuRyu. More information on the upcoming projects is soon to come.
Anime visual: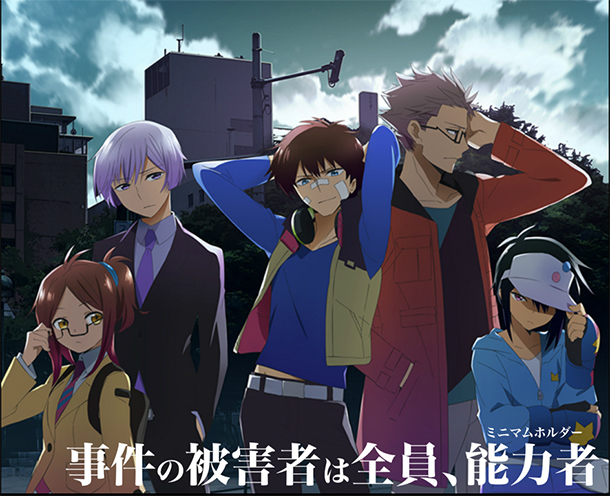 Hamatora synopsis from Haruhichan:
The story revolves around "Minimum" or "minor miracle"—special hereditary powers discovered only in an extremely limited number of humans. Those who possess such powers are known as "Minimum Holders."
Re: Hamatora synopsis from Haruhichan:
The highly anticipated sequel is here. Wrapped in shock and mystery, the story continues!

It has been three months since the incident at Yokohama. Things have been settling down at Cafe Nowhere. Murasaki and Hajime have teamed up and started investigating again. After an unforeseen reunion, Art holds Nice at gunpoint. What are his real intentions? What will become of the connection between Art and Hamatora?
Source: Official Website