At the end of the final episode of the anime adaptation of the Hiromu Arakawa's manga adaptation of Yoshiki Tanaka and Yoshitaka Amano's Arslan Senki (The Heroic Legend of Arslan) novel, it was announced that a new anime adaptation of Nakaba Suzuki's Nanatsu no Taizai (The Seven Deadly Sins) is being produced for 2016.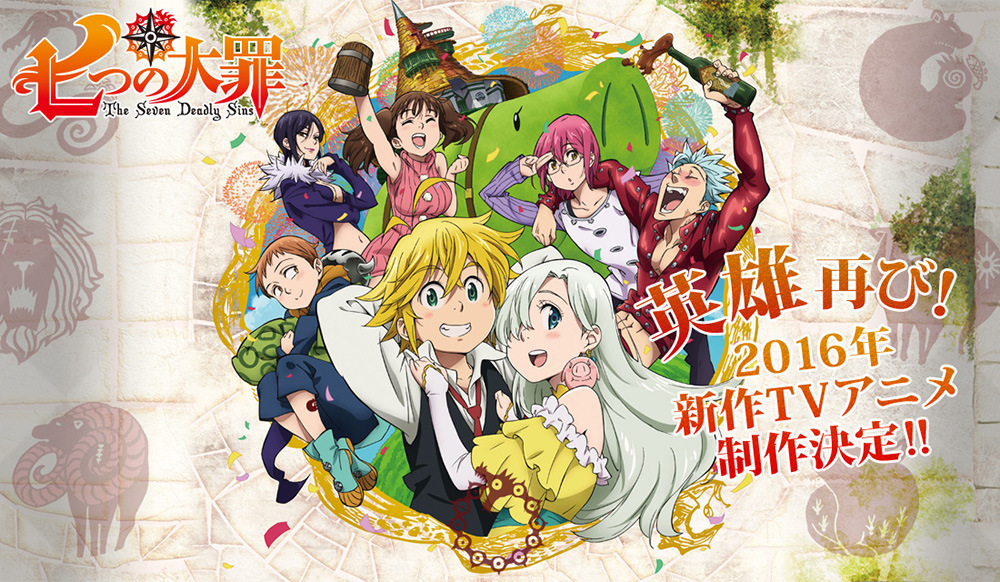 A brand new anime adaptation of Nanatsu no Taizai has been announced. The TV anime itself will be airing in 2016 and will continue with returning cast and staff members. Despite this, there hasn't been a official confirmation whether it would be a direct second season. The first season of the anime itself aired in October last year for a total of 24 episodes.
The main cast of the first anime will return for the 2016 series:
The anime's staff returning from the first series includes:
Director: Tensai Okamura (Darker than Black, Ao no Exorcist)
Series Composer: Shoutarou Suga (Oregairu, Isshuukan Friends.)
Anime Character Designer and Chief Animation Director: Keigo Sasaki (Sengoku Basara: Samurai Kings, Ao no Exorcist)
Music Composer: Hiroyuki Sawano (Attack on Titan, Aldnoah.Zero)
Animation Studio: A-1 Pictures (Sword Art Online, Arslan Senki)
Here is the announcement commercial for the 2016 Nanatsu no Taizai anime:
Anime: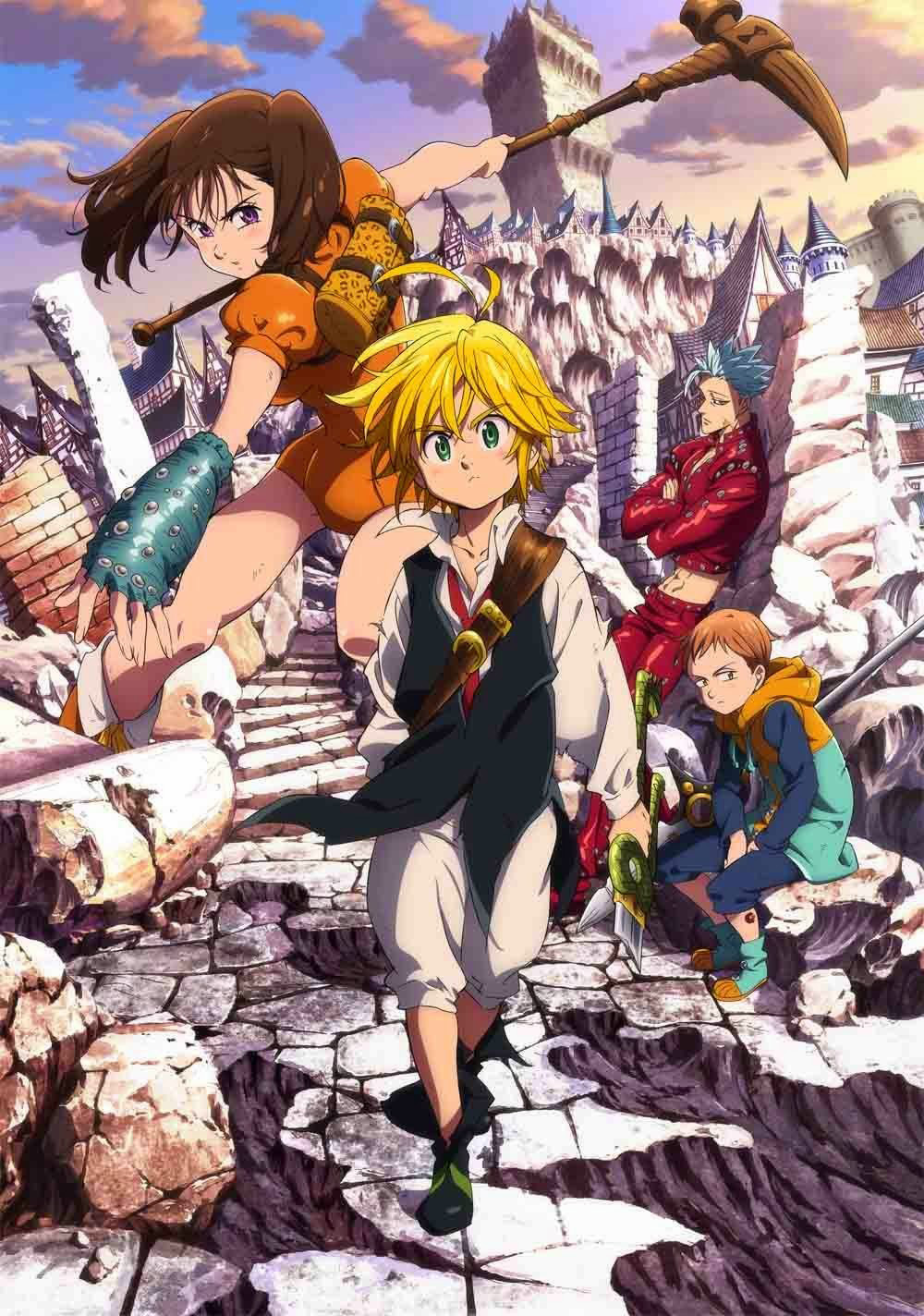 The Seven Deadly Sins (Nanatsu no Taizai) is a Japanese manga series written and illustrated by Nakaba Suzuki. It has been serialized in Kodansha's Weekly Shounen Magazine since October 2012, with the chapters collected into ten tankobon volumes as of June 17, 2014. The manga features a setting similar to the European Middle Ages, with its titular group of knights representing the seven deadly sins.
As of August 2014, The Seven Deadly Sins had over 5 million copies in circulation. It is currently being adapted into a television anime by A-1 Pictures that will debut on October 5, 2014. The manga has been licensed by Kodansha ComicsUSA for English publication in North America, while the chapters are released digitally by Crunchyroll in over 170 countries as they are published in Japan.
Synopsis of Nanatsu no Taizai from Haruhichan:
The "Seven Deadly Sins," a group of evil knights who conspired to overthrow the kingdom of Britannia, were said to have been eradicated by the Holy Knights, although some claim that they still live. Ten years later, the Holy Knights have staged a coup d'état and assassinated the king, becoming the new, tyrannical rulers of the kingdom. Elizabeth, the king's third daughter, sets out on a journey to find the "Seven Deadly Sins," and to enlist their help in taking back the kingdom.
A brand new anime adaptation of Nanatsu no Taizai is being produced and is scheduled to air in 2016. Further information about the new anime will be revealed in the upcoming months.
You can visit the anime's website here: http://www.7-taizai.net/
And follow their Twitter: @7_taizai
Source: ANN