Back in March 2013, @anime_yuruyuri posted a tweet that led in all kinds of directions.

七森中☆ごらく部、3度目の夏も熱くなりそう!色々仕込みはじめてます。アニメ3期目指して頑張るぜよ。 #yuruyuri— アニメ「ゆるゆり」公式アカウント (@anime_yuruyuri) May 3, 2013
"七森中☆ごらく部、3度目の夏も熱くなりそう!色々仕込みはじめてます。アニメ3期目指して頑張るぜよ。"
("It's going to be summer for the third time for the Amusement Club! We have started to change some things. I plan to work for season 3 of the anime." )
Is there going to be a third season? Is the creator only messing with us?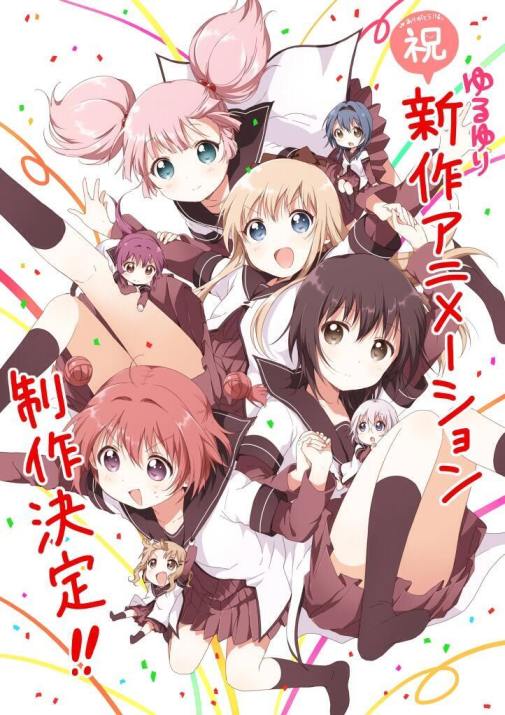 Well clear your mind and relax, as clearly 2 seasons were not enough for the fans of Yuruyuri as Yuruyuri's manga creator, Namori, announces a third anime adaptation project clearly and officially. Namori also mentioned all her thanks to her fans for all the support they've been giving her, and asks for them to continue to Yuruyuri together with her.
The first of the Yuruyuri (-Happy go Lily (TV)) anime series premiered in Japan during July 2011, and streaming on Crunchyroll as the series aired. Due to this Slice of Life being extremely popular, a further 12-episode sequel named Yuruyuri♪♪ (-Happy go Lily (TV2) aired during 2012, and Crunchyroll proceeded to stream as the second series aired. The anime was adapted from the manga Yuruyuri created by Namori. The Yuruyuri manga is Published in Japan by Ichinjinsha.
But what is Yuruyuri about?
Right after starting middle school, Akari Akaza joins the Amusement Club which is composed solely by her two childhood friends, Kyouko Toshinou and Yui Funami. Chinatsu Yoshikawa, Akaza's classmate, also becomes a member. 
These four mischievous girls illegally occupy the former Traditional Tea Ceremony clubroom, in order to create the "Amusement Club". These scamps, who ignore repeated warnings—in direct rebellion with the righteous directives of the Student Council—decide to remain in the room until they finally get off their bums and do something. In this slightly sluggish anime and manga, full of fits and starts, the four girls set off from their homes for a walk together with days full of a little this and that.

We already had Sword Art Online 2 announced this year, and now more Yuruyuri? What is next?