The official website for the upcoming anime adaptation of Minami Mizuno's Nijiiro Days began streaming the first promotional video on Tuesday. The anime will debut on January 10 on Tokyo MX.
The cast include:
Takuya Eguchi (Takeo Gouda from Ore Monogatari!!) will voice Tomoya Matsunaga
Nobunaga Shimazaki (Akira Kaibuki from Aquarion Logos) as Keiichi Katakura
Kouki Uchiyama (Seiya Kanie from Amagi Brilliant Park) as Tsuyoshi Naoe
Yoshitsugu Matsuoka (Tooru Yukimura from Aoharu x Kikanjuu) as Natsuki Hashiba
Minami Tsuda (Shuu Ouma from Guilty Crown) as Anna Kobayakawa
Yumi Uchiyama (Momiji Binboda from  Binbougami ga!) as Mari Tsutsui
Ai Kayano (Meiko Honma from Kimi to Boku) as Nozomi Matsunaga
Shizuka Ishigami (Ayame Kajou from Shimoneta to Iu Gainen ga Sonzai Shinai Taikutsu na Sekai) as Yukiko Asai
The staff include:
Chief Director: Tetsuro Amino (Break Blade (TV))
Director: Tomihiko Ookubo (Final Fantasy)
Series Composition: Aki Itami
Studio: Production Reed
A new key visual was also revealed: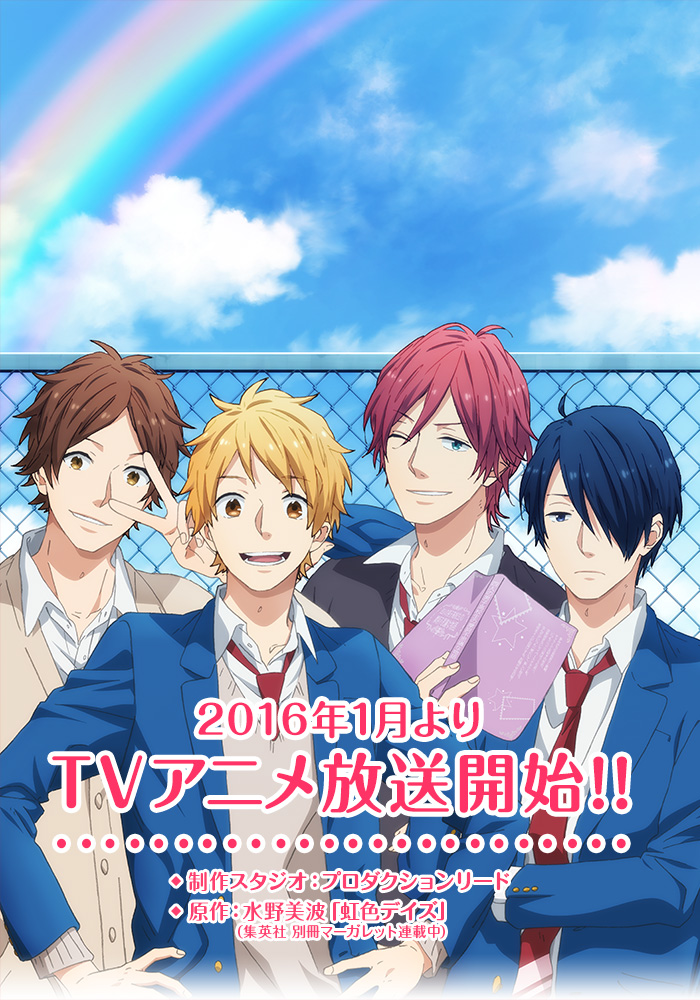 Nijiiro Days is a Japanese shoujo manga series written and illustrated by Minami Mizuno, and published in Shueisha's Bessatsu Margaret magazine. A drama CD was released with the seventh volume of the manga in October 2014. An anime adaptation produced by Production Reed has been announced.
Synopsis of Nijiiro Days from Haruhichan:
The series details the lives of four main characters named Natsuki, Tomoya, Keiichi, and Tsuyoshi. They spend their days trying to have fun by finishing their studies and debating about romance. Natsuki, one of the main characters, has a crush on a girl named Anna at school, while others often get involved in their relationship.
Source: Nijiiro Days official website