In a recent issue of Weekly Shonen Jump, video game developer and publisher Konami has announced that they are currently developing a game for the PlayStation Vita based on Naoshi Komi's Nisekoi. The game's official website has launched and revealed the title of the upcoming romance/adventure game: Nisekoi: Yomeiri!?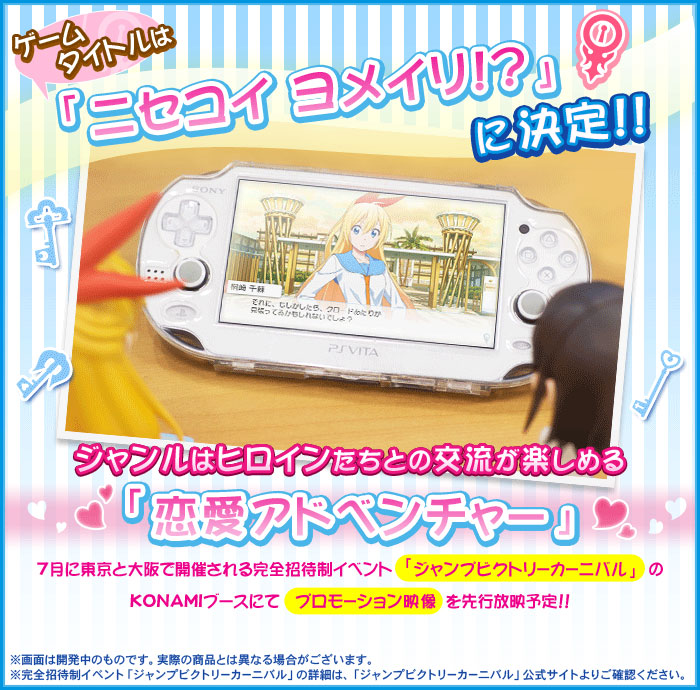 The official website also has a countdown timer counting down to July 19 at 8am JST. While there isn't any explicit information about what will be revealed on that day, expect some details on the upcoming game. For now, there is not much known about the game other than it is in development. The site itself includes various hidden images of the series' characters as seen below.
The Nisekoi manga originally started off as a one shot series by Naoshi Komi in January 2011. Komi then released the manga as a series later on in the year, when it appeared in Weekly Shonen Jump. Since 2011, 12 volumes have been released for the romantic comedy. Additionally a voiced comic has also been published and a light novel series. Viz Manga has also picked up the series late 2013 for English localisation, announcing that the chapters would be translated and released in Viz's Weekly Shonen Jump Alpha. Viz will also release a localised version of the first volume in early 2014. An anime adaptation of the manga aired from January this year, and ended earlier this month. The anime is produced by Shaft (Mahou Shoujo Madoka★Magica, Bakemonogatari).
Here is a plot synopsis of Nisekoi from MAL:
As a child, Raku Ichijo made a secret promise with his childhood sweetheart, keeping a pendant as a memento while his love took the key. He dreams of one day meeting his past love, but years later, reality smashes his hopes when Chitoge Kirisaki accidentally knees him in the face…

Though Raku's a normal high schooler, his family heads the notorious yakuza gang the Shuei-Gumi faction! And he's dragged into family affairs when he's forced into a relationship with Chitoge, the daughter of a rival gang's boss!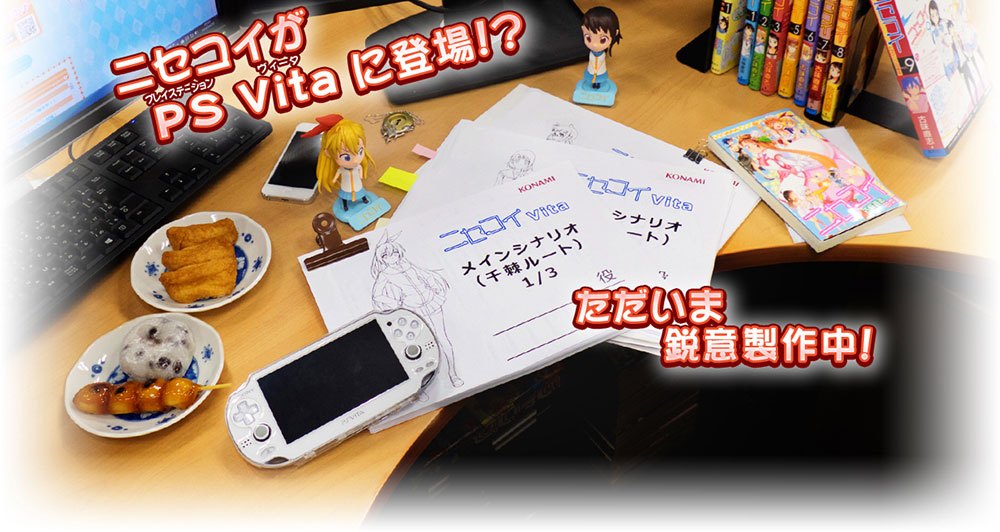 More information about Nisekoi: Yomeiri!? for the PlayStation Vita will release in the upcoming weeks and on July 19. You can visit the game's website here: http://www.konami.jp/nisekoi/vita/
Source – Anime News Network