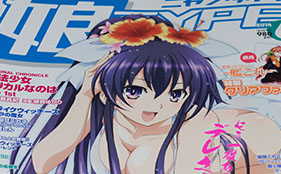 We're back once again, this time with NyanType's June 2014 issue. This issue includes 20 stunning posters that any otaku would love to have hanging up on their walls! This issue also includes something special, for you Kantai Collection fans.
Chuunibyou demo Koi ga Shitai!
Isshuukan Friends.
Love Live! School Idol Project
This issue also included an exclusive KanColle Clear File which is an awesome bonus!
Overall this was a great issue and included a nice variety of posters from different series. NyanType also includes articles, interviews, previews which I will be tweeting pictures of.
If you're interested in where to get a copy of NyanType, JList has a NyanType subscription service for $12~$16/month and you can order from here.
If you had the chance to pick a poster from above to hang in your room, which one would it be? I would personally pick the Love Live! School Idol Project or Ryuugajou Nanana no Maizoukin poster or maybe the Gochuumon wa Usagi Desu ka? poster… it's so hard to decide.
Let me know what you would personally pick in the comments!