The official website of Chiyomaru Shikura (Steins;Gate, Robotics;Notes) and pako's Occultic;Nine light novel series has revealed that current ongoing TV anime adaptation is scheduled for a total of 12 episodes. The anime itself is currently airing on Tokyo TV every Saturday at midnight JST.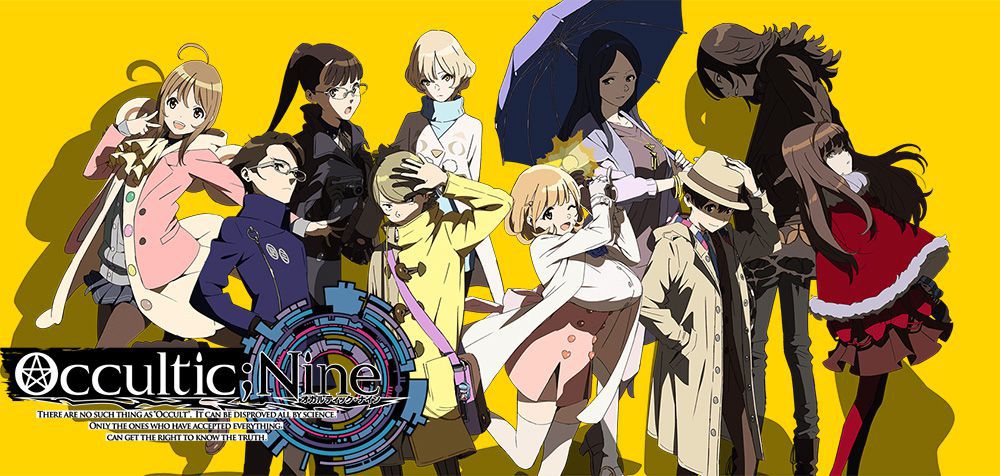 The first details about the Blu-ray and DVD volumes of the Occultic;Nine anime were revealed. There will be a total of 6 volumes, with each volume containing 2 episodes each, and the last volume containing episodes 11 and 12. The release date of the volumes are:
Volume 1: December 7th, 2016
Volume 2: January 11th, 2017
Volume 3: Feburary 8th, 2017
Volume 4: March 1stm 2017
Volume 5: April 5th, 2017
Volume 6: May 3rd, 2017
The Blu-ray volumes will retail for ¥7,000 ($67.80 USD) and the DVD volumes will sell for ¥6,00 ($58.10 USD). Early pre-orders of the volumes will receive a small OST, 24 page booklet, two pinups of the end cards to the volume's respective episodes and audio commentary with the cast and staff.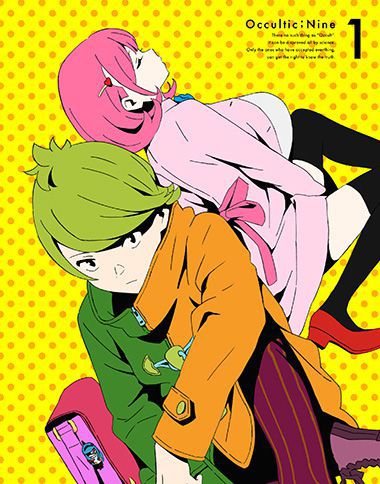 The main cast of the anime includes:
The main members of the anime's production staff were revealed:
Director: Kyohei Ishiguro (Shigatsu wa Kimi no Uso, Lance N' Masques)
Assistant Director: Miyuki Kuroki (Magi: The Labyrinth of Magic and Silver Spoon Animation Director)
Anime Character Designer: Tomoaki Takase (Saenai Heroine no Sodatekata)
Art Director: Hisayo Usui (Shigatsu wa Kimi no Uso, The [email protected] Movie)
Art Designer: Yoshinori Shiozawa (Sword Art Online, Rewrite)
Sound Director: Jin Aketagawa (Shigatsu wa Kimi no Uso, High School DxD)
Music Composer: Masaru Yokoyama (Shigatsu wa Kimi no Uso, Plastic Memories)
Animation Studio: A-1 Pictures (Sword Art Online, Shigatsu wa Kimi no Uso)
Here is the anime's announcement promotional video:
http://www.dailymotion.com/video/x4ogzlu
Occultic;Nine is a light novel series written by Chiyomaru Shikura, head of MAGES the creator of many of 5pb. and Nitroplus' visual novels (including Steins;Gate and Robotics;Notes) with illustrations from Pako. The novels began in late 2014 and a total of 2 volumes have been release. The series is also being adapted into a monthly manga in Kodansha's good! Afternoon magazine by Ganjii. The first volume of the manga released on the 7th of April this year. A video game adaptation from 5pb. and Nitro+ was announced in mid 2015 – no further information was revealed since its announcement.
Here is the series synopsis from MAL:
The "paranormal science" story follows nine idiosyncratic individuals, linked by the "Chōjō Kagaku Kirikiri Basara" occult summary blog run by 17-year-old second-year high school student Yūta Gamon. Little incongruities that occur around these nine eventually lead to a larger, unimaginable event that may alter what is considered common sense in this world.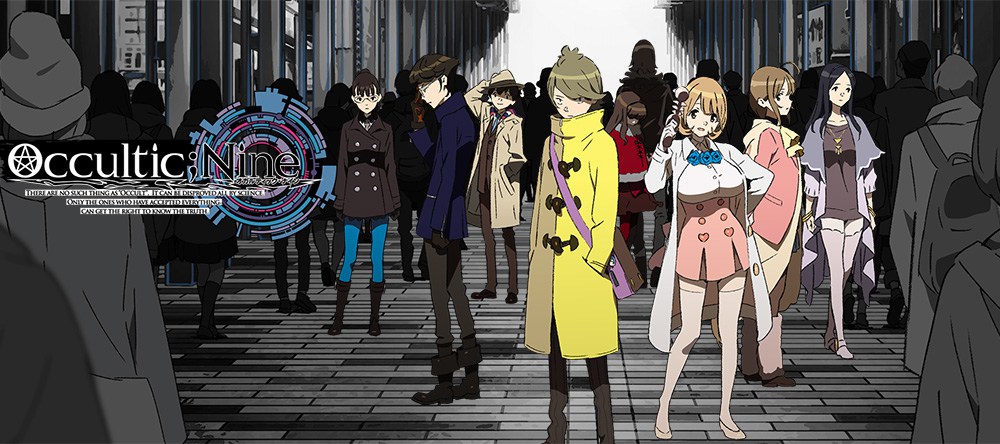 You can visit the anime's website here: http://occultic-nine.com/
And follow their Twitter: @occultic_nine