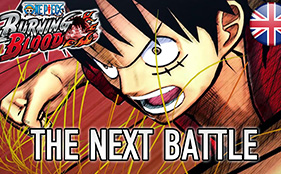 It has been confirmed by Bandai Namco Entertainment on Monday that they will release its upcoming fighting / action One Piece: Burning Blood game in Europe, North America and Latin America in 2016. Like Japan, the game will be released on PlayStation 4 and PlayStation Vita, but it will also have an Xbox One version.
In addition to this, the trailer was also streamed on Monday:
Similar to the Grand Battle! series, One Piece: Burning Blood is a 1-on-1 fighting game. It will focus on fighting and devil fruit abilities. Logia users will be able to use their powers to avoid damage. The game's logo suggests that Luffy will be able to activate Gear Fourth in the game.
Bandai Namco Entertainment revealed the game earlier this month at the Sony Computer Entertainment Japan Asia press conference. Spike Chunsoft is developing the game. Kouji Nakajima (One Piece: Pirate Warriors franchise, One Piece Unlimited World Red) is producing at Bandai Namco, and Hiroyuki Kaneko and Tairi Kikuchi are serving as director and game designer, respectively.
Bandai Namco Entertainment had also revealed on Monday that it plans to release the game in 2016 and in 12 languages: English, French, Italian, German, Spanish, Russian, Polish, Brazilian Portuguese, Neutral Spanish, Traditional Chinese, Korean, and Japanese.
Here's a synopsis of the game by Bandai Namco:
One Piece: Burning Blood is built upon the wacky and rich One Piece universe and will offer a never-seen-before experience thanks to the fast-paced gameplay and unique One Piece elements!

Speaking of which, Logia Devil Fruits and "Haki" can be used to throw massive special moves and take down the fiercest opponents! Stay tuned for more reveals.
Source: Bandai Namco