The first promotional video for the upcoming second season of Gen Urobuchi's Psycho-Pass has been uploaded. Psycho-Pass 2 will debut this October 9 on Fuji TV and air throughout the Fall 2014 anime season. The opening theme for the second season will be titled Enigmatic Feeling and performed by Ling Tosite Sigure while the ending theme will be titled Fallen performed by EGOIST.
Both opening and ending themes are previewed in the promotional video.
Psycho-pass 2 15 second PV:
The cast includes:
Kana Hanazawa (Mayuri Shiina from Steins;Gate) as Akane Tsunemori
Kenji Nojima (Mamoru Chiba/Tuxedo Mask from Sailor Moon Crystal) as Nobuchika Ginoza
Keiji Fujiwara (Tatsuya Kimura from Hajime no Ippo) as Sakuya Tougane
Ayane Sakura (Kokoa Hoto from Gochuumon wa Usagi Desu ka?) as Mika Shimotsuki
Takahiro Sakurai (Shougo Makishima from Psycho-Pass) as Sho Hinakawa
Shizuka Itou (Luviagelita Edelfelt from Fate/kaleid liner Prisma Illya) as Yayoi Kunizuka
Miyuki Sawashiro (Himeko Inaba from Kokoro Connect) as Shion Karanomori
Masumi Asano (Hakufu Sonsaku from Ikkitousen)as Risa Aoyanagi
Marina Inoue (Armin Arlert from Attack on Titan) as Mizue Shisui
Ryohei Kimura (Kodaka Hasegawa from Boku wa Tomodachi ga Sukunai) as Kirito Kamui
Naoyoshi Shiotani (Psycho-Pass, Blood-C: The Last Dark) is returning to direct the series and Yuugo Kanno is returning to compose the music, but Tow Ubukata (Ghost in the Shell: Arise, Soukyuu no Fafner: Dead Aggressor) will handle the series composition and Jun Kumagai (Hamatora The Animation, Persona 3 the Movie 1: Spring of Birth) will write the scripts. Tatsunoko Production will replace Production I.G as the animation production studio. The other staff members include:
Supervisors: Katsuyuki Motohiro (Psycho-Pass), Gen Urobuchi (Fate/Zero, Aldnoah.Zero)
Original Character Design: Akira Amano (Psycho-Pass)
Character Design: Kyoji Asano (Psycho-Pass, Shingeki no Kyojin)
Series Director: Kiyotaka Suzuki
Chief Animation Director: Kyoji Asano, Akira Takada
Color Plan: Rumiko Nagai
Art Director: Takahiro Matsuura
3D Driector: Yoshifumi Kasanaga
Director of Photography: Shunsuke Nakamura
Editing: Yoshinori Murakami
Sound Director: Yoshikazu Iwanami
Production: Psycho Pass Production Committee
Psycho-Pass 2 Key Visual: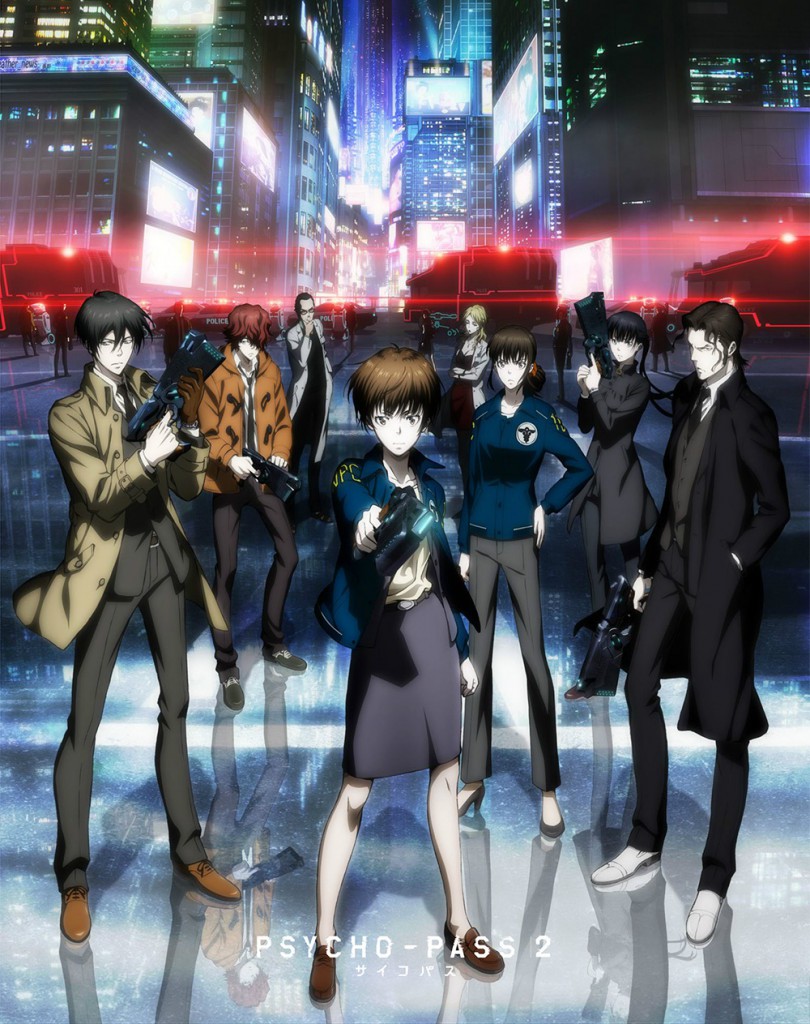 Psycho-Pass is a Japanese anime television series that was produced by Production I.G, directed by Naoyoshi Shiotani and written by Gen Urobuchi. The series was aired on Fuji TV's Noitamina programming block between October 2012 and March 2013. The story takes place in an authoritarian future dystopia, where omnipresent public sensors continuously scan the Psycho-Pass of every citizen in range. The sensors measure mental state, personality, and the probability that the citizen will commit crimes, alerting authorities when someone exceeds accepted norms. To enforce order, the officers of the Public Safety Bureau carry hand weapons called Dominators. These gun-like devices instantaneously assess the Psycho-Pass of a targeted individual, determine whether a shot is allowed, and control how powerful it can be in a range from temporary paralysis to complete disintegration. They extend even further the social control exerted by the central authorities. The story follows Akane Tsunemori, Shinya Kogami, and other members of Unit One of the Public Safety Bureau's Criminal Investigation Division, and the crimes they investigate.
Psycho-Pass originated from Production I.G.'s interest in making a successor to Mamoru Oshii's achievements. The series was inspired by several live-action films. Chief director Katsuyuki Motohiro aimed to explore psychological themes in society's youth using dystopian storylines. Several rules were used to focus on making the dystopia that the characters live in.
A second season will begin airing in October 2014 followed by an animated film to be released in the first quarter of 2015. A manga adaptation has been in serialization in Shueisha's Jump Square magazine and several novels, including an adaptation and prequels to the original story, have been published. An episodic video game adaptation called Chimi Chara Psycho-Pass was developed by Nitroplus Staffers in collaboration with Production I.G. New novels and another manga are due to be serialized in 2014. Critical reception of the series has been mostly positive; the setting of the series and the cases which develop the protagonists were praised. Special mention was given to the villain and philosophy discussed in the series. However, the series' gruesome imagery and aspects of the setting were criticized.
Psycho-Pass 2 synopsis from Haruhichan:
A sequel to the Psycho-Pass series.
Source: moca-news, ANN, Otaku Tale