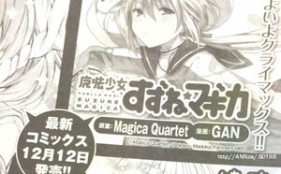 It was announced in the December issue of Houbunsha's Manga Time Kirara Forward magazine that the manga spin-off series of Mahou Shoujo Madoka Magica, titled Puella Magi Suzune Magica, will end in the following issue on November 22. The third compiled volume of this spin-off series will be published by Houbunsha on December 12.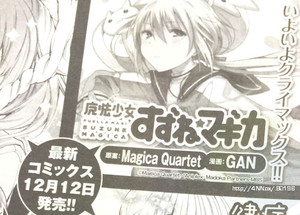 Puella Magi Suzune Magica was illustrated by GAN (Kakute Horobita Dystopia). The first four chapters of the series was released on November 12, 2013 in one compiled volume. The fifth chapter began serialization in Manga Time Kirara Forward magazine on November 22, 2013. Chapters 5-10 were compiled as a second volume and was released on June 25, 2014.
Puella Magi Suzune Magica is one of the three spin-offs that was released after The Rebellion Story (Mahou Shoujo Madoka Magica Movie 3: Hangyaku no Monogatari). The other two spin-offs were Puella Magi Oriko Magica and Puella Magi Tart Magica: The Legend of "Jeanne d'Arc and both of them were licensed in English by YenPress (Puella Magi Suzune Magica was not licensed in English).
You can read the official Japanese preview of Puella Magi Suzune Magica that includes the manga's first 12 pages here: http://www.dokidokivisual.com/comics/book/actibook/wb43705/_SWF_Window.html
Synopsis from Manga Updates:
A middle-schooler who gallantly sleeps in, Suzune. Though she always goes about with a bright smile, there's another side to her. That is, she's a magical girl assassin. What will be the fate of the four magical girls she ambushes…?! The first chapter of the spinoff that asks about the existence of "magical girls," and the goodness and evil residing within oneself!
Volume covers:
Mahou Shoujo Madoka Magica (Puella Magi Madoka Magica) is a anime series produced by Shaft (Bakemonogatari, Nisekoi) and Aniplex (Fullmetal Alchemist: Brotherhood, Fate/stay night: Unlimited Blade Works (TV). It was directed by Akiyuki Shinbou (Sayonara Zetsubou Sensei, Arakawa Under the Bridge) and was written by Gen Urobuchi (Fate/Zero, Suisei no Gargantia). It has received a manga adaptation a month after the anime's release, three films and seven spin-off manga adaptations.
Synopsis of Mahou Shoujo Madoka Magica from Haruhichan:
She has a loving family and best friends, laughs and cries from time to time… Madoka Kaname, an eighth grader of Mitakihara middle school, is one of those who lives such a life. One day, she had a very magical encounter. She doesn't know if it happened by chance or by fate yet. This is a fateful encounter that can change her destiny—this is a beginning of the new story of the magical girls.
Source – ANN, Puella Magi Wiki
sevenpocky | Anime and Manga Enthusiast. Slice-of-life and Sports genre fanatic. Shoujo manga lover.
Oh, and I'm short and I love writing manga news.