One of 2013's Young Animator Training Project's (or known as Anime Mirai as of 2013) short movie, Death Billiards, will be having a full anime series set to premiere next year as Death Parade. It will air on Nippon TV on Japan. Madhouse (No Game No Life, Hunter x Hunter 2011) will be responsible for the anime production just like on the movie. Yuzuru Tachikawa (Bleach, Steins;Gate, Zankyou no Terror) will return as the director, scriptwriter and original creator for the anime.
Death Parade's promotional video has also streamed. Tomoaki Maeno (Akatsuki no Yona's Son Hak, Log Horizon's Naotsugu) voices the narrator who played as a bartender on the short movie.
The text in the PV translates into:
0:00 – Anime「Death Billiards」PV
0:05 – Year 2013 Anime Mirai
0:09 – The talked-about work that illustrates the depths of humans
0:12 – Is reborn
0:14 – Life & Death
0:15 – (Narrator's voice) Usually at death, humans are either sent to Heaven or Hell. Of course, there are many exceptions. There is a rule that those who have fallen into the deepest of Hell come here. I am the game master.
0: 17 – Heaven & Hell
0:28 – Death Billiards – TV anime series adaptation
0:35 – (Narrator's voice and text) To live in the first place is unfair.
0: 40 – I'm sure you both know this fully well.
0: 46 – (Narrator's voice) Now then, let's begin the game.
1:00 – Welcome to Queen de Kim.
Death Parade's first key visual: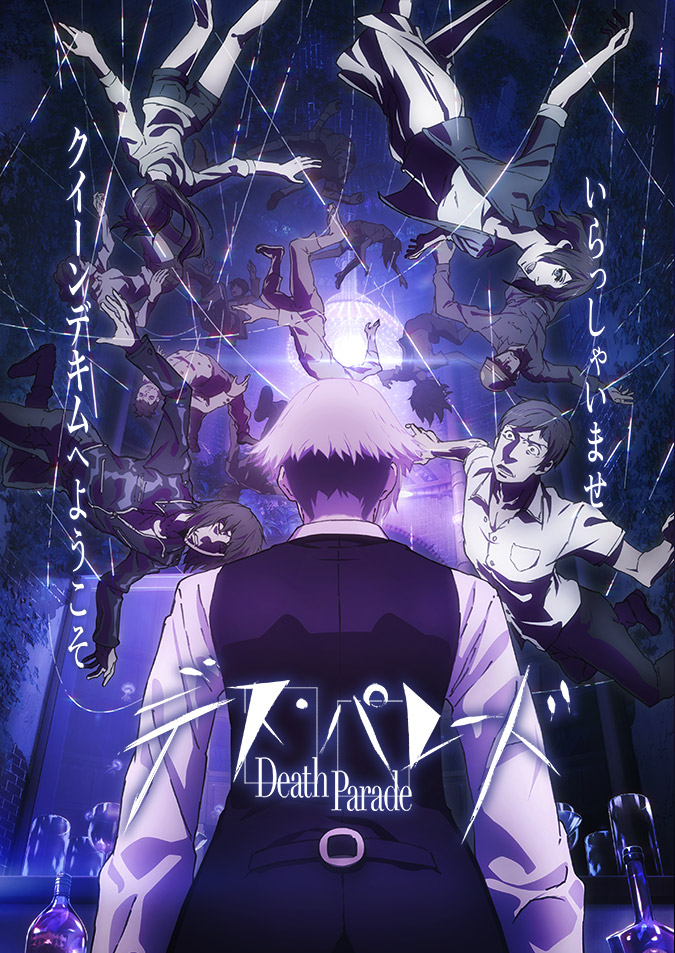 Death Parade's logo: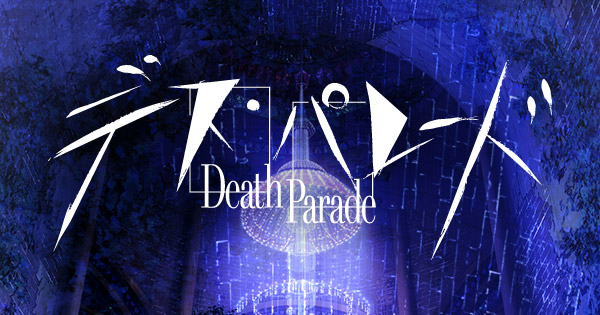 Death Billiards is one of the four short movies along with Ryo, Little Witch Academia and Arve Rezzle: Kikaijikake no Yoseitachi for Anime Mirai 2013. The anime short is a psychological-game anime about an old man and a young man who came in a mysterious bar where the bartender suggested them to play a game of billiard, but they have to bet their body organs to win.
Death Billiards' staff:
Director, Scriptwriter, Storyboard: Yuzuru Tachikawa
Character Designer, Animation Director: Shinichi Kurita (Fullmetal Alchemist: Brotherhood)
Recorder: Atsushi Satou (Non Non Biyori)
Art Director, Background Artist: Satoshi Hirayanagi (Hanasaku Iroha)
Key Animator: Yoshinori Kanemori (Monster)
Death Billiards'cast:
Tomoaki Maeno – plays as the Bartender
Asami Seto (Selector Spread WIXOSS' Urasoe Iona) – plays as Onna, the Bartender's assistant
Jun Hazumi (Seton Doubutsuki: Kuma no Ko Jacky's Keruyan) – plays as Roujin, the old man
Yuuichi Nakamura (BlazBlue: Alter Memory's Hazama) – plays as Otoko, the young man
In 2010, the Agency of Cultural Affairs of Japan invested 214.5 million yen (over $2 million) to the Young Animator Training Project (Wakate Animator Ikusei Project) or Anime Mirai to support training animators. It is an annual project by Japan Animation Creators Association (JaniCA).  The Association of Japanese Animations (AJA) will run the project since JaniCA announced last April 2014 that they are no longer running the project.
Here are the list of Anime Mirai's projects since 2010: (Anime name – Producer)
Project A / 2010:
Kizuna Ichigeki – Ascension
Ojii-san no Lamp – Telecom Animation Film
Bannou Yasai Ninninman – P.A. Works
Tansu Warashi. – Production I.G.
2012:
Buta – Telecom Animation Film
Wasurenagumo  – Production I.G.
Shiranpuri – Shirogumi
Puka Puka Juju – Answer Studio
2013:
Ryo – Gonzo
Little Witch Academia – Trigger
Arve Rezzle: Kikaijikake no Yoseitachi – Zexcs
Death Billiards – Madhouse
2014:
Harmonie – Ultra Super Pictures
Ookii 1 Nensei to Chiisana 2 Nensei –  A-1 Pictures
Parol no Mirai Shima – Shin-Ei Animation
Kuro no Sumika: Chronus – Studio 4°C
2015:
Aki no Kanade – J.C.Staff
Robot Kaa-san – SynergySP
Ongaku Shoujo – Studio Deen
Kumi to Tulip – Tezuka Productions
Additionally, on 2013 it was announced that Little Witch Academia, Trigger's short movie for Anime Mirai 2013, will have a sequel on 2015.
Since this is the first short from Anime Mirai to expand as an anime TV series, which other shows of AniMirai would you like to expand? Are you excited for Death Parade? Let us know in the comments below.