Upcoming mystery thriller anime Ranpo Kitan: Game of Laplace is one of the few lesser known shows this season, yet the studio has spared no effort in creating a dark, eerie opening sequence, coupled with the atmospheric rock track "Speed to Masatsu" by amazarashi – a band that has previously worked on a track for the hit Tokyo Ghoul. Watch below for the full anime opening video in high definition.
The video alone is enough to set the tone for this suspenseful thriller, mixing live action footage with character portraits and anime sequences, but the vocals and instrumental surely add an extra layer to the mix.
http://www.dailymotion.com/video/x2wcvt5
If the video for the OP wasn't creepy enough, one only has to look as far as the ED: "Mikazuki" by Sayuri lends its aura to this dark audiovisual treat, as the primarily black and red color scheme set the background for character silhouettes drawn with with white sketch marks. It's a unique (if not creepy) way to animate, but that's what they were looking for, and they have hit the mark.
The beautiful vocals by Sayuri make this a track one wouldn't mind having in their library for a casual listen. Watch the video below to see what we mean!
http://www.dailymotion.com/video/x2wcw7b
Anime visual: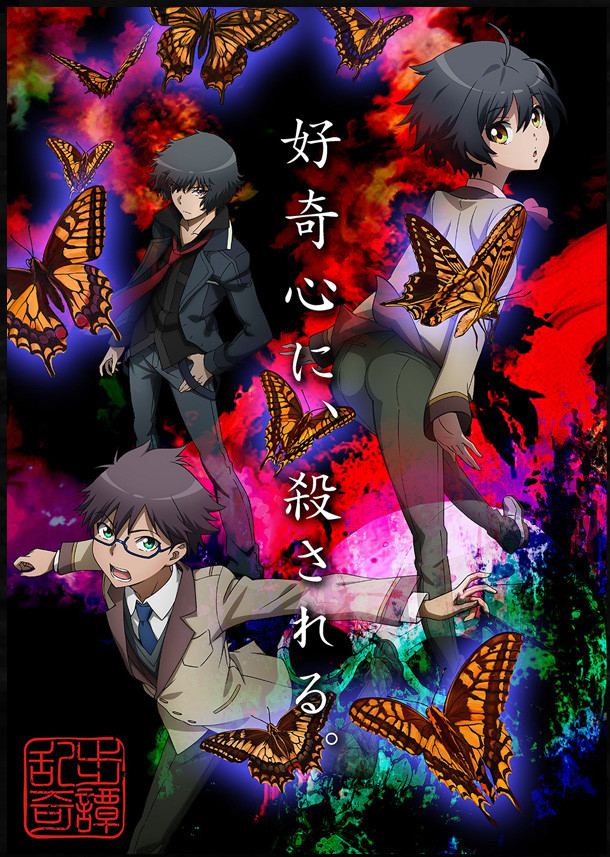 Ranpo Kitan: Game of Laplace is a Japanese anime television series produced by Lerche and directed by Seiji Kishi premiered on Fuji TV's Noitamina programming block in 2015. The anime is inspired by the works of author Edogawa Ranpo.
Ranpo Kitan: Game of Laplace synopsis from Haruhichan:
The story takes place at a certain middle school where several murder cases take place. Kobayashi, a boy who goes to this school, meets genius detective Akechi, who comes to the school to investigate. Kobayashi takes an interest in Akechi and, in spite of his friend Hashiba's worries, he volunteers to be Akechi's assistant.