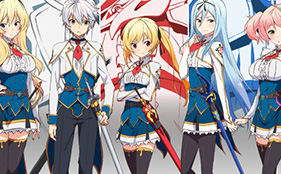 The official website of the anime adaptation of Senri Akatsuki and Ayumu Kasuga's Saijaku Muhai no Bahamut light novel series has revealed that the TV anime will be airing from January 2016 during the winter 2016 anime season. In addition, the first members of the cast and a brand new visual was also revealed.
The first members of the anime's main cast have been revealed and includes:
Mutsumi Tamura (Sonya from Kill Me Baby) voicing as Lux Arcadia
Lynn (Saki Tsurugi from Hero Company) will voice Lisesharte Atismata
Yukiyo Fujii (Latifah Fleuranza in Amagi Brilliant Park) voices Krulcifer Einfolk
Yurika Kubo (Hanayo Koizumi from Love Live! School Idol Project) voicing Philuffy Aingram
Risa Taneda (Mirai Kuriyama in Kyoukai no Kanata) as Celistia Ralgris
Ari Ozawa (Chiyo Sakura in Gekkan Shoujo Nozaki-kun) will voice the role of Airi Arcadia
The anime's production staff were revealed earlier and includes:
Director: Masaomi Ando (White Album 2, Muv-Luv Alternative: Total Eclipse)
Series Composer: Yuuko Kakihara (Chihayafuru 2, Persona 4: The Animation)
Anime Character Designer: Keiko Kurosawa (Re:␣Hamatora, Assassination Classroom Sub Designer)
3D CGI: Orange (Ghost in the Shell: Arise, Tiger & Bunny)
Animation Studio: Studio Lerche (Assassination Classroom, Re:␣Hamatora)
Here is the first promotional video for the anime:
Anime visual:
Saijaku Muhai no Bahamut  is a Japanese light novel series, written by Senri Akatsuki and illustrated by Ayumu Kasuga. SB Creative has published six volumes since August 12, 2013 under their GA Bunko imprint. A manga adaptation written by Itsuki Watanabe, with art by Fumi Tadauri, began serialization in Square Enix and GA Bunko's online magazine Gangan GA from 2014. It has been collected in a single tankobon volume.
An anime television series adaptation by Lerche is scheduled to air from January 2016
Saijaku Muhai no Bahamut synopsis from Haruhichan:
Lux, a former prince of an empire named Arcadia that was overthrown via a rebellion five years earlier. Lux accidentally trespasses in a female dormitory's bathing area, sees the kingdom's new princess Lisesharte naked, and incurs her wrath. Lisesharte then challenges Lux to a Drag-Ride duel. Drag-Rides are ancient armored mechanical weapons that have been excavated from ruins all around the world. Lux used to be called the strongest Drag-Knight, but now he's known as the "undefeated weakest" Drag-Knight because he will absolutely not attack in battle. After his duel with Lisesharte, Lux ends up attending the female-only academy that trains royals to be Drag-Knights.
You can visit the anime's website here: http://saijaku.jp/
And follow the anime on Twitter: @saijaku_anime