The official website of the upcoming anime adaptation of Strike Tanaka's Servamp manga began streaming the first promotional video for the anime on Sunday. The video previews the anime's story and cast, and reveals that the anime is slated to air in July during the summer 2016 anime season.
The official website also revealed the staff and they consist of:
Chief Director: Ittou Kou (Aoharu x Kikanjuu)
Director: Hideaki Nakano (Aoharu x Kikanjuu)
Series Composition: Kenji Konuta (Blood Lad)
Character Design: Junko Yamanaka (Kamisama Hajimemashita)
Studio: Brains Base (Baccano!, Durarara!!, Oregairu)
The previously announced cast includes:
Takuma Terashima (Shiroe from Log Horizon) will voice Mahiru Shirota
Yuki Kaji (Eren Yeager from Shingeki no Kyojin) as Kuro
Tatsuhisa Suzuki (Hiroomi Nase from Kyoukai no Kanata) as Tsubaki
Hiro Shimono (Akihisa Yoshii from Baka to Test to Shoukanjuu) as Misono Arisuin
Kazuma Horie (Seiji Yagiri from Durarara!!) as Snow Lily
Tetsuya Kakihara (Natsu Dragneel from Fairy Tail) as Mikuni Arisuin
Kenjirou Tsuda (Nicolas Brown from Gangsta.) as Jeje
Yuuki Ono (Masayuki Hori from Gekkan Shoujo Nozaki-kun) as Tetsu Sendagaya
Ayumu Murase (Shouyou Hinata from Haikyuu!!) as Hugh the Dark Algernon III
Nobunaga Shimazaki (Keiichi Katakura from Nijiiro Days) as Licht Jekylland Todoroki
Ryouhei Kimura (Riku Yagami from Prince of Stride: Alternative) as Hyde (Lawless)
Yoshitsugu Matsuoka (Souma Yukihira from Shokugeki no Souma) as Belkia
Yuto Suzuki (Hiroshi Ono from Diamond no Ace) as Sakuya Watanuki
A new visual was also unveiled: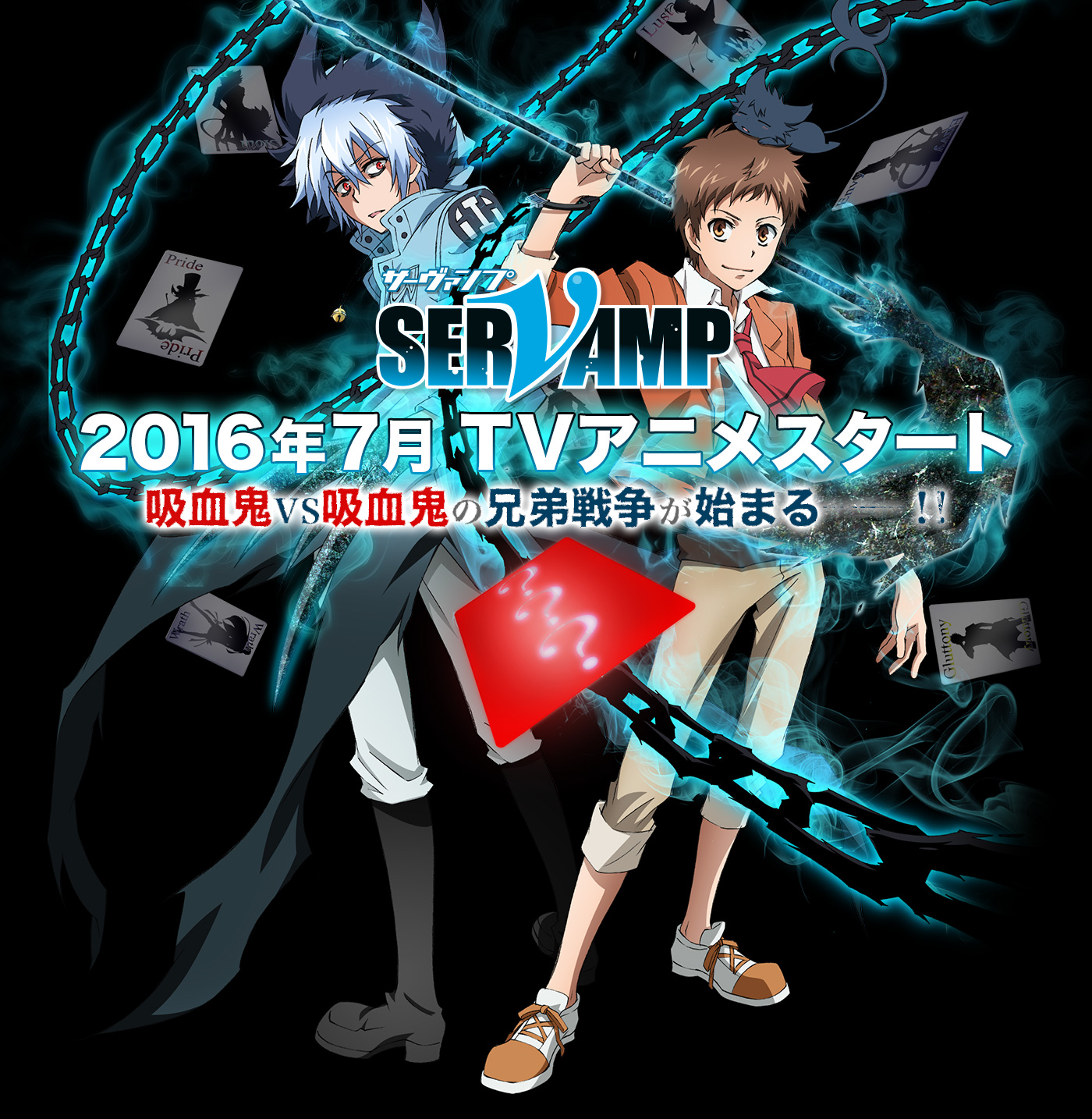 Servamp is a Japanese manga series by Strike Tanaka, serialized in Media Factory's shoujo manga magazine Monthly Comic Gene since 2011. It has been collected into nine tankobon volumes. The series is licensed in North America by Seven Seas Entertainment. A television anime adaptation has been announced and will begin airing in July 2016.
Servamp synopsis from MAL:
The story revolves around a 16-year-old boy (15 at the beginning of the story) named Mahiru Shirota who likes simple things and dislikes difficult things. One day, he picks up a stray black cat he finds in the middle of the road and gives it the name Kuro (which literally translates into "black"). From this moment on, a contract between the servamp Sleepy Ash and Mahiru is formed, and Mahiru is pulled into the Servamp war between the seven deadly Servamps and their eighth sibling Tsubaki.
Source: Servamp official website