The amazing people over the Shaft has announced that they will be producing an anime titled Usomonogatari. Additionally, Kodansha has announced that a new book will be released in the Monogatari light novel series. It will be the third volume of Owarimonogatari.
Shaft has also released the first PV for Usomonogatari:
A new website has opened for the news, showcasing many announcements and information on the third volume of Owarimonogatari. The book itself will contain over one million pages. A new tour for Monogatari was also announced, where the holiday destination is a lost journey with Mayoi Hachikuji. The second tour is for a trip to the South Pole, with a kiss shot of your favourite character.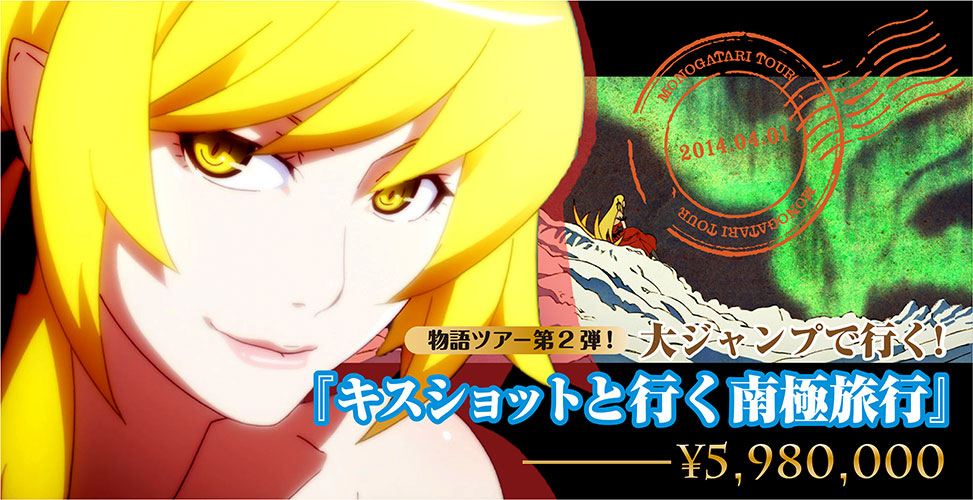 Other announcements include:
Senjougahara stationery set, where you can transport it in your skirt
Audio commentary by Hanekawa and Black Hanekawa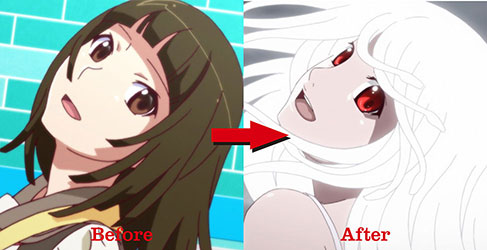 A Monogatari themed airplane has been created
The series Kimi to Nadekko has also been announced it will be receiving an anime adaptation
A spin-off to Kimi to Nadekko titled Kimi no Ninki ni Kuttsukihi (Parasitising Off Your Popularitsukihi) has been announced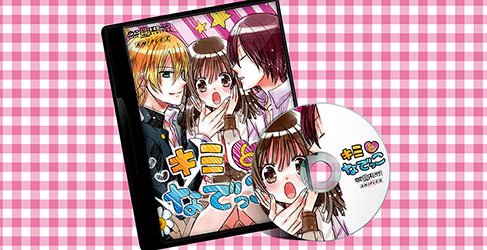 A 1/1 scale doll of Yotsugi Ononoki will be releasing
A Hanekawa fur mat, "Awakens your second personality!"
"Heroine character book: Ougi Oshino Version, confirmed for release! All pages are black!"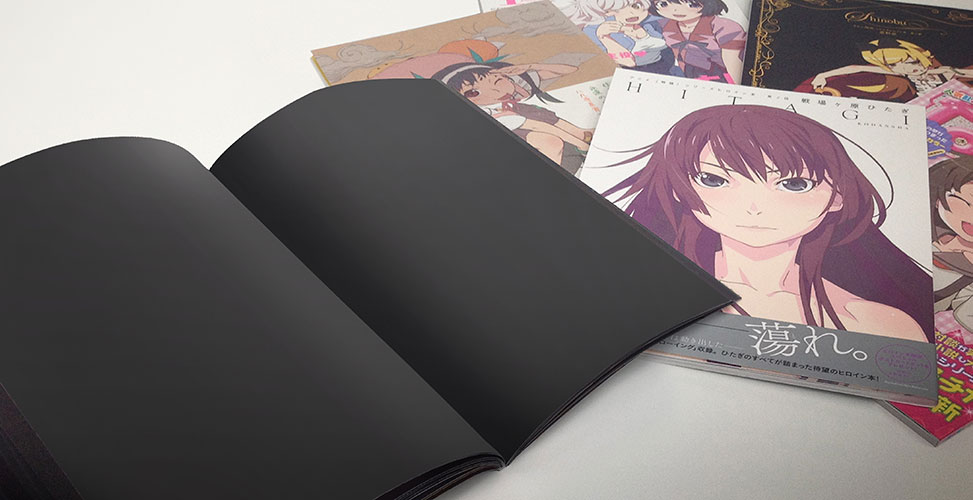 A Tsukihi's friend check sheet will be revealed
A new novel focusing on Hitagi Senjougahara titled Kogarashi Sentiment
A new coffee based on Black Hanekawa – " I can't drink it because I have a cat's tongue nya"
A new series of Ononoki posing treading cards – only one type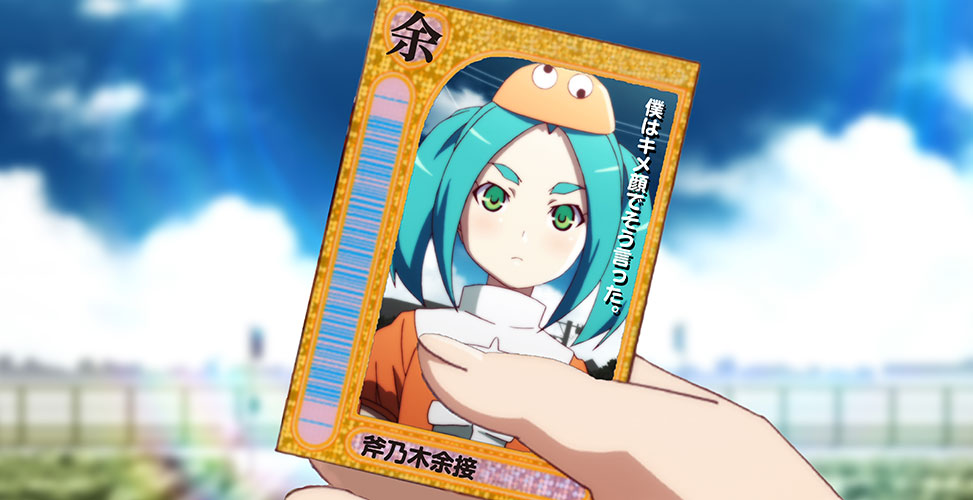 Bad news as the girl band Lolitrio has disbanded. The members have stated "[there were] A difference in childish direction. We don't even remember forming a band in the first place"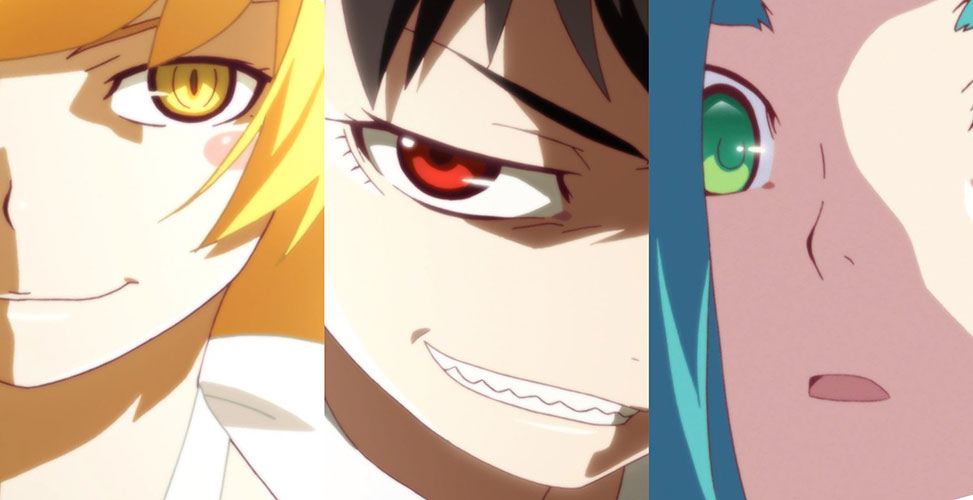 Volume 1 of the spell book of Deishuu Kaiki will be free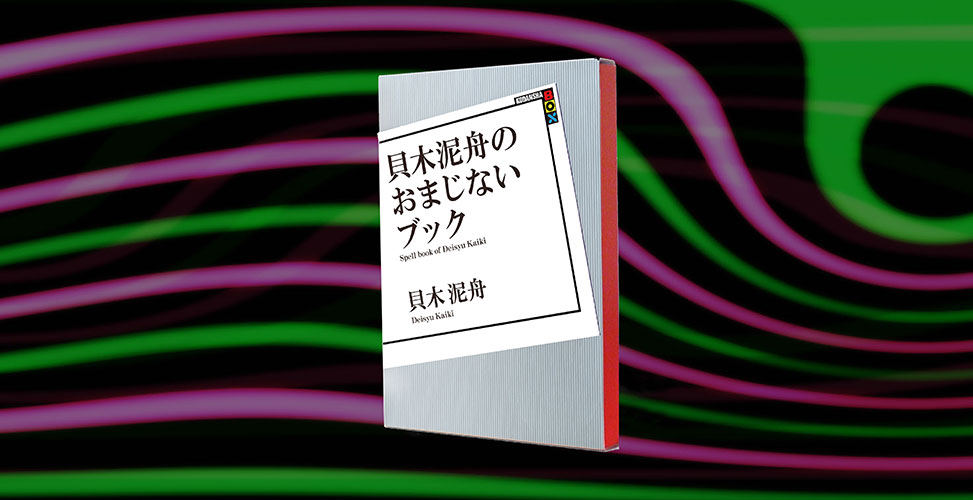 A Hitagi Senjougahara 100/1 scale doll, where you can recreate the opening
The third Monogatari tour to destroy the world and travel across time with Shinobu Oshino
The Bakemonogatari anime will be showing for 240 hours, for 10 consecutive days
A Nadeko Sengoku wig is now on sale, and contains real snakes
A new real life restaurant has opened, The Restaurant of No Orders, with Tsubasa Hanekawa as the chef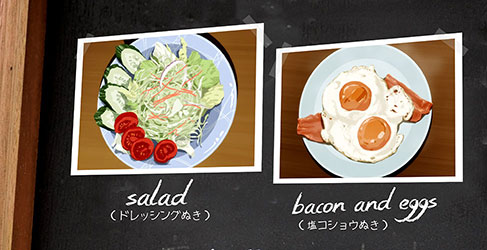 The Monogatari series is a collection of light novels, created by Nisio Isin. The novels started in late 2005 and published under Kodansha's Box imprint, where there has been a total of 16 volumes to date. The 17th volume will release on April 3rd, and the 18th and final volume releasing later this year. The light novels have received and anime adaptation titled Bakemonogatari, after the first volume, in 2009 from the animation studio Shaft. Since then a total of 11 novels has been animated by the same studio. It has been reported that there has been over a million sales of the Bakemonogatari and Nisemonogatari anime. In addition, a drama CD, a PlayStation Portable game and many figures and figurines have been made based on the series.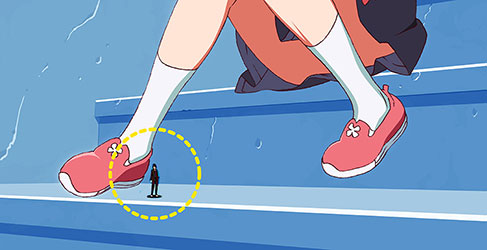 A lot of new things have been announced today. A lot. Maybe it is all a ruse? Could it be? No, Shaft won't do that, these are all legitimate announcements and are in no way revealed to fool us on this fine April day.