According to Kodansha Comics' official Twitter and Tumblr account, they announced that they will be licensing Naoshi Arakawa's (Sayonara Football, Tsumetai Kousha no Toki wa Todomaru) manga, Shigatsu wa Kimi no Uso, and will be released in English edition in North America. The first English compiled manga volume will be released around Spring 2015.
Starting Spring 2015, Kodansha Comics will release the manga Your Lie in April by Naoshi Arakawa! http://t.co/LBcInwnjgA

— Kodansha Comics (@KodanshaUSA) December 10, 2014
The music / romantic series, Shigatsu wa Kimi no Uso, was published on May 2011 in Kodansha's Monthly Shounen Magazine. There are currently 10 compiled manga volumes for the series. The tenth volume was released on October 17, 2014. The official guidebook for the series titled as Shigatsu wa Kimi no Uso Prelude Official Guidebook which includes commentaries and author interviews was released on November 17, 2014.
The manga received an anime adaptation that was produced by A-1 Pictures (Fairy Tail (2014), Nanatsu no Taizai). It began airing on October 9, 2014 under the Fall 2014 season. It was announced to have 22 total episodes. The anime was directed by Kyohei Ishiguro (Episode 9 Director for Psycho-Pass, Episode 7 Director for Hourou Musuko).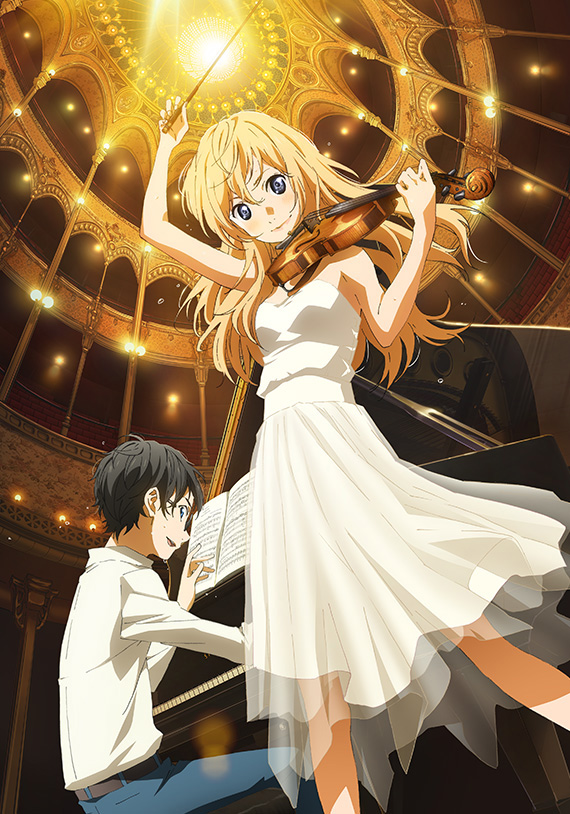 Synopsis of Shigatsu wa Kimi no Uso from Kodansha:
Kosei Arima was a piano prodigy until his cruel taskmaster of a mother died suddenly, changing his life forever. Driven by his pain to abandon piano, Kosei now lives in a monotonous, colorless world. Having resigned himself to a bland life, he is surprised when he meets Kaori Miyazono, a violinist with an unorthodox style. Can she teach Kosei not just how to play, but how to start living again?
Visit the official anime website of the series here.