According to the official Twitter accounts of a Japanese games developer, Rejet, and it's visual novel franchise, Diabolik Lovers, it has been announced that the anime will be having a second season sequel. They also revealed that the Sakamaki and the Mukami brothers will be returning for the new season. More information and details will be announced soon.
【お知らせ】アニメ「DIABOLIK LOVERS」第2期の制作が決定! 逆巻兄弟はもちろん、無神兄弟も登場! 続報をお楽しみに☆ みなさま、応援よろしくお願い致します!! pic.twitter.com/sf0MN9qSCJ

\新シリーズ/◆ディアラヴァ◆ アニメ第2期&舞台化! Rejet発売CDは『吸婚』がテーマ! 今、永遠に結ばれる時―。血塗(ちまみ)れの吸婚(プロポーズ)を貴方に。 →http://t.co/Ksh1IczjAH#dialoverpic.twitter.com/ZyG38u2UjZ

— Rejetインフォ (@Rejet_info) February 9, 2015
【お知らせ】アニメ「DIABOLIK LOVERS」第2期の制作が決定! 逆巻兄弟はもちろん、無神兄弟も登場! 続報をお楽しみに☆ みなさま、応援よろしくお願い致します!! pic.twitter.com/sf0MN9qSCJ

— アニメDIABOLIK LOVERS公式 (@anime_dialover) February 9, 2015
The dramatic, mystery-romance otome game franchise is also known in Japan as Diabolik Lovers: Haunted Dark Bridal. There are currently four games. The first one is playable for both PlayStation Portable, released on October 11, 2012, and PlayStation Vita as a limited second edition, released on December 19, 2013. The second game is titled as Diabolik Lovers: More, Blood featuring four new characters and was released for PSP, PS Vita and PS Vita TV (limited edition) on October 24, 2013 and January 15, 2015 respectively. The third game is called the Diabolik Lovers: Vandead Carnival and was released on December 4, 2014 for PS Vita and PS Vita TV. The latest game is titled as Diabolik Lovers: Dark Fate and will be released on February 26, 2015 for both PS Vita and PS Vita TV.
Diabolik Lovers received a 15-minute 12-episode anime adaptation produced by Zexcs (Sukitte Ii na yo., Aku no Hana) on September 16, 2013 to December 9, 2013. It was directed by Shinobu Tagashira (in-charge for Kimi ni Todoke's storyboard). The anime released six DVDs, regular and limited edition. The first limited edition DVD volume was released on November 27, 2013 covering the first two episodes. The sixth limited DVD volume was released on April 25, 2014 covering the last two episodes.
Cast:
Rie Suegara (debut) as Yui Komori
Hikaru Midorikawa (Little Busters!' Kyousuke Natsume, Yu-Gi-Oh!'s Seto Kaiba) as Ayato Sakamaki
Yuki Kaji (Ao Haru Ride's Kou Mabuchi, Brothers Conflict's Wataru Asahina) as Kanato Sakamaki
Daisuke Hirakawa (Free!'s Rei Ryuugazaki, School Days' Makoto Itou) as Laito Sakamaki
Kousuke Toriumi (Yowamushi Pedal's Shunsuke Imaizumi, Uta no☆Prince-sama♪ Maji Love 1000%'s Cecil Aijima) as Shu Sakamaki
Katsuyuki Konishi (Hetalia Axis Powers' America and Canada, Tokyo Ghoul's Koutarou Amon) as Reiji Sakamaki
Takashi Kondou (Katekyo Hitman Reborn!'s Kyouya Hibari, Sekaiichi Hatsukoi's Ritsu Onodera) as Subaru Sakamaki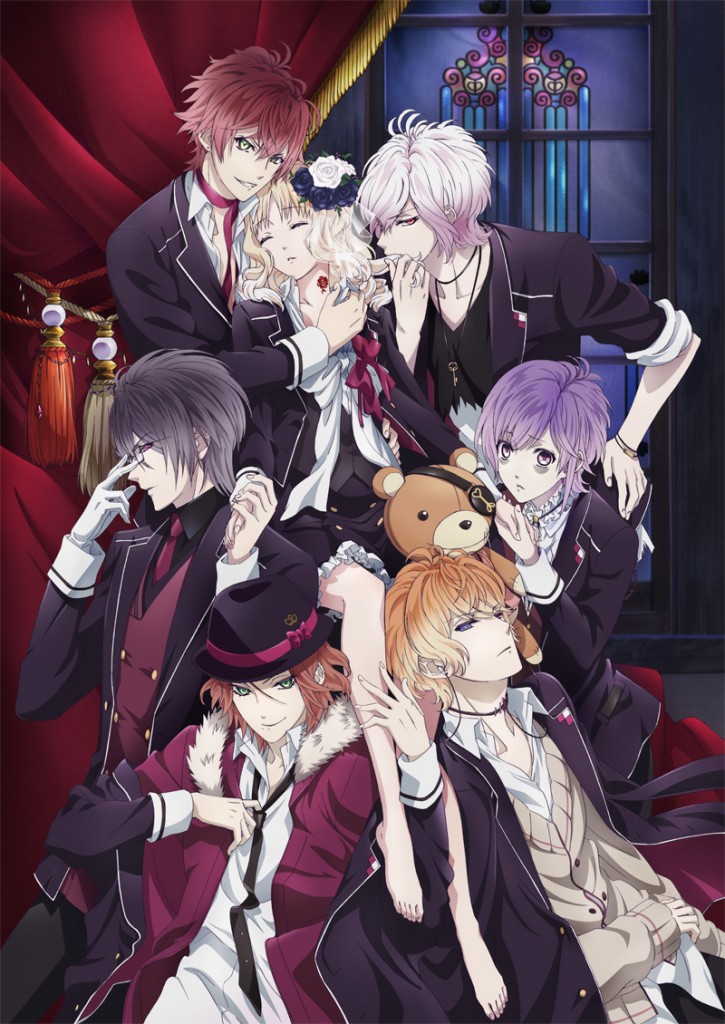 It has also been announced that the franchise will receive a stage play on August 26 – 30, 2015 at the Rikkoukai Theater in Tokyo's Shinagawa district. They will be telling more information about the play as the date comes closer. The official Twitter account, official website and the official blog for the franchise's stage play was also opened.
【舞台】アニメ「DIABOLIK LOVERS」の舞台化が決定! <公演日程>2015年8月26日(水)〜8月30日(日) <公演会場>六行会ホール ※出演者、チケット情報など随時お知らせしていきます。 pic.twitter.com/mUriChDIKA — アニメDIABOLIK LOVERS公式 (@anime_dialover) February 9, 2015

Staff:
Director: Yusei Naruse (screenwriter of the stage play adaptation of Yowamushi Pedal)
Screenplay: Oota Guiya (screenwriter of the musical adaptation of an otome game franchise, Amnesia)
Production: Office Inveider & Frontier Works Ltd.
声優の鳥海さんが今日発表してくださいましたが、ディアラバ( ディアボリックラヴァーズ)の舞台化しますです。演出担当しちゃいますです。ええ、劇団「VitaminX」以来ですね乙女ゲーム系は。担当する限りは、私も楽しめる、他とは一線を画すものを目指しますです

— なるせゆうせい(naruseyusei) (@naruseyusei) February 9, 2015
Synopsis of Diabolik Lovers from Haruhichan:
Komori Yui is a positive-thinking girl who nevertheless is troubled by seeing spirits and experiencing poltergeist phenomena. In her second year in high school, she transfers to a new school—a night school for entertainers and celebrities—due to her father's work. There are rumours that vampires exist among the student body, and Yui ends up living with the six sadistic Sakamaki vampire brothers.