During the Sega Network Fan Appreciation 2015 event held in Tokyo's Akihabara district on Sunday, more details about the previously announced anime adaptation of card game. The Ange Vierge anime will debut next year and will be produced by Silver Link (Strike Witches: Operation Victory Arrow, Fate/kaleid liner Prisma Illya, Non Non Biyori). The event also revealed a key visual featuring a new character alongside Miumi Hinata.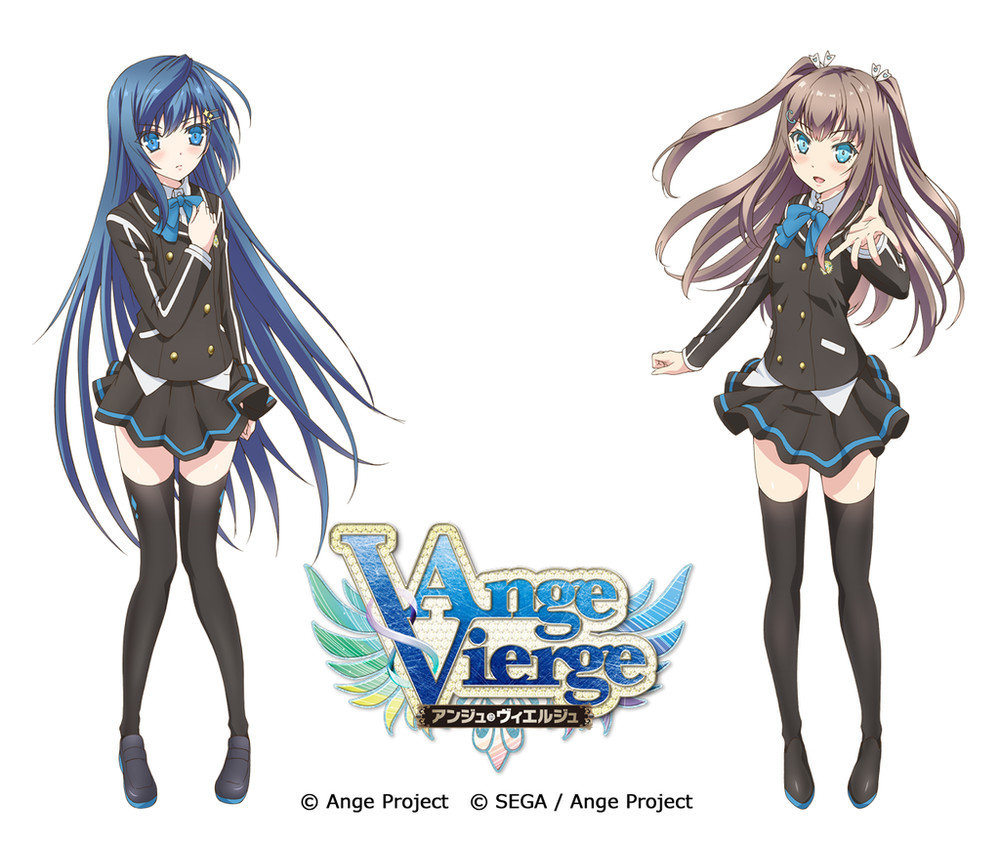 The cast so far includes:
Yuuka Aisaka (Aika Tsube from Ore, Twintails ni Narimasu.) as Miumi Hinata (a first-year student from the blue world, Earth; Illustrator: Kantoku)
Mai Ishihara (Orange Pekoe from Girls und Panzer) as Sofina (the brilliant witch from the dark world, Darkness Embraces; Illustrator: Kira Inugami)
Saori Hayami (Shirayuki from Akagami no Shirayuki-hime) as Aurora (The amnesiac girl from the red world)
Kana Hanazawa (Kanade Tachibana from Angel Beats!) as SW=Code Omega 46 Senia (The android girl from the white world)
Rie Takahashi (Asuka Fuji from Shirobako) as Philia
Yoshiko Ikuta (Yukina Sonogi from Senkou no Night Raid) as Ruby
Nozomi Yamamoto (Chiko Shinmoto from Super Seisyun Brothers) as Mayuka
The project has a theme song by the group L.I.N.K.s — Yuka Aisaka, Mai Ishihara, Nozomi Yamamoto, Rie Takahashi, and Yoshiko Ikuta.
The game's promotional videos (the first PV was by Production I.G that was released last year, the second PV was by Point Pictures and was released in 2014):
Ange Vierge is a Japanese trading card game released by Fujimi Shobo and Media Factory, two brand companies of Kadokawa Corporation. It was first announced in 2013. The franchise has a theme song by L.I.N.K.s, a group composed of the voice actresses Yuuka Aisaka, Mai Ishihara, Nozomi Yamamoto, Rie Takahashi, and Yoshiko Ikuta.
A manga adaptation titled Ange Vierge Linkage by Mako Komao with art by Sakaki Yoshioka began serialization in Fujimi Shobo's shonen manga magazine Monthly Dragon Age from 2014. An anime adaptation has been announced and will air in January 2016.
Synopsis of the franchise from ANN:
The story of the card game follows what happens when "Hairou" portals suddenly open, fusing three different worlds together. As a result, various mysterious "Exceed" powers are awakened in teenaged girls. An academy for these so-called "Progress" girls is built on the isolated Seiran Island in the Pacific.
Source: ANN