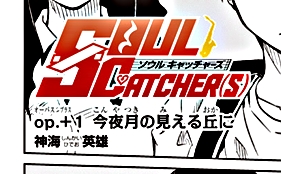 Today, Hideo Shinkai's (Light Wing, Q Club) Soul Catcher(S) manga resumes on Shueisha's digital manga magazine app, Shonen Jump+, after being transferred on May from the print magazine under the same publisher, Shonen Jump NEXT!!. This chapter features "Op.+1" and the next chapter is scheduled for August 9.  The manga will be releasing new chapters in the digital magazine every Sunday.
The wind-instrument school shounen manga was published first in the 24th 2013 issue up to the 31st 2014 issue under Shueisha's Weekly Shonen Jump, dated May 13, 2013. Then it was transferred in the bi-monthly Shonen Jump NEXT!! from 2014's 4th issue to 2015's 2nd issue.
The manga has 8 compiled manga volumes so far since June 4, 2015.
The manga also received a novel adaptation by Shin Narikami* (成上真) titled as SOUL CATCHER (S) -Interlude-. The novels were published under Shueisha's Jump Jay Books with 2 volumes. The first volume was released on November 4, 2014 while the second volume was released on June 4, 2015.
*Author's name might be read wrong.
Synopsis of Soul Catcher(S) from MAL:
Shota Kamine is a boy who could "see" other people's hearts. With this power, he tries to use it for the good of people, but nothing ever goes right. Not being able to sought out the meaning behind the power of his eyes, he becomes discouraged and loses all hope.

While then, on the school rooftop he meets a boy, Hibiki Tokisaka, and gets his own heart grasped by the sound of his saxophone!! Kamine who became interested with Hibiki, goes and visits the brass band's concert. There, Kamine witnesses Hibiki's performance shaking up and gripping the people's hearts.

Hibiki, who had overcome what Kamine thought could never happen and not possible for him to even do, Kamine approaches him to talk about it, but to find out Hibiki too carry a dark past he cannot tell others. Kamine finds out his secret and he…
Read the full, free, newly released chapter of Soul Catcher(S) in Japanese here.
Source: Comic Natalie
sevenpocky | Anime and Manga Enthusiast. Slice-of-life and Sports genre fanatic. Shoujo manga lover.
Oh, and I'm short and I love writing manga news.