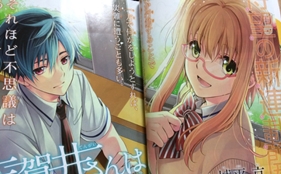 Kyou Shirodaira, the author behind Spiral: Suiri no Kizuna and Zetsuen no Tempest, begins a new series titled Tengai-san wa Angai Futsuu. The first chapter of the manga was published today under Square Enix's Shounen Gangan magazine's September 2015 issue with 71 pages (and a colored intro). The manga was illustrated by Eita Mizuno (Spiral Alive). The magazine also includes a new chapter for Satsuki Yoshino's Handa-kun (with a bookmark included) and a key-chain set for Barakamon.
【先行掲載】名作「スパイラル」の城平京&水野英多、待望の新連載「天賀井さんは案外ふつう」第一話は巻頭カラー71P!一足先に扉イラストを特別公開です!気になる内容は来週8月12日(水)発売の少年ガンガン9月号を絶対チェック!(マリーナ) pic.twitter.com/Y31asNx1kz

— 少年ガンガン (@shonen_gangan) August 6, 2015
【急告】「スパイラル~推理の絆~」の城平京&水野英多コンビがガンガン9月号(8/12発売)にて新連載「天賀井さんは案外ふつう」を巻頭カラーで開始!遂に一か月切りました!第一話キーワードは「虎穴に入らずんば虎児を得ず」です(マリーナ) pic.twitter.com/yQS7D2RcbJ

— 少年ガンガン (@shonen_gangan) July 10, 2015
In other topic, Kyou Shirodaira's Spiral series was parodied on today's episode (Episode 6) of Sore ga Seiyuu.
スパイラル~推理の絆~ #soregaseiyupic.twitter.com/ubkzqnDnD8

— すてら(公式アカウント) (@Story_terror) August 11, 2015
Source: Southcn
sevenpocky | Anime and Manga Enthusiast. Slice-of-life and Sports genre fanatic. Shoujo manga lover.
Oh, and I'm short and I love writing manga news.