5pb., the developer and publisher of the Steins;Gate Visual Novel, has announced a new light novel based on the series is being published on September 25th. Steins;Gate -The Committee of Antimatter- is set 6 years after the game and will be written by Choshirou Miwa and illustrated by Tadasu Yoshida.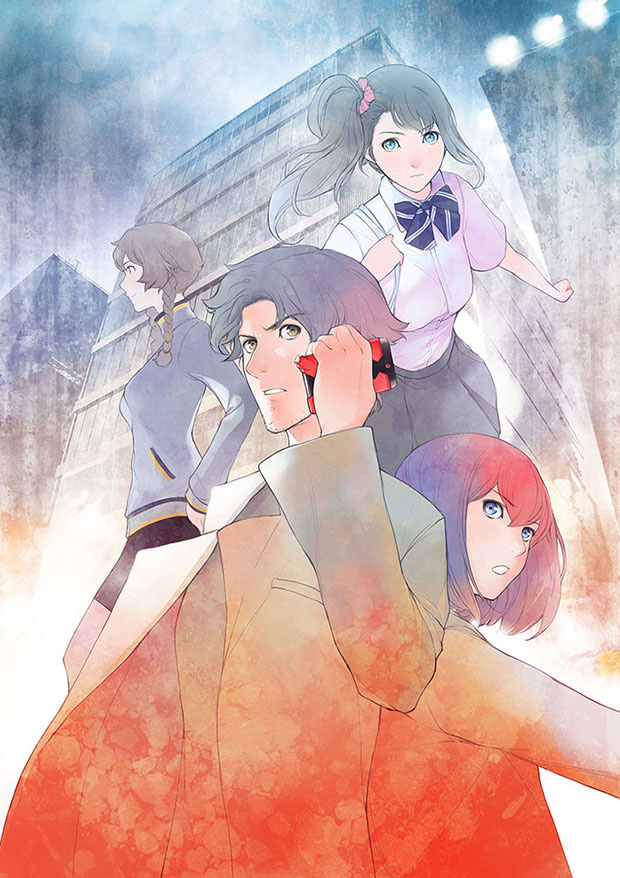 Steins;Gate -The Committee of Antimatter- follows the main character of the series Rintarou Okabe as he graduates college in 2016 in Akihabara. The Future Gadgets Laboratory has been industrialised and revealed to the public where they are now earning revenue. Though only Daru, Rintarou's best friend and member of the Lab, receives an income whilst Rintarou earns money from detective cases. One day, Nae Tennouji the building owner's daughter requests Rintarou to investigate his father who is acting strange. He begins to have flashbacks of his experiences travelling through the different timelines, but to make things worse the sudden appearance of Suzuha Amane, who should not exist in the timeline, appears.
The story is written by Choshirou Miwa, who also wrote the Steins;Gate Hiyoku Renri no Anderlingen novels that were based on the Hiyoku Renri no Darling video game. The novel will feature illustrations from Tadasu Yoshida who drew the new mature designs of the characters, which have been released:
Rintarou Okabe, age 24 – the founder and leader of the Future Gadget Laboratory. He is currently in a long distance relationship with Kurisu Makise and has made his laboratory public with Daru. Though he spends most of his time helping others in the local area.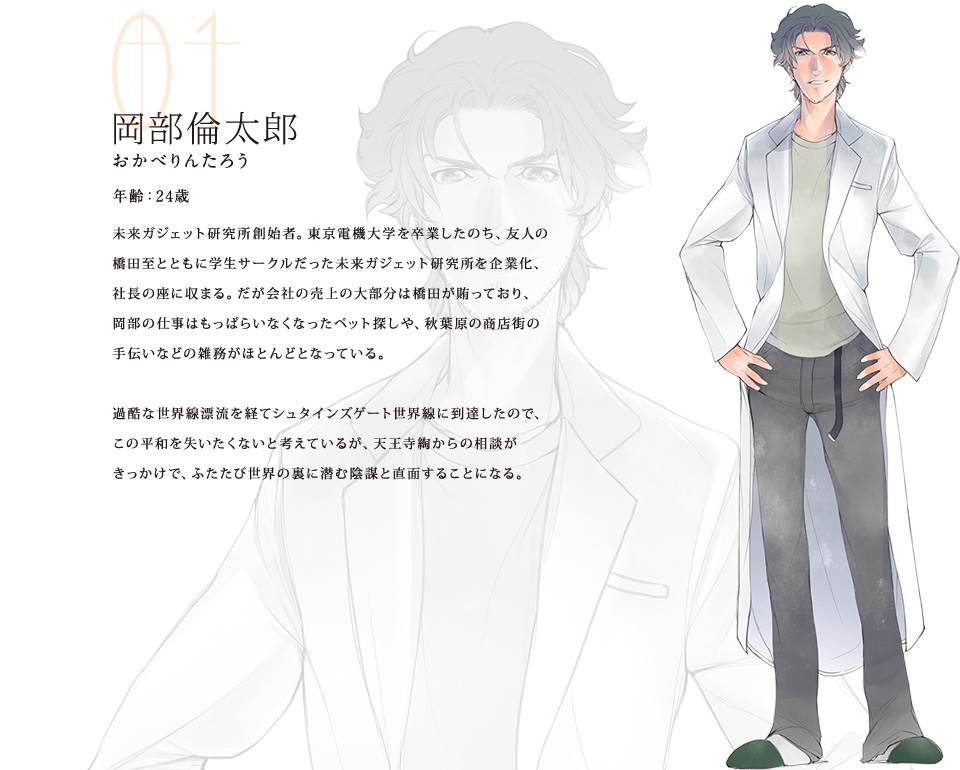 Mayuri Shiina, age 22 – Rintarou Okabe's childhood friend who helps out with the Future Gadget Laboratory and is quite critical of his and Kurisu's relationship. She is currently a kindergarten teacher.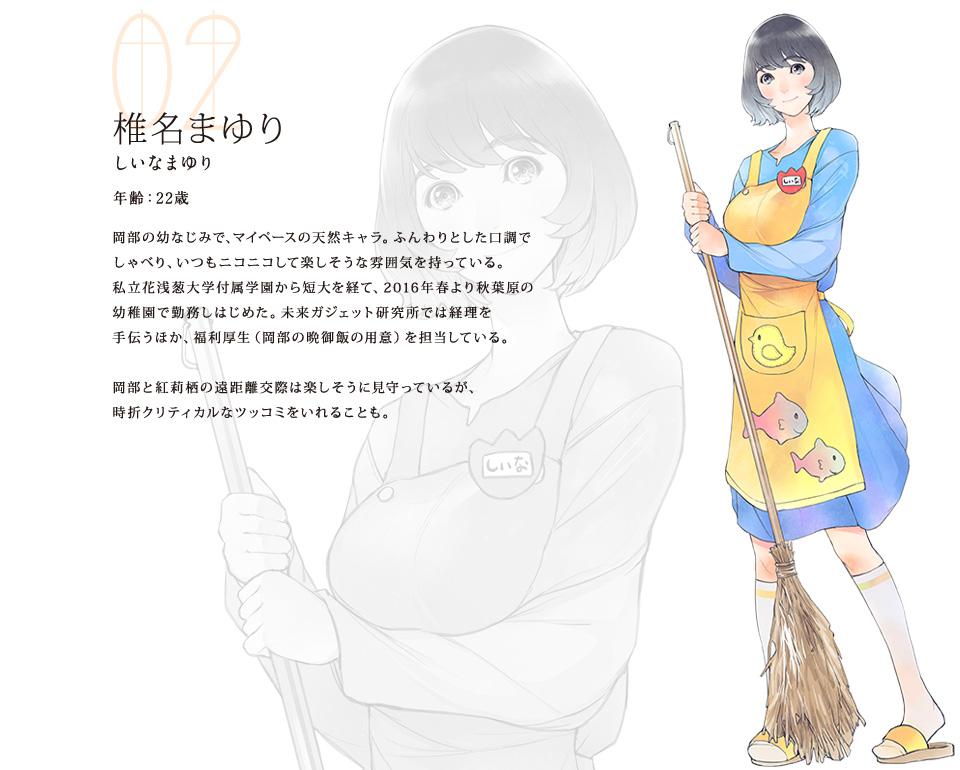 Itaru Hashida, age 24 – most commonly referred to as Daru, he is a member of the Future Gadget Laboratory and Okabe's best friend. He develops smartphone applications and online security programs and is currently dating cosplayer Yuki Amane, whom he met at Comiket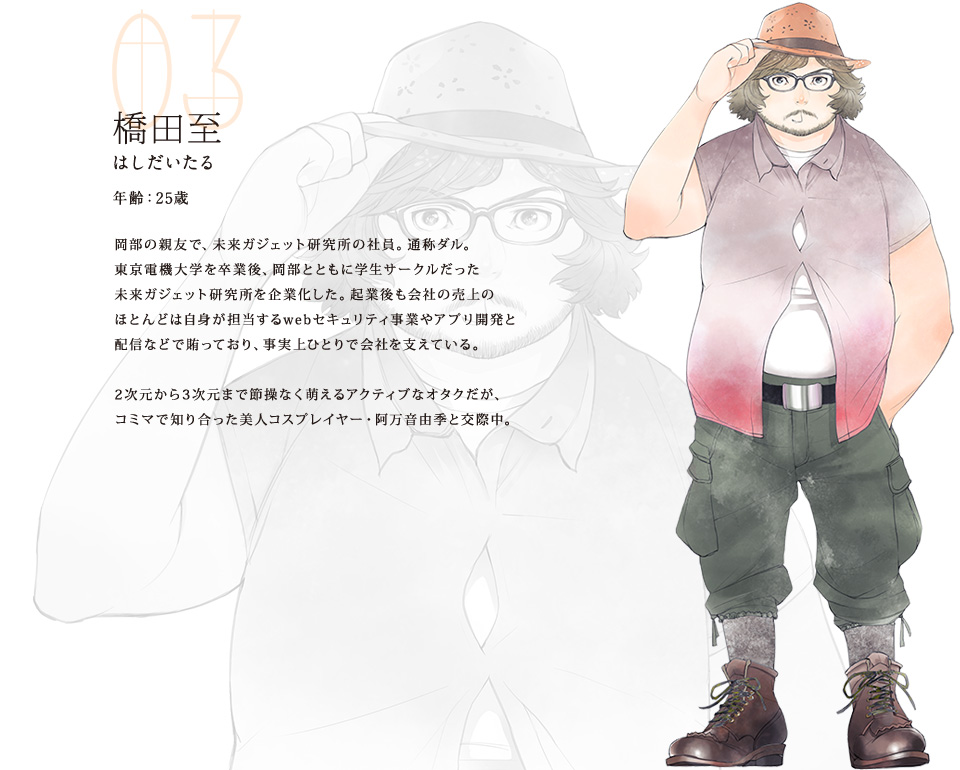 Kurisu Makise, age 24 – A graduate from Victor Condoria graduate school who is working at the institution's neuroscience research team. She is in a long distance relationship with Rintarou Okabe, though their relationship has made little progress due to their clumsiness towards each other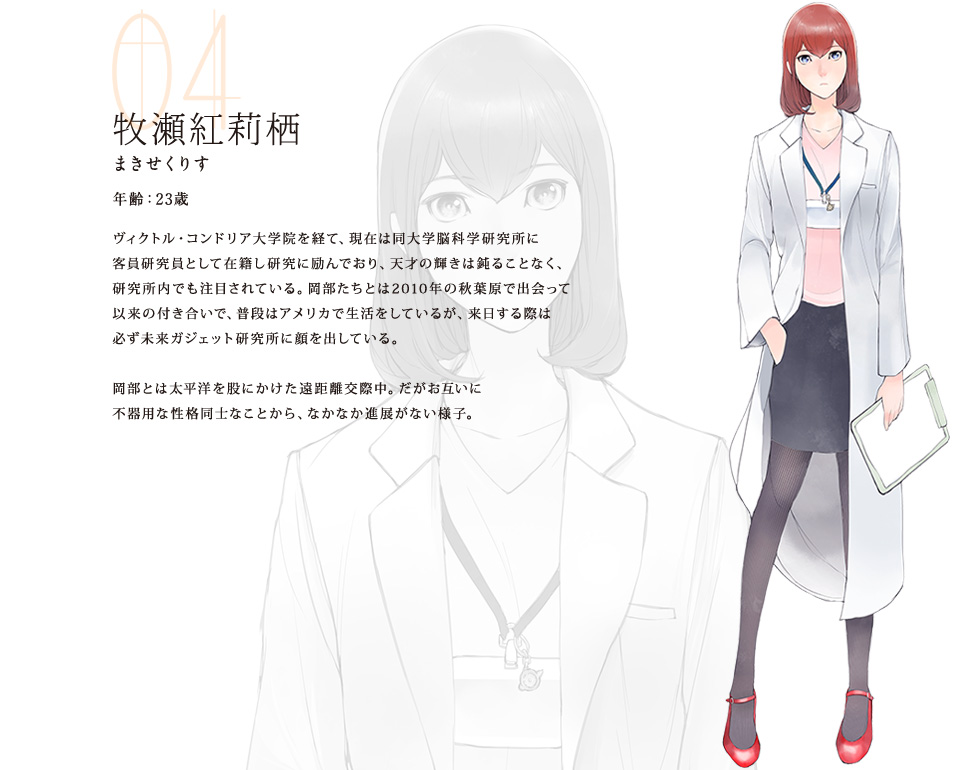 Moeka Kiryuu – she is a writer for Arch Rewrite and a part timer at the Braun Tube Workshop. She has issues directly talking with people and prefers using her phone, but with the time spent with the Future Gadget Laboratory and working, she has started improving.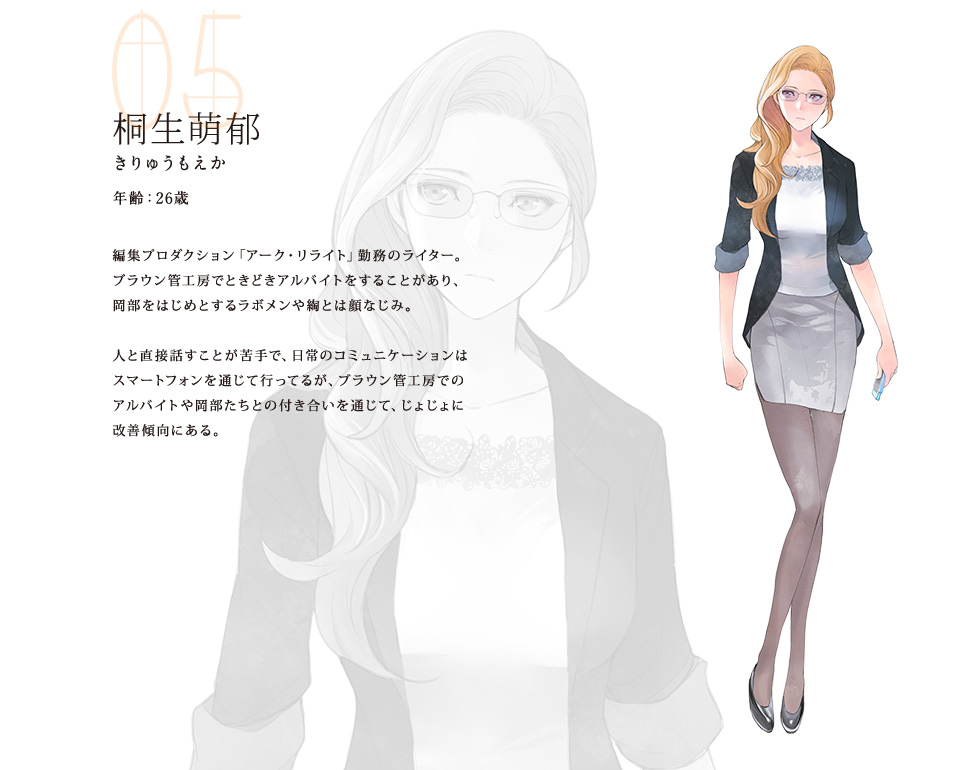 Rumiho Akiha, age 23 – more well known by her stage name Faris Nyannyan, she is the most popular maid and owner of the May Queen Nyan-Nyan cafe. She is also now the head of the Akiha family who oversee the entire Akihabara area.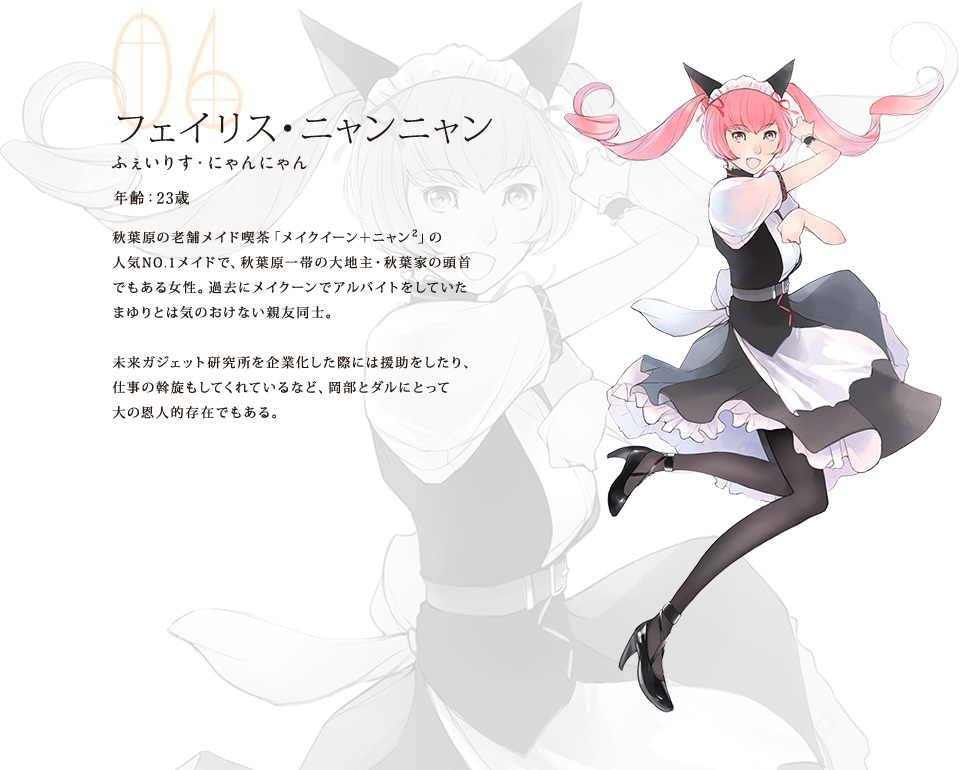 Ruka Urushibara, age 22 – he is the son of the local shrine's head priest who is overwhelmingly feminine, but he's a dude. Ruka is currently in University and serves as the shrine's priestess.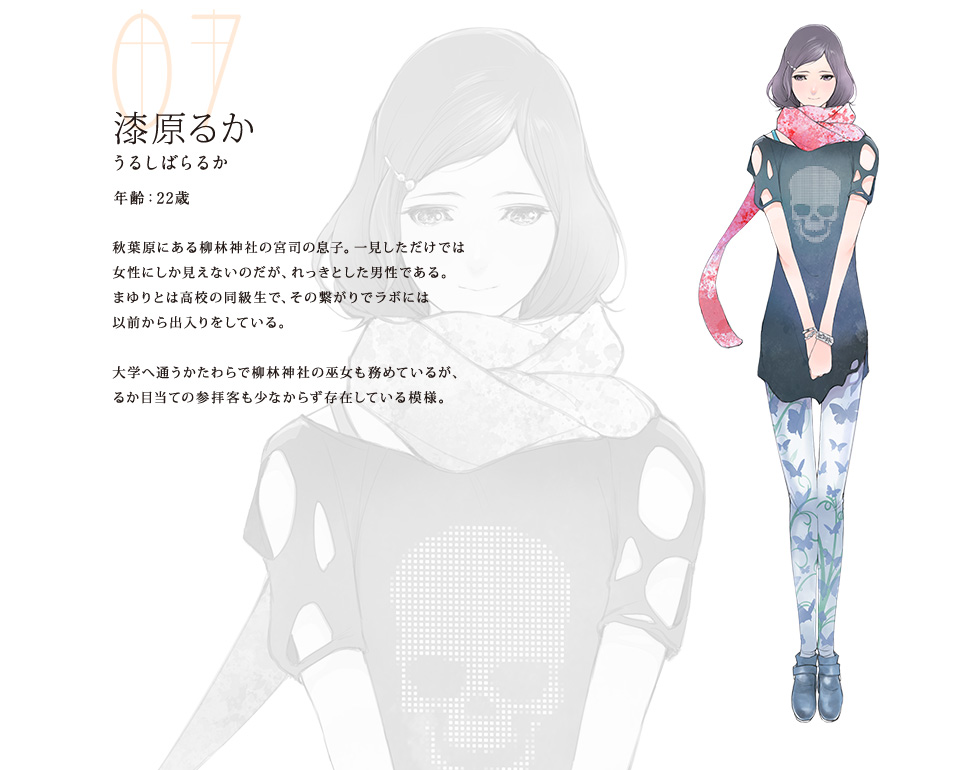 Suzuha Amane, age 18 – a girl who works at Shop Brown and loves to ride bicycles. Though she should not exist in the current Steins;Gate timeline…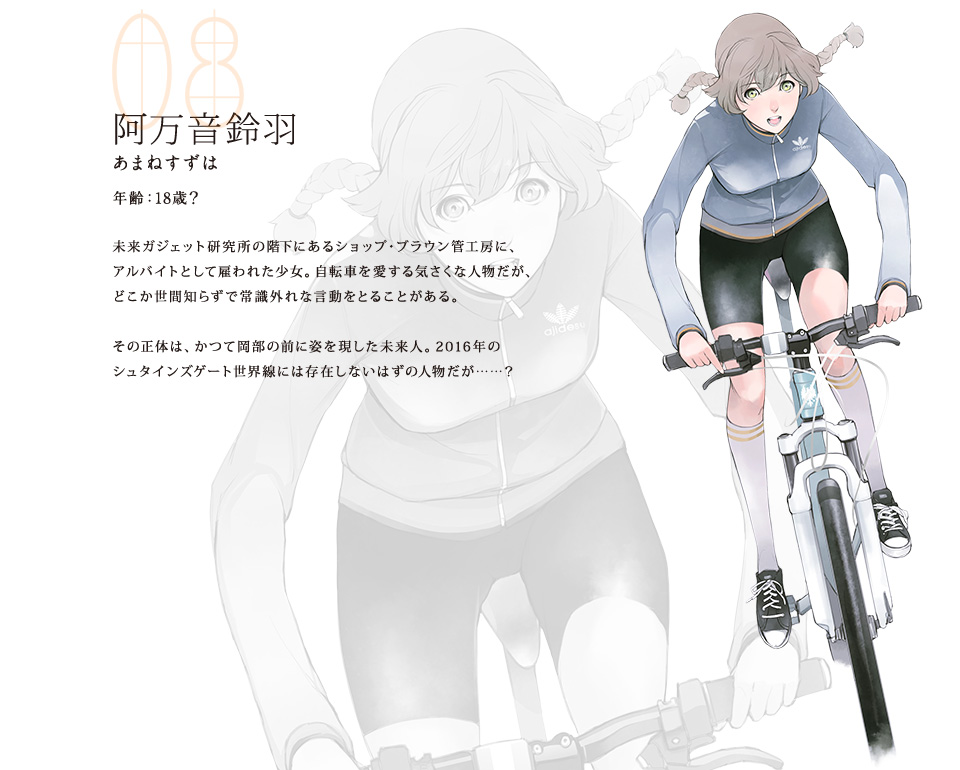 Nae Tennouji, age 17 – she is the daughter of Yuugo Tennouji, who owns the building that the Factory Gadget Laboratory resides in. She is quite friendly to everyone, but is known to get very angry at times, which earns her the nickname "Flat-Out Princess"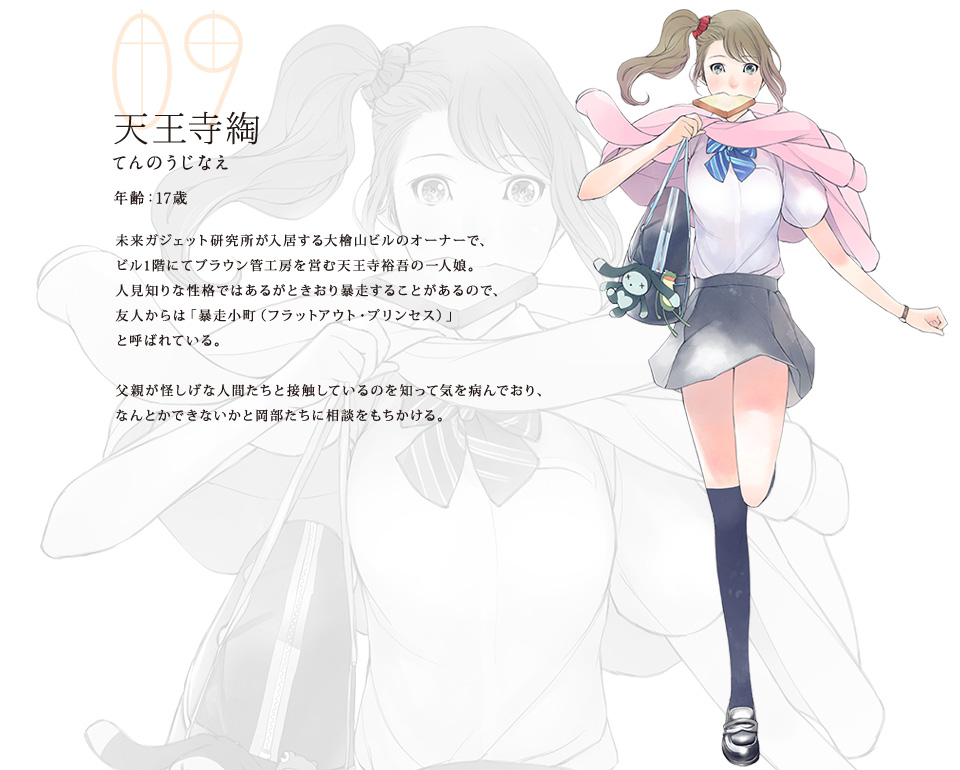 Steins;Gate is a visual novel developed by 5pb. and Nitro+ and is the second instalment in their Science Adventure series. The game originally released on Xbox 360 in Japan in 2009, before being ported and re-released on various other platforms. The game received strong sales with over 300,000 sales across three platforms as of June 2011. The game received many manga adaptations and video game sequels and spinoffs in the following years. An anime adaptation of the series was produced in 2011 from White Fox (Jormungand, Tears to Tiara) and received widespread acclaimed. An anime sequel film titled Steins;Gate: Fuka Ryouiki no Déjà vu released in Japan on April 30 2013.
Here is a synopsis of the series from Haruhichan:
The eccentric mad scientist Okabe, his childhood friend Mayuri, and the otaku hacker Daru have banded together to form the "Future Gadget Research Laboratory," and spend their days in a ramshackle laboratory hanging out and occasionally attempting to invent incredible futuristic gadgets. However, their claymore is a hydrator and their hair dryer flips breakers, and the only invention that's even remotely interesting is their Phone Microwave, which transforms bananas into oozing green gel. But when an experiment goes awry, the gang discovers that the Phone Microwave can also send text messages to the past. And what's more, the words they send can affect the flow of time and have unforeseen, far-reaching consequences—consequences that Okabe may not be able to handle…
Steins;Gate -The Committee of Antimatter- will be releasing in Japan on September 25 and will cost ¥1,300 (~ 13.00 USD).
You can visit the novel's website for more information: http://steinsgate.jp/antimatter/
Source- Steins;Gate -The Committee of Antimatter- Website, Crunchyroll, Radio Kaikan, Yaraon