The official  Strike Witches anime website has revealed the release date of Operation Victory Arrow Vol. 1: St. Trond no Raimei. It is the first of three planned OVAs and will release on September 20 in various Kadokawa Pictures Cinemas throughout Japan. Tickets for the OVA will be on sale from June 28. Each OVA will be a 30 minute special set after the events of the anime's second season and before the film that released in 2012.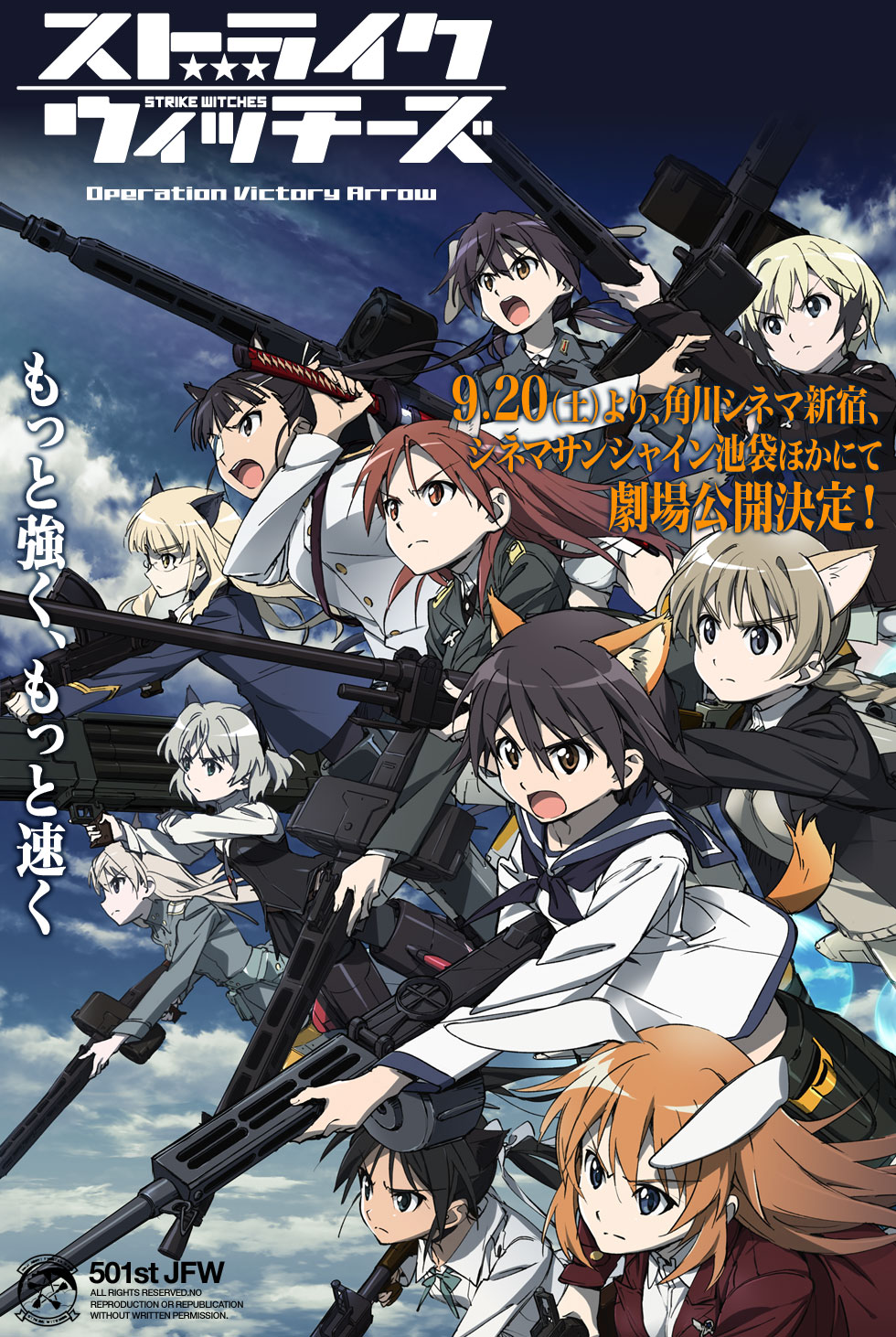 Strike Witches Operation Victory Arrow Vol. 1: St. Trond no Raimei will reunite the cast and crew from the previous animated instalments in the series. Thought one major change has been revealed. The production crew are as follows:
Director: Kazuhiro Takamura (Strike Witches, Vividred Operation)
Military History Advisor, World Setting Designer: Takaaki Suzuki (Strike Witches, Date A Live)
Mechanical Designer, Chief Mecha Animation Director: Hiroyuki Terao (Strike Witches, Tetsuwan Birdy Decode)
Animation Studio: Silver Link (Kokoro Connect, Non Non Biyori)
The cast will be returning to reprise their respective roles:
Misato Fukuen (Konjiki no Yami in To LOVE-Ru) returns to voices Yoshika Miyafuji
Saori Seto (Grayfia Lucifuge in High School DxD) as Mio Sakamoto
Kaori Nazuka (Nunnally Lamperouge from Code Geass: Hangyaku no Lelouch) as Lynette Bishop
Miyuki Sawashiro (Himeko Inaba in Kokoro Connect) as Perrine-H. Clostermann
Rie Tanaka (Mariabelle in Yozakura Quartet) as Minna-Dietlinde Wilcke
Strike Witches is a media project that started in 2005 based off of Humikane Shimada's illustrations. The first project was a manga from Yoshiyuki Kazumi, but was cancelled after one volume. A light novel series from Noboru Yamaguchi released the following year in Kadokawa Shoten's Sneaker Bunko imprint for a total of 3 volumes. This was followed by an OVA and anime adaptation from Gonzo (Welcome to the N.H.K.) in 2007 and 2008 respectively. Since then, many more manga and light novel adaptations were released, as well as the anime's second season and an animated film , animated by AIC (Isekai no Seikishi Monogatari).
Here is a synopsis of Strike Witches from Haruhichan:
The year is 1944 and the world lives in fear of unidentified flying objects called Neuroi. With the old-boy old guard unable to thwart this deadly menace, humanity turns its desperate eyes to an aerial attack force with much nicer legs. Meet the girls of the 501st Joint Fighter Wing, better known as the Strike Witches. These darlings of the great blue yonder may not have standard issue uniforms, but they do have all the right stuff. Where the average flyboy falters, these dolls blast aliens to bits in the bat of an eyelash. With a little magic and a whole lot of leg, the girls of the 501st are winning the war on pants, and aliens!
Strike Witches Operation Victory Arrow Vol. 1 will be releasing in Japanese theatres on September 20. Information about the later OVAs have not been revealed. You can visit the OVA's official website for more information: http://w-witch.jp/