Taito Toys recently announced a fourth lineup of prizes for their lottery, featuring the main characters from Free! posing with delicious confections and sugary treats! The theme of this collection is "Sugar Cake."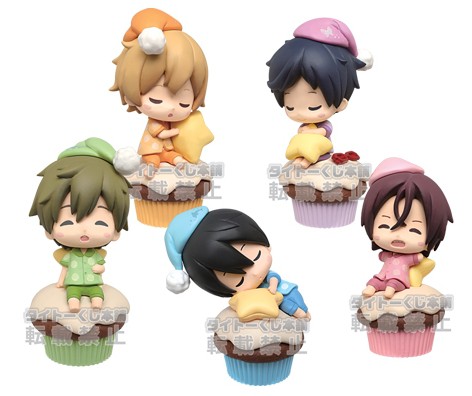 The prizes include figures, pins, posters, special voice sets, and more goodies!
The figures feature the boys sitting on delicious cupcakes!
The pins feature the boys dressed up in their matching uniforms and pajamas!
The posters feature the boys in different poses and undressing!
Free! (Free! – Iwatobi Swim Club) is an anime adaptation of Kouji Ohji light novel High☆Speed!, which is illustrated by Futoshi Nishiya. The light novel received an honourable mention in the 2011 Kyoto Animation Award contest, where it was eventually published by the studio in July 2013. The anime itself aired in July last year in in the Summer 2013 anime season, and is animated by Kyoto Animation. The second season, Free! Eternal Summer recently aired in the Summer 2014 anime season.. There was also a radio show and two drama CD volumes released to promote the anime.
Free! synopsis from Haruhichan:
The story revolves around Haruka Nanase, a boy who has always loved to be immersed in water, and to swim in it. Before graduating from elementary school, he participated in a swimming tournament along with his fellow swimming club members, Makoto Tachibana, Nagisa Hazuki, and Rin Matsuoka. After achieving victory, each of the boys went their separate ways.

Time passed, and in the middle of their uneventful high school lives Rin appears and challenges Haruka to a match, showing Haruka his overwhelming power. Not wanting it to end like this, Haruka, gathers together Makoto and Nagisa once again and brings a new member named Rei Ryugazaki to create the Iwatobi High School Swimming Club in order to defeat Rin.
For more information, take a look at the Taito Toys blog. Also take a look at the lottery site!
Sources: ANN, Official Blog