On December 14th, 2014, Teekyuu's artist, Piyo, reportedly remarked, "Seems like it'll get made into an anime" about her Teekyuu spinoff manga,  Takamiya Nasuno Desu!. She also tweeted a similar remark.
てーきゅうスピンオフ「高宮なすのです!」アニメになるみたい!です!!

— Piyo௵ なんか色々作業中。。。 (@Piyo_595en) December 14, 2014
Takamiya Nasuno Desu! centers around Takamiya Nasuno, the "exceedingly airheaded" tennis club member in Teekyuu and her friends. This tennis slice of life manga is meant to be a "full-burst gag comedy." Piyo and manga creator, Roots, launched the spinoff in Earth Star Entertainment's Comic Earth Star magazine earlier this year. The comedy manga's parent manga, Teekyuu, was launched in Comic Earth Star in early 2012.The manga has been adapted into an anime, which ran for three seasons in 2012 and 2013.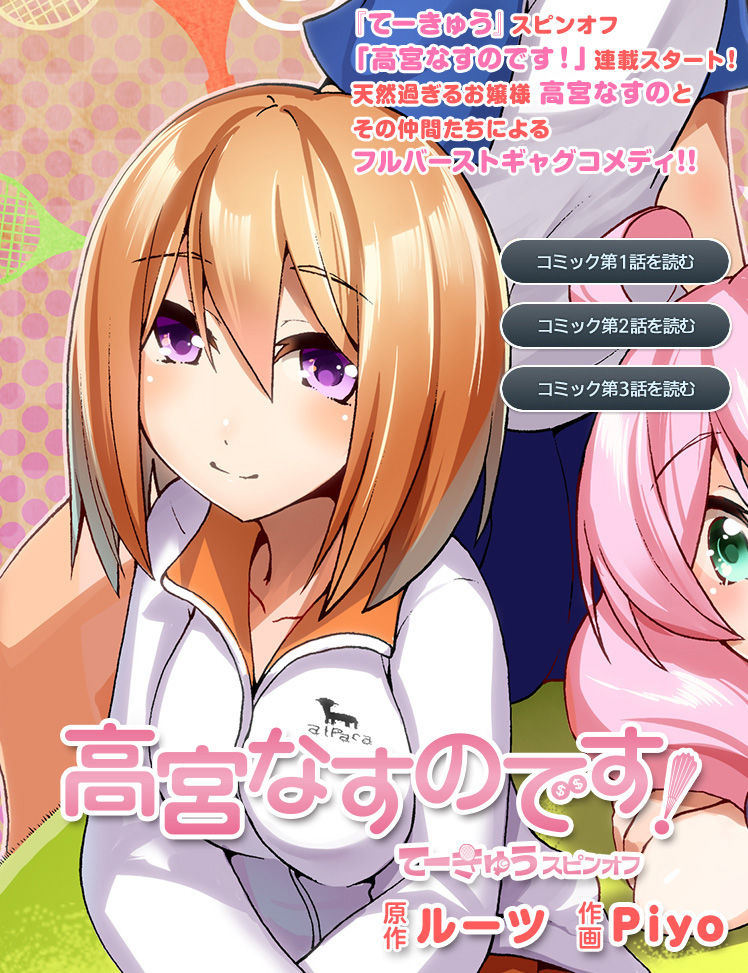 Takamiya Nasuno Desu! is expected to air in the Spring 2015 anime season, the same time Teekyuu season 4 will air.
Teekyuu synopsis from Haruhichan:
Teekyuu is based on a sports comedy manga of the same name featuring four high school girls who belong to a tennis club.