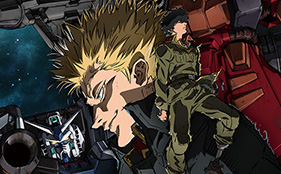 The first 3-minutes of of the first episode of the upcoming four-episode anime adaptation of Yasuo Ohtagaki's Mobile Suit Gundam Thunderbolt manga has been streamed.
A 15-second commercial was also revealed earlier:
In addition to this, a 90-second promotional video for the first episode was recently revealed.
A 30-second promotional video was also streamed:
The main staff consist of:
Scenario Writer/Director: Ko Matsuo (Rozen Maiden, Valvrave the Liberator, Yozakura Quartet)
Anime Character Design: Hirotoshi Takaya (Yu-Gi-Oh! Zexal, Mugen Senki Portriss, Zetman)
Original Mobile Suit Design: Kunio Okawara (Gundam Build Fighters, Mobile Suit Gundam, Space Dandy)
Animation Mechanical Design: Morifumi Naka (Gundam Unicorn), Seiichi Nakatani (Gundam Reconguista in G)
Hajime Katoki (Victory Gundam, Crossbone Gundam, Gundam Unicorn, and many other Gundam series)
Art Director: Hideki Nakamura (Shingeki no Bahamut: Genesis)
Color Design: Takako Suzuki (Mobile Suit Gundam Unicorn)
CG Director: Tomohiro Fujie (Gundam Unicorn, Gundam Reconguista in G)
Monitor Design: Takashi Aoki (Soukyuu no Fafner: Dead Aggressor – Heaven and Earth)
Director of Photography: Taro Wakiakira (God Eater)
Editor: Daisuke Imai (Gate: Jieitai Kanochi nite, Kaku Tatakaeri)
Music: Naruyoshi Kikuchi (Lupin the Third: Mine Fujiko to Iu Onna)
Sound Director: Eriko Imai (Tiger & Bunny)
Sound Effect: Mutsuhiro Nishimura (Uchuu Senkan Yamato 2199)
Production Sunrise (1st Studio/Gundam Unicorn)
The voice cast includes:
Yuuichi Nakamura (Gray Fullbuster from Fairy Tail) will voice Io Fleming
Ryohei Kimura (Hideki Hinata from Angel Beats!) as Daryl Lorentz
Toa Yukinari (Casca from Berserk: Ougon Jidaihen) as Claudia Palh
Sayaka Ohara (Irisviel von Einzbern from Fate/Zero) as Kara Mitchum
Daisuke Hirakawa (Laito Sakamaki from Diabolik Lovers) as Cornelius Caca
Shunsuke Sakuya (Kenjirou Shibazaki from Zankyou no Terror) as Graham
Mutsumi Sasaki (Grandfather Mikage from Gin no Saji) as Burroughs
Hiroshi Tsuchida (Daikichi Kawachi from Usagi Drop) as J.J. Sexton
Mobile Suit Gundam Thunderbolt anime visual:
Mobile Suit Gundam Thunderbolt is a Japanese manga series written and illustrated by Yasuo Ohtagaki. The manga takes place in the Universal Century timeline during the events of Mobile Suit Gundam. An Original net animation adaptation by Sunrise is currently in development, with the release of the first episode on December 25, 2015 via EST (Electronic Sell Through) service.
Here is the synopsis of the series from MAL:
The Universal Century began with mankind moving its burgeoning population into outer space. The year is UC0079. The cluster of colonies furthest from the Earth, Side 3, proclaim themselves the Principality of Zeon and launch a war of independence against the Earth Federation. Now, it is nearly one year since the war broke out. In the "Thunderbolt sector", a reef section of space where a large quantity of wreckage from battleships and destroyed space colonies from the war lies, a violent battle plays out as the Earth Federation Forces set their sights on recapturing the Zeon controlled sector.
You can visit the anime's website here: http://gundam-tb.net/
And follow them on Twitter: @gundam_tb