The cast for the upcoming TV anime adaptation of Nakaba Suzuki's manga The Seven Deadly Sins has been announced. The anime series will debut this October and air throughout the fall 2014 anime season. Additionally, the first key visual of the anime has been released.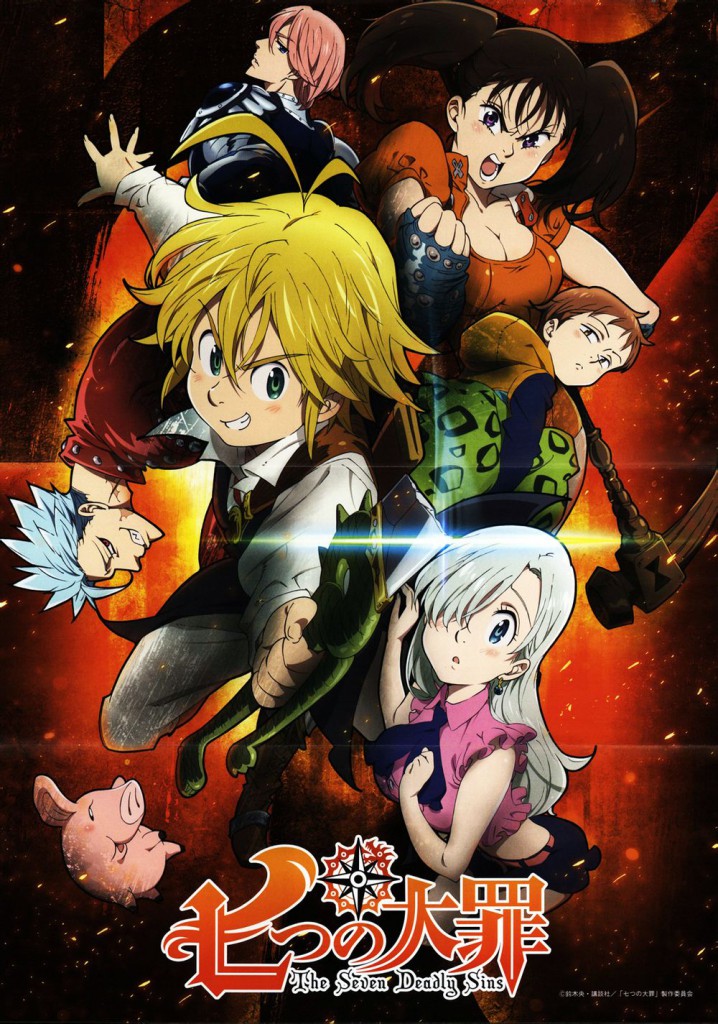 The cast is as follows:
Meliodas will be voiced by Kaji Yuki (Rentarou Satomi from Black Bullet!)

Elizabeth Liones will be voiced by Amamiya Sora (Akame from

Akame ga Kill!

)

Hawk will be voiced by Kuno Misaki (Kate Hoshimiya from 

Sekai Seifuku: Bouryaku no Zvezda)
Production crew:
Director: Okamura Tensai (Ao no Exorcist, Darker than Black: Kuro no Keiyakusha, Medabots)
Series Composition: Suga Shoutarou (Darker than Black: Kuro no Keiyakusha, Isshuukan Friends., Rinne no Lagrange)
Character Design and Animation Director: Sasaki Keigo (Ao no Exorcist, Kimi ni Todoke, Sekai Seifuku: Bouryaku no Zvezda)
Music: Sawano Hiroyuki (Aldnoah.Zero, Kill la Kill, Shingeki no Kyojin)
Animation Studio: A-1 Pictures (Ao no Exorcist, THE [email protected], Shinsekai yori)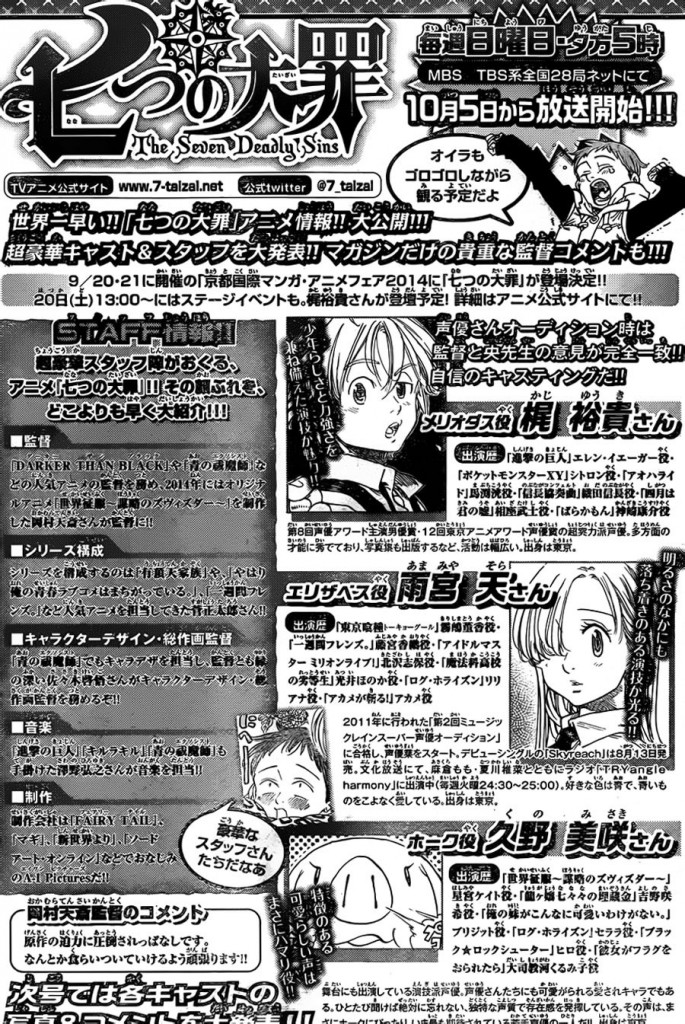 The Seven Deadly Sins synopsis from Haruhichan:
The "Seven Deadly Sins," a group of evil knights who conspired to overthrow the kingdom of Britannia, were said to have been eradicated by the Holy Knights, although some claim that they still live. Ten years later, the Holy Knights have staged a Coup d'état and assassinated the king, becoming the new, tyrannical rulers of the kingdom. Elizabeth, the king's only daughter, sets out on a journey to find the "Seven Deadly Sins," and to enlist their help in taking back the kingdom.
Source: yaraon