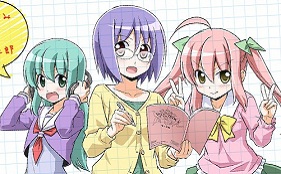 It has become a recent trend in anime to become more self analytical about the industry. A fresh way to look at things many would say, but beyond that, it offers a humorous look into a world many, as fans, are curious about. This particular show wraps up the "seiyuu" (voice actor) lifestyle in a cute little moe package and serves to us on a weekly basis!
Being a cute, moe anime – we get a cute moe OP as well! "Sore ga Seiyuu!" by Earphones is the track that plays as we watch the visuals. The animation is fairly reminiscent of the recent Haruhi Suzumiya anime, but that's a good thing! Click below to watch the full video.
http://www.dailymotion.com/video/x2x2a5e
Equally adorable in its own right, the cast sing the ED: "Anata no Omimi ni Plug In!" by Earphones, as visuals from the episode play on a screen and chibi cutouts sing the track. It's fairly cute! Watch it by clicking below.
http://www.dailymotion.com/video/x2x2ant
Sore ga Seiyuu! is a comedy 4-panel doujin manga series. The manga is written by the voice actress Masumi Asano, with art by Kenjiro Hata, and is released under the circle name Hajimemashite. The manga was launched at Comiket 81 in December 2011, with further releases at each subsequent Comiket. An anime television series adaptation was announced at Comiket 87 in December 2014. The anime premiered July 2015.
Anime visual:
Synopsis of Sore ga Seiyuu! from Haruhichan:
The series centers on Futaba Ichinose, Ichigo Moesaki, and Rin Kohana, three rookie voice actresses. The manga features small but humorous observations of the voice actor industry.