The official website of the anime adaptation of Masaki Tsuzuki's manga Dog Days 3 has been updated with the second promotional video. Nana Mizuki is performing the opening theme song titled No Limit. While Yui Horie returns again to perform the ending theme titled Stay With Me.
http://www.dailymotion.com/video/x2dhe2d
The first promotional video was revealed back in August:
http://www.dailymotion.com/video/x23qpgu_dogdays-%E7%AC%AC3%E6%9C%9F-%E3%83%86%E3%82%A3%E3%82%B6%E3%83%BC%E5%91%8A%E7%9F%A5
In addition, the cast was revealed:
Mamoru Miyano (Light Yagami from Death Note) as Shinku Izumi
Yui Horie (Tsubasa Hanekawa from Bakemonogatari) as Millhiore F. Biscotti
Nana Mizuki (Fate Testarossa from Mahou Shoujo Lyrical Nanoha) as Ricotta Elmar
Ami Koshimizu (Makoto Kino from Sailor Moon Crystal) as Leonmitchelli Galette Des Rois
Mikako Takahashi (Sakura Mizukami from D-Frag!) as Rebecca Anderson
Aoi Yuuki (Madoka Kaname from Mahou Shoujo Madoka★Magica) as Kuberu E. Pastillage
Ayana Taketatsu (Kotori Itsuka from Date A Live) as Eclair Martinozzi
Sumire Uesak (Momoka from Cross Ange) as Sharu
The staff were revealed earlier and is as follows:
Original Series Creator: Masaki Tsuzuki
Director: Junji Nishimura (Glasslip, True Tears, Violinist of Hamelin)
Assistant Director: Kikuchi Katsuya (Mushibugyou)
Character Design: Osamu Sakata
Chief Animation Director: Tomoyuki Kitamura (Amagami SS+, Chrome Shelled Regios, Servant x Service), Makoto Iino (Campione!,  Mushibugyou, Shinryaku!? Ika Musume)
Animation Production: Seven Arcs Pictures (Inukami!, Mahou Shoujo Lyrical Nanoha, Sekirei)
Visual: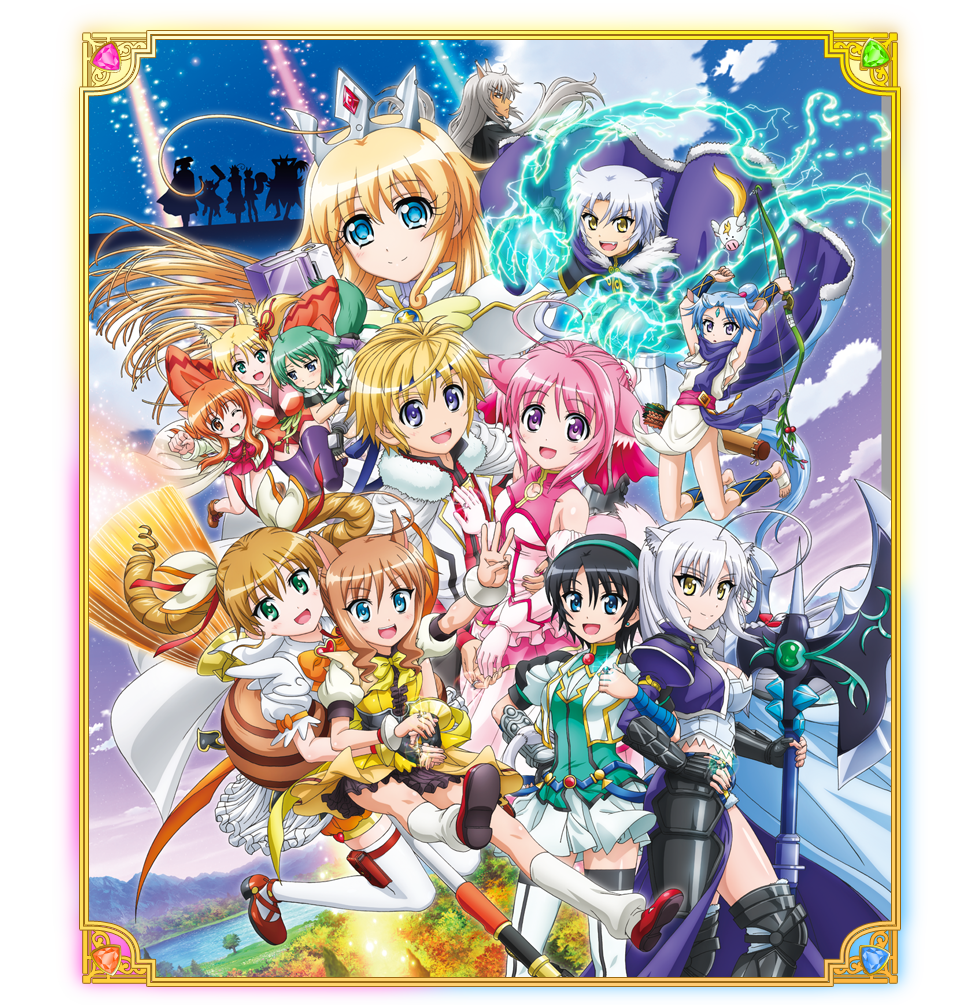 Dog Days is an original anime series created and written by Masaki Tsuzuki, known for creating the Magical Girl Lyrical Nanoha manga. The series first began in 2011 for a total of 13 episodes. The anime was produced by Seven Arcs and directed by Keizo Kusakawa (Magical Girl Lyrical Nanoha A's, Campione!). A second season of the anime, titled Dog Days', was produced in the following year by the same producers, though it was directed by Junji Nishimura instead. The series also inspired a light novel and manga adaptation in 2011.
Dog Days synopsis from Haruhichan:
Republic of Biscotti faces a predicament by the invasion of Galette Leo Knights. In order to save the country, Princess Milchore summons a "hero" from the outer world. Cinque, a junior high school boy living on the Earth, is chosen as the hero.
Source: Dog Days Official Website